100+ Brilliant Ways to Save Money On Your Wedding
 We have over 100 Brilliant Ways to Save Money On your Wedding Day. We always want the very best of everything for our wedding day, but you can still have the best and save money!
Yes, weddings are expensive, but a wedding shouldn't cost so much you are paying it off for years afterwards!  There are so many ways you can save a bomb by being savvy! 
The average wedding in Australia costs $30,985 (source).  That is one hell of a bill for a one-day party event!  And this figure doesn't even take into account the cost of the honeymoon (of which the average cost is an additional $7,700.00!).
But you can still have an amazing wedding on far less money than that – you just need to decide what options for your wedding are important to you – and which areas you can save big dollars on.
Here are 100+ Brilliant Ways to save money on your wedding!
Table of Contents:
1. How to Save Money on Your Wedding Planning
Download Your Free Wedding Budget Planner
There are many great online wedding planners available, but nothing beats a good old fashioned spreadsheet. Budget how much can you spend on each aspect – and stick to it! Organisation and planning can save you a fortune! (We have a FREE wedding budget planner that you can download and use!). Set a budget and stick to it!
Don't Have Your Wedding Day on a Saturday
Don't schedule your wedding for a Saturday. Saturday is the peak time for weddings. Instead, wait for a public holiday and have the wedding on a Friday or Sunday. Even better, a mid-week wedding can be a great way to have a brilliant day at up to 2/3 cheaper than a Saturday wedding.
Have Your Wedding in 'Off Wedding Season'
Spring and Autumn are the peak wedding seasons. Instead, consider a hot Summer wedding or cold Winter wedding.
Consider the Holidays
Consider getting married at Easter or Christmas time. It is easier for guests to have the time off to travel – plus most places are decorated which will save you on decoration costs.
Visit Bridal Shows to Get Good Deals
See if there is a Bridal Shows or Bridal Expo near you and shop around for the best deals on just about everything!
Check out Wedding Expo Australia for Dates and Venues in your area.
Join Wedding Planning Facebook Pages
Have a look around for Wedding Planning Facebook Pages where you can share your money-saving tips – and grab some you may not have thought of before!  Plus this is a good place to find other brides that you can share decoration costs with etc. Here are some that we have found that might be worth joining:
Ask Newly Married Friends for Help in Wedding Planning
If you have friends who were married recently, see if they can offer you some insight into what worked, what didn't.  What they would have done differently and the great deals they got.
Spend More on the Things That Are Important to You (And Skimp in Other Areas)
Really want a Swing Band or a fantastic singer for your wedding?  That's great – get a price and lock it in.  Then try and save money in the areas that don't matter to you quite so much.  You still want your wedding to be super special.
Trade Talents In Lieu of Wedding Gifts
Got friends or family that are good with arranging flowers, or who can bake you an amazing wedding cake?  Why not ask if they can lend their talent in lieu of a wedding gift?  Ensure you still pay for their outgoings – it is rude to take advantage – but this is a good way to save lots!
Even look at getting friends and family to do other jobs such as:
Setting up the reception
Cleaning the reception afterwards
Food Servers
Bar Staff
Catering
Dress Making
Hair Dresser or Makeup Artist
2. How to Save Money on The Guest List & Wedding Invitations
The Guest List is always an area that can get out of control.  This is usually because the parents of the bride and groom are submitting names, and get carried away without thinking of the associated cost that goes with those additional guests!
Only Invite People You Know In Real Life
Only invite people you know and love. Inviting your Aunt that you haven't seen since you were five is just costing you a lot of money for a relationship that isn't there. Make your wedding day special by only inviting people that are a big part of your life.
Help Out Your Out of Town Guests
If you are inviting people from out of town, including a list of all the local hotel and accommodation options including pricing. You can often negotiate a good deal this way and save money for your guests.  In fact, a little 'Welcome Pack' for out of town guests that you can include with the wedding invitations will help them out a lot!  This might not save you money, but it will certainly save your guests time and money – and that's important too!
Don't Invite Partners of Guests That You Don't Know
Limit the number of partners your invite. If you have friends with partners whom you don't know, just invite your friend to keep the list down.
What to Include in Your Wedding Welcome Pack
The wedding invitation
A map of the local area with the place the ceremony and reception are held highlighted, as are local accommodations.
A list of local accommodation options, with pricing and contact details.
Any discount vouchers or pre-arranged 'accommodation rates'
A list of local eateries and attractions so they can check them out whilst they are in town.
How to Save Money on Wedding Invitations
When it comes to wedding invitations, less is more!  Now that the digital age is here, do you really even need to send out expensive invitations that might just end up in the bin?
Our Pick: These Wedding Invitations from Etsy
Find a Free Internet Wedding Invitation Template
Do all your invitations via the internet.  There are plenty of free templates available online! Plus if you can email them instead of posting them – there is another huge saving!
Try Etsy for a Wedding Invitation Template
Look at places like Etsy for a good wedding invitation template – and buy your own fancy paper. Remember though, most people will throw out the invitation after the event, so only use fancy stationery for the people you know will keep it forever, and use a cheaper paper for everyone else. Many of these templates can be used digitally too!
Don't Bother with RSVP's – Do a Facebook Event Instead
Follow up on attendance by setting up an 'Event' on Facebook.
Use Technology to RSVP Online
Instead of including a self-address envelope for the RSVP, set up a basic wedding website where you can have people RSVP online (or even through Facebook to keep it even cheaper!).
3.
How to Save Money on The Wedding Venue
The venue for your wedding sets the stage for the whole theme.  But you don't have to splash loads of cash to make it wonderful!
Keep the Ceremony and Reception at the Same Location
Keep your ceremony and reception venues either at the same place or within walking distance to save money on transport.
Look at Fully Inclusive Wedding Packages on Offer
Ask any potential venues if they have fully inclusive wedding package deals. It is less work for you, and often you can still negotiate the price! Make sure the celebrant costs are included in the package too!
Little hint:  Rather than just checking out the packages online, give them a ring and speak directly to the wedding coordinator – they can often help you get the best deal!
Rent a Beautiful House for the Venue on Airbnb
Rent a house for the ceremony and reception that can accommodate the bridal party to sleep over the night before.  A beautiful rooftop with a view makes for a gorgeous small wedding venue.  Try Airbnb to find something really special!
Get Married in a Public Place
Get married in a park, on the beach or a public place, then have the reception in a nearby restaurant. Make sure you book the public space with your local Council who can make it look presentable for the day (and ensure it is only you getting married at that place at that time!).
Read More on Wedding Venues:
Choose a Wedding Venue That is Already Gorgeous
That way you spend less on decorations! Think of a beautifully decorated barn or a country estate.
4. How to Save Money on Your Wedding Ceremony
Print One Poster for the Ceremony Program or Menu
Print a poster with the ceremony program and have it visible when people walk into your venue rather than printing one for each person. You can find loads of beautiful templates like this one on Etsy.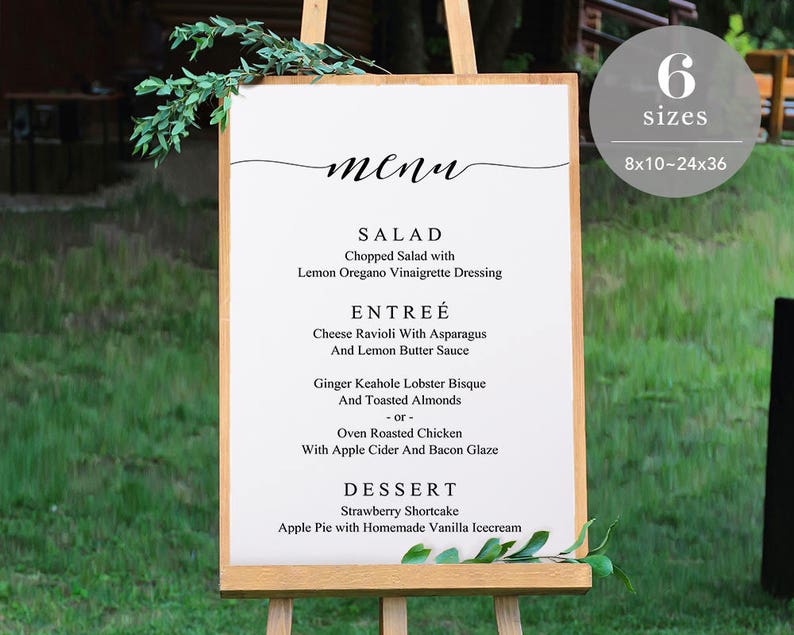 Get Married at the Courthouse
Look at having the ceremony at the local courthouse – and then have a bigger fancier reception!
Get Married in Your Back Yard (if there is room)
Have your ceremony in your backyard or a local park rather than hiring a venue.
Change Your Wedding Time to a Breakfast or Brunch
Have a breakfast ceremony or brunch. These types of foods are much cheaper than traditional dinner foods thus making your catering costs much cheaper!
5. How to Save Money on Wedding Photography
Wedding Photography is a bit of a Catch-22 situation – because you only get one chance to get the photos done right the first time, but you usually spend a fortune to pay for that privilege!
Hire The Photographer Via the Hour – Not the Whole Day
Only hire a professional photographer for a few hours rather than a whole day.
Keep the Photographer Local
Keep them local to your location, otherwise, you will be incurring their travel and accommodation costs.
Request a 'Digital Image Only' Package
Ask for an all-inclusive package that allows you to keep the photography images. You can always get prints and albums later on when you afford it.
Look at a Student Photographer 
Ask a professional to do the ceremony – and perhaps look at getting a student photographer to do the reception.
Have a List of Required Shots
To keep the amount of time a photographer is attending, have a pre-meeting with all your 'Required Shots' eg One with just the Bride's family etc.
Ask Everyone to Bring Their Camera's
And ditch the photographer costs altogether!  Sure it is a gamble – but you could end up with some beautiful photos of your special day.
6. How to Save Money on Wedding Outfits
Limit the Number of Bridesmaids and Groomsmen
Limit the number of bridesmaids and groomsmen. Better again, have none!
Get a Friend to Do Your Hair & Makeup
Get a friend to do your hair makeup and the bridesmaids do their own. Choose a style and have a practice day coming up to the wedding day to see how they go!
Get Bridesmaids Makeup Done at a Makeup Counter
Have the bridesmaids have their makeup done at a local makeup counter.  Usually, they offset the cost with any products purchased on the day – and you know they will need some lippy and a lip liner!
Check with your local Myer, David Jones, Sephora or Mecca stores.
Costume Jewellery is Cheaper
Use costume jewellery for the bride and bridal party rather than the real thing.
Let the Bridesmaids Choose Their Own Dress
Rather than having your bridesmaids in matching dresses, choose a colour and let them buy whatever they like in that colour! That way the dresses will suit the bridesmaids, and they are more likely to use them again (you need to consider their costs too!).
Buy a Pre-Owned Wedding Dress (After All it is Eco-Friendly!)
Buy a pre-owned wedding dress.  After all, it has only been worn once.  There are some websites dedicated to second-hand wedding dresses – so you could even get a designer gown at a fraction of the original cost.
The following are a few websites that I found:
Get a Single Flower Instead of a Bouquet
Don't have bouquets for the bridesmaids, instead have them carry a single flower or basket of petals. It still looks classy!
Hire a Wedding Dress Instead of Buying One New
If you have your heart set on a dress but can't afford the price tag, why not see if you can hire it instead!
List of Inexpensive Bridesmaid Dress Suppliers
Bridesmaid dresses do not need to cost the earth.  In fact, I think you can get perfectly gorgeous bridesmaid dresses for under $99.  Think about how much that saves (and most bridesmaids pay for the dresses themselves!).
Kennedy Blue is located in the United States and produces high-quality designer bridesmaid dresses from $99.
The Daintyard has gorgeous bridesmaid dresses under $70
Atom Attire has a stretchy jersey knit convertible bridesmaid dress that is only $75 and comes in 32 different colours!
Some Items to Leave Out On Your Wedding Day
These are things that are just a waste of money and your wedding can survive without.
Button Hole Flowers for the Men – totally unnecessary!
Fancy jewellery. Borrow it from your Mum or Grandmother instead and that is your 'something borrowed'
Car Hire. Drive your own car or have a friend with a cool car donate the use in lieu of a gift.

7. How to Save Money on Your Wedding Dress
Every girl dreams of wearing the most perfect of dresses on her big day.  And yes you can do that – on a budget! Here's how!

Hire Expensive Jewellery Instead of Buying It
If you want some special bling for the day but can't afford it, why not look at 'hiring' jewellery for the day.  Approach your local jeweller to see if this option is available.
Shop Designer Wedding Dress Sample Sales
If you have found a designer wedding gown you love, wait until they have a samples sale or a seconds sale and have any sizes or alternations done by a seamstress. Just remember that sample sizes are usually very small….
Shop for a White Dress Instead of a Wedding Dress
Check out small boutiques that may not be bridal, but may just have a perfect white gown suitable for your wedding. In fact, some of the larger female-centric clothing stores now have an affordable range of wedding dresses!  Try these:
Shop Overseas at Reputable Discount Stores
Okay, this is a tricky one, because you have seen online the wedding gowns that are purchased for under $50 and they are a disaster!  But there are still reputable bridalwear companies around the world that make the real thing.  So do your research, read reviews and comments on their Facebook Page before handing over your money. When buying a cheaper style dress overseas you can always have a  local seamstress ensure it fits you perfectly for your big day.
Reputable Overseas Wedding Stockists:
Shop Second-Hand Wedding Dresses
Buy a second-hand dress! All the bling without the huge outlay.  There are many great websites that offer pre-loved gowns at a fraction of the cost!
You Can HIRE a Wedding Gown
Hire a wedding dress rather than buying one.  You could hire a designer wedding gown for a fraction of the cost of buying a normal wedding dress!
Check out our list: Where to Rent a Ball Gown or Designer Outfit
Don't Buy White Wedding Shoes
Choose shoes that you will wear again! Silver or metallic options will go well with most wedding gowns and can be worn again for any dressy outfit.  Or do totally retro and get a custom pair of Converse!
Or another idea is to dress up a pair of heels you have already have and buying a set of beautiful brooches, you can attach to a pair of shoes you already own and love.
Read More:
8. ow to Save Money on Wedding Decorations
Share the Decoration Cost with Another Bride
Share the decoration cost. If you have a friend that has been married recently or can find out who is getting married just before you, why not go halves in the decorations for both weddings?
Shop at Thrift Stores for Decorations
Visit your local thrift stores for unique decorations at budget pricing.  You could buy good quality sheets for tablecloths, lace pieces for table decorations or find something truly unique!
Use the Bouquet's for Table Decorations
Use the bride's and bridesmaid's floral bouquets as table decorations at the reception.
Visit a Flower Farm
Grow your own flowers or go to a flower farm. If you have a good head start on your wedding (say a year from now) – find a friend or family member with a green thumb and have them grow the flowers for you.
Choose Flowers in Season at the Time
Providing you choose flowers that are in season during your wedding, is a great way to save lots of dollars. Alternatively, go to a flower farm and organise the flowers directly. If you have more friends that are good at putting together a bouquet – have them do a bouquet the morning of the wedding – or negotiate a florist to do the arrangements with the provided flowers.
Order Flowers Through Your Local Supermarket
Order flowers through your local supermarket. They often have them so much cheaper than a florist – and are only willing to help if they can order in advance.
Ditch Flowers Altogether
Flowers are expensive – but there are loads of flower alternatives that are just as beautiful at a lower price!
Look at non-traditional wedding bouquet ideas!
9. How to Save Money on Wedding Entertainment Costs
There are plenty of options when it comes to entertainment at a wedding. You could choose a band, just play music from a set playlist, or do something crazy like hiring a jumping castle or a dance instructor!
Get a Friend to be the MC for the Night
Everyone has a friend who likes to get up on stage and be the centre of attention.  A good MC makes your wedding run smoothly and to time.  A friend who will be a star at this (in lieu of a wedding gift) can be a real asset to the evening – and can save you money instead of hiring a professional or using the DJ who will usually charge more for this service.
If you don't know anyone like that, approach your local Toastmasters Club to see if you can find a great speaker (and maybe pay them a bottle of grog!).
Hire a Jukebox Instead of a DJ
Contact a local Party Hire business to hire a Jukebox in lieu of a DJ.  These are great as everyone can make their 'song requests' straight through the Jukebox.  Plus you can set the songs YOU LIKE in advance.  A Jukebox will be about a third of the price of a DJ.
Of course, if your MC is into music you could also have them set up Spotify for the night with good speakers which will save you even more money!
Hire a Student Rather Than a Professional
Hire a student band rather than a professional band which is very expensive.  Approach local music teachers or your local high school for a list of potential candidates.
Order a Jumping Castle 
A friend of mine had one at her wedding and the photos were hysterical!
Invite a Local Dance Teacher to the Reception
If you have a local ballroom dancing teacher, invite him or her to the reception to get up and teach the crowd how to do simple dances – it's a great way to get everyone up and dancing!
Use Your Wedding Cake As Dessert
Use your wedding cake as dessert and serve slices with ice cream or custard and cream.  Many people have dessert AND a cake.  Ditch the dessert and enjoy the cake instead!
Make Your Own Wedding Cake
Make your own wedding cake. If you are a great baker, you can bake your own wedding cake – and have a friend that is good at decorating to whip up a simple icing and decorate with flowers.
Remember that there are loads of wedding cake hacks using Mud Cakes from your local Supermarket.
Have a Smaller Fancy Cake (and Backup in the Kitchen)
Have a smaller sized wedding cake and have large plainly iced cakes in the kitchen ready to be cut up.
Have a Fake Cake
If you have your heart set on a large wedding cake, have fake layers made up and only cut the top cake! Have bulk cakes in the kitchen.
Order Sheet Cakes from a Bakery
Order sheet cakes from a commercial bakery (Woolworths, Coles etc or even The Cheesecake Shop).

Use a Cheaper Alternative To Wedding Cakes
Don't have a wedding cake at all! Instead, have one of the following:
Wedding Pancake Stack
Wedding Pie
Cheese Wheel Cake
Donut Bar
Sweets Station
Cup Cake Stack
Ditch Wedding Favours
Don't bother with wedding favours. Most people don't expect them or will just chuck them out anyway. Put the extra money into what really counts, the food or the honeymoon.
10. How to Save Money on Wedding Food
Food is the largest cost during a wedding reception – here's where you can save loads of cash!
Approach a Country Women's Group or Similar
Approach your local Country Women's Association or similar to cater the wedding for you. If you have a Hospitality Campus nearby, see if they would be keen, students can use your wedding to learn how to plan, cook etc.
Have a Buffet
Have a buffet dinner rather than a sit down catered meal. You will save a fortune on hiring staff, and you usually get more food than you would for a sit-down meal. It also solves the problem of people 'fighting' over the chicken or the beef.
Have Your Reception at a Restaurant
Have your reception at a small restaurant – you don't need to pay a venue fee PLUS food costs. Plus they will usually let you decorate it for free.
Have a Cocktail Party Instead of a Formal Sit Down Dinner
The largest cost when it comes to weddings is the food.  And if it is your dream to have a formal sit down dinner – great!  But if that doesn't really phase you – what about having finger food only?  Finger food is just delicious and you can halve your food costs – especially if you don't need to have formal table settings – instead your guests can just mingle.
Think Outside the Square with Wedding Ideas
A friend of mine had a Wedding Picnic for her wedding – with blankets laid out on the fresh green grass, and little picnic baskets full of goodies.  It was a really memorable affair – and just that little bit different.
The picnic food was simple with varieties of cheese and biscuits, delicious sandwiches and dainty sweet biscuits for dessert. All made by the bride and her Mum coming up to the wedding.
Other ideas include:
A Carnival Wedding with fairy floss
Bouncing Castle
Farm Wedding in a Barn
Bowling Alley Wedding
Hire a Couple of Food Trucks Instead of Catering
Food Trucks are so trendy right now – and with a variety of food trucks, you can give your guests the gift of choice.  This is a perfect idea for an outdoors wedding!
Don't Have a Night Time Wedding
If you have an afternoon or mid-morning wedding, have a morning tea or afternoon tea wedding. You can serve fancy sandwiches and finger food instead.
Have a 'Pig on a Spit'
Have a 'pig on a spit' or similar and serve the meat with salads.  It is still fancy and delicious – and a lot cheaper than individual meals. Plus it is damn delicious!
Hire a Roast Company to Cater
There are many 'Roasts on the Go' type of businesses now that will cook roasts on-site and will serve with salads and desserts for a set amount per head.
Or Hire a Pizza Oven Company
Who doesn't love a good pizza!  Hire a mobile pizza oven that will come to the place of your reception and will cook fresh, hot pizza's until everyone is full!
Share Platters are Very Trendy Right Now
And they can save you a lot of money.  Having one share platter per table rather than individual dishes is the way to go!
Grab Your Alcohol When They are Having a Sale
Grab your alcohol deals online!  Many online grog shops can keep prices down by not having a retail store. Plus you can look online for when they are having a sale to ensure you get the best deal.  Many alcohol provider websites now offer great deals on bulk wine packages. Wait until you see these prices and keep money aside just for this. Pick up as many as you can afford in the months leading up to the wedding. Keep them in storage until the wedding. Any unused cartons can usually be returned for a refund.
Some great places to get good deals include:
Only Have Beer and Wine Available on the Bar
Offer selected house beer and wine. Instead of offering a full bar, offer just selected house beer and wine and perhaps come up with a signature cocktail for the night (then use this cocktail for the toast of the night – saving money on champagne!).  Or you could order a keg of beer!
Have a Dry Wedding
It might seem very un-Australian – but people are there to celebrate the newlyweds, not get pissed and lose a shoe.  If people are desperate enough they can always bring their own.  You can still have a 'signature drink' – it will just be a mocktail instead of a cocktail!
Limit the Number of Beverages
Have a ticket system for drinks at the bar. Include say three tickets on entry into the reception so guests know they can have three alcoholic beverages, and anything else on top of that is up to them to pay for themselves.
Use Smaller Glasses
Now, this is a little trick to keep costs down – ask your caterer to provide smaller glasses for those wanting alcohol. If you limit people to two to three beers or wines – you will reduce the cost with the smaller glasses.
Put one Bottle of Wine on Every Table
Rather than having an open bar that needs tending staff, instead, get your bottles of wine cheap (see above for cheap online retailers) and instead place one bottle of wine on each table.
Purchase No-Name Soft Drinks
Grab all of your soft drinks from your local Supermarket – but don't buy the big-name brands, instead buy the generic branded soft drink. No one will know the difference!
Substitute Champagne for Prosecco
It's yummier and less than half the price.
Have a Potluck Dinner 
Ask your guests to bring a dish in lieu of a wedding gift.
Ensure You Have a Vegetarian or Vegan Option
Because meat is expensive – not only does it cater to more people – you save money too!
11. How to Save Money After the Wedding
You can still recoup some of the costs of your wedding after the fact – here's how!
Sell Your Wedding Decorations After the Big Day
Decorations don't really get man-handled – so find some brides that will need decorations and see if you can on-sell them to the next bride in line!
Sell Wedding Outfits
There are websites now where you can list your wedding dress, bridesmaid outfits and groomsmen outfits to be purchased by another couple getting married.  Here is the list here.
Return Any Un-Opened Alcohol
Provided the carton is still in good condition and you have your receipt – any undrunk booze can be returned for a full refund.
Sell Your Wedding Dress
Really what are you going to do with it after the big day?
Here is a list of Where to Sell Your Used Wedding Dress and Bridesmaid Dresses
12. Other Fantastic Ways to Save Money On Your Wedding
Borrow a Nice Car to Get to and From the Wedding Instead of Hiring One
If you have a friend with a nice car, see if they will 'donate' the use for your wedding in lieu of a wedding gift.
Have a Wishing Well
And this can contribute to your Honeymoon costs or the cost to pad your home.  Never insist on a minimal amount – remember it is a gift.  Whatever they can give – is perfect!
Do you have other tips to save money on your wedding?
Share it with us!