6 Easter Entertaining Tips for a Happy, Hoppy Gathering
Hooray and wiggly bunny tails! Easter parades, egg hunts and holiday meals with friends and family are once again on the calendar this spring. As the host, it's easy to go overboard with pretty chocolate bunnies in every shape and size, elaborate egg decorating gadgets and special treats galore. No pressure. Your guests aren't expecting a 7-layer carrot cake, and you don't need to don a bunny costume (although dressing up would make for a memorable day-ha ha!). When hosting any event, either large or small, planning ahead reduces the stress which may easily occur, especially since there has been such a long stretch of time between Easter parties. Here are a few Easter entertaining tips to keep in mind as you welcome guests into your home this season.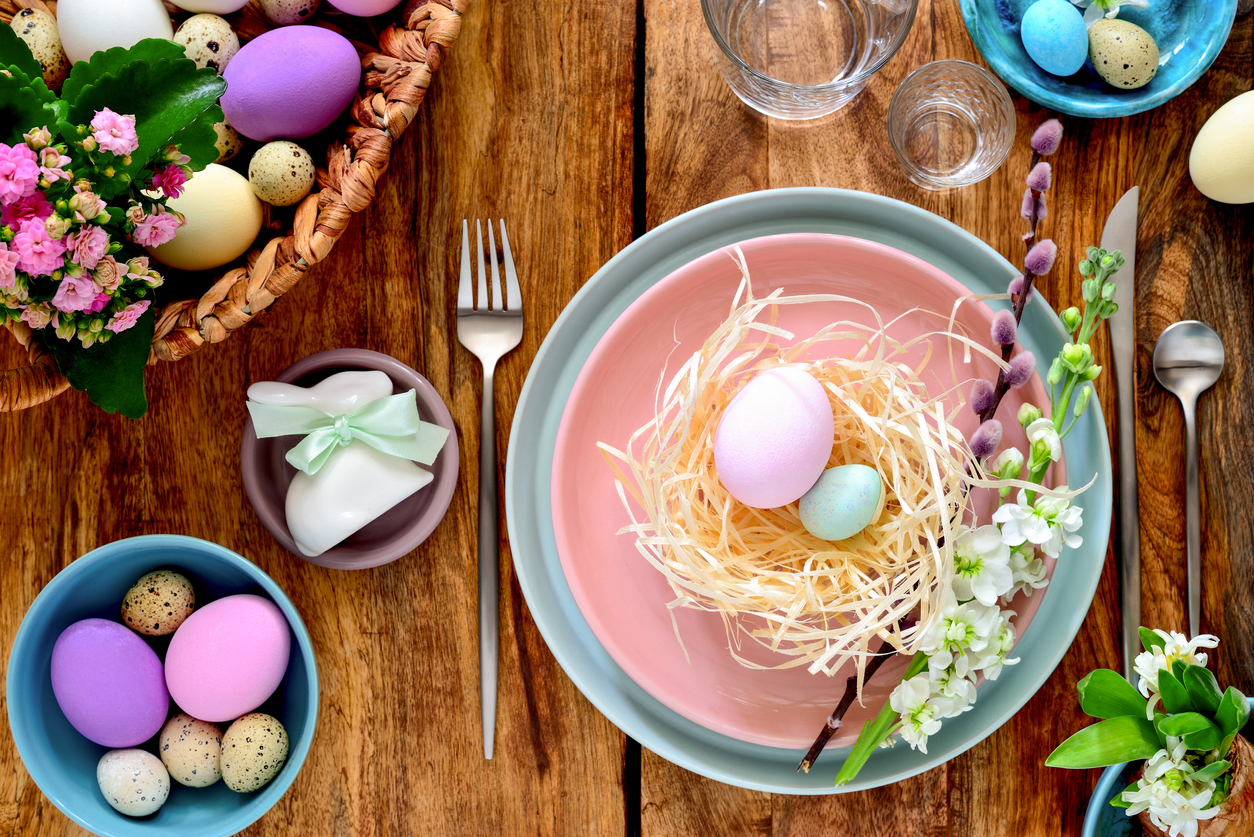 6 Easter Entertaining Tips for a Happy, Hoppy Gathering
Make a Guest List & Send Out the Invites
The first thing to consider when putting together your guest list is the number of people your home can comfortably accommodate. Begin by counting the chairs around your dining table along with any additional tables and chairs you plan to set up around the room(s). After calculating, you will be ready to pull together a list of your closest friends and family, ensuring everyone will be comfortable and not feel overcrowded at the dinner table.
Now that the guests have been decided, it's time to send out the festive invitations if you plan to mail or hand-deliver them. If you prefer to be a bit more casual, invite them by text, phone or evite. Whatever method you choose, be sure to invite your guests well in advance to allow time for planning.
Curate a Unique Menu
When putting together a menu, there are a few things to keep in mind, such as food allergies/preferences, traditional holiday dishes, and new or unique items. Check with guests to see if there are any allergies. Then, take the necessary precautions when preparing foods to keep everyone safe. Never underestimate the danger of cross-contamination of food items when someone has a severe allergy. Take every allergy seriously.
Some classic Easter dishes, such as ham, cheesy potatoes, and, of course, carrot cake, make for very happy guests. Unique items to round out the menu can be anything from fresh asparagus to a decadent chocolate bread pudding.
Take time to identify the dishes you specialize in and ask your friends and family to fill in the holes with their favorite Easter side dish or dessert.
Set a Pretty Table
A beautifully appointed table, set up several days early, sets the tone for the celebration. Use what you have and don't be afraid to mix and match. Pull out your tablecloths and find some in bright spring colors. Get creative with your table. Varying the height of your tablescape adds interest and drama, and fresh flowers signal spring has arrived.
If you've been dreaming about updating your dining table, perhaps now is a good time to find one that will accommodate more guests.
Easter Traditions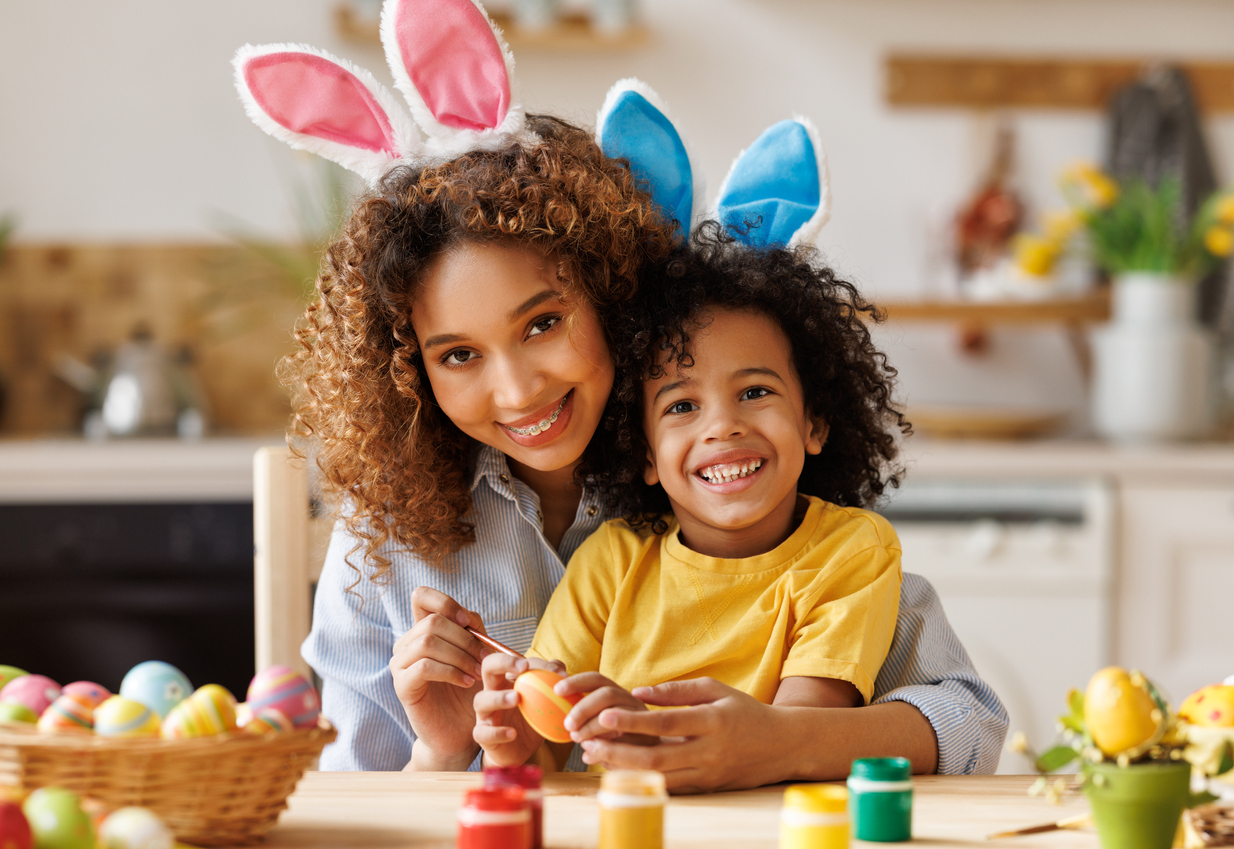 If children will be in attendance, don't forget to include family customs and traditions. Easter egg hunts and Easter baskets are fun to create and go a long way when it comes to entertaining your young guests. Purchase your party items for the baskets at the dollar store or big box store where you have an assortment of brightly colored goodies, toys, socks and coloring books.
Make the tradition special for the adults by offering Easter themed cocktails/mocktails. You can find several recipes online, but it doesn't have to be fancy; a simple pastel-colored drink with a festive straw and a few jelly beans added instead of a cherry is a fun and cheerful treat.
Create Comfort for Overnight Guests
Prepare your guest bedroom and bathroom with the essentials for a luxurious overnight stay. Think through the basics such as plenty of clean pillows, blankets and sleeping space. Stock the bathroom with extra toiletries for overnight guests to use and take home. Offer a gift basket that is theirs to keep.
For overnight guests, you may want to update your bedding or mattress if the current one has run its course. Include fresh flowers in the guest room with a cup of tea and some warm cookies upon their arrival. Looking even further, your guest bathroom may need a bit of tweaking by upgrading your current bathroom vanity to one with more storage capacity and countertop space. This will give your guests plenty of room for getting ready in the morning, especially if there are multiple people who will need to use the same space.
An Easter Memento
Another special touch to wrap up the festivities are party favors to give your guests as they leave. They can be as simple or elaborate as you wish. Small photos in frames, Easter cookies, pastel nail polish and special tea are all a nice touch. When in doubt, you can always find inspiration on Pinterest; small photo props are sure to create memories, and personalized Easter gifts.
For more Easter entertaining tips, you may also enjoy Easter Party Etiquette for the Inspired Host. Be sure to check out The Protocol School of Texas. Read Diane's posts on Inc., subscribe to her articles on The Huffington Post, "like" The Protocol School of Texas on Facebook, and follow her on Pinterest, Instagram and Twitter. 
The post 6 Easter Entertaining Tips for a Happy, Hoppy Gathering appeared first on Diane Gottsman | Leading Etiquette Expert | Modern Manners Authority.