6 Space Saving Ideas For the Tiny IKEA Bathroom
Learn how to save money and space with your tiny IKEA bathroom
A successful IKEA remodeling project makes sure that everything fits just right with no wasted space. This not only applies to IKEA kitchens, but IKEA master bath designs as well.
As certified design professionals, we know how important this is for IKEA customers, especially when we're designing smaller bathrooms where space is at a premium, and frankly, your budget may be limited. After all, no room in the home is meant to relax and rejuvenate you more than the master bath, so it really needs to be as stress-free as possible. (Note: IKD has recently been referenced by Martha Stewart Living as experts on how to reduce renovation costs.)
So even if you've researched tiny IKEA bathroom design ideas on Web sites like HOUZZ or Pinterest, you may be surprised to learn that there are many ways to maximize storage space and still create the design theme you want — all while using IKEA cabinets. That's why we decided to share the following five space-saving ideas for tiny IKEA bathrooms.
For instance, you can use IKEA's SEKTION cabinetry framework and pair it with IKEA's BODBYN gray doors, for example; or use IKEA's TORNVIKEN open cabinetry for added storage options. Or you might consider using custom fronts from one of many third-party custom cabinet door manufacturers, such as Semihandmade, Scherrs, Reform or Kokeena (we are also experts in maximizing custom door designs, and the New York Times recommends us as a design resource for customers considering custom doors for their IKEA cabinets.)
Overall, creating a functional and beautiful IKEA bathroom requires effective use of cabinets and accessories, including IKEA vanities, among others; along with a keen eye for detail. Our design team knows what to look for to maximize the space in your master bath and we'd like to share that with you now.
Let's take a look!
IKEA GODMORGON Bathroom Series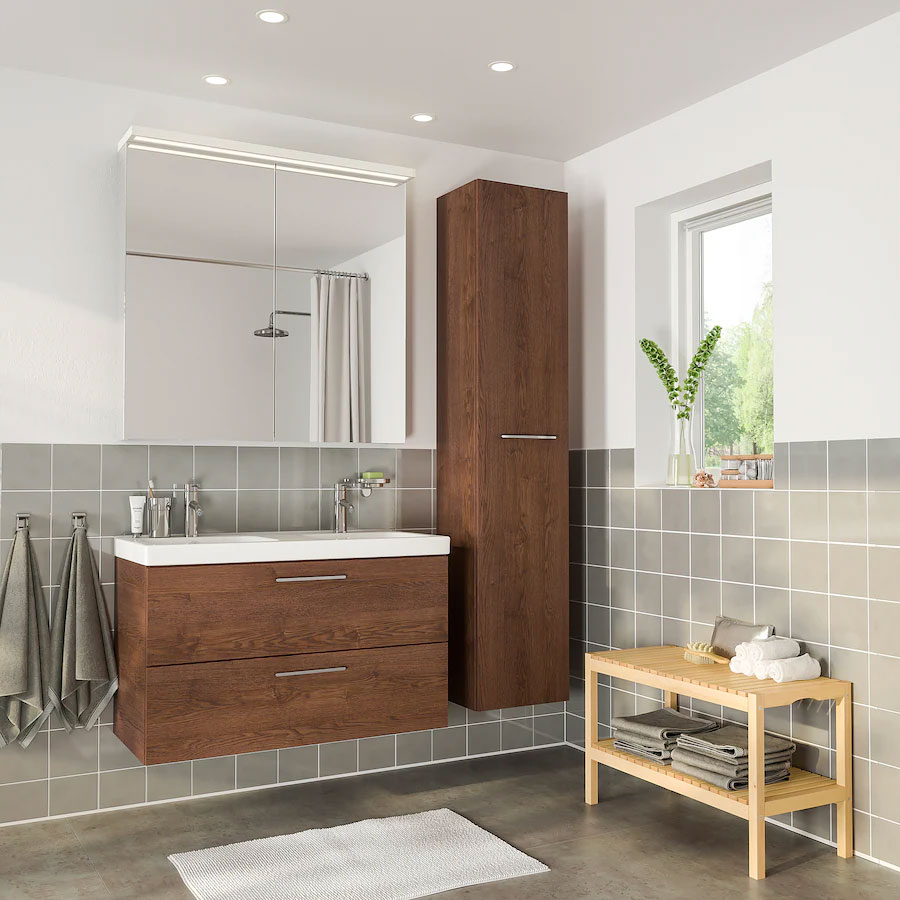 Photo credit: IKEA
When starting your IKEA bathroom project, consider IKEA's GODMORGON bathroom series of wall cabinets and furniture sets.
Not only does GODMORGON offer a sleek, minimalistic look for those with more modern tastes, but the series of floating vanities provide storage options that are easily achievable in virtually any master bath. (The GODMORGON series is also complemented by other IKEA door styles as well as compatible countertops and integrated sinks).
For instance, you can select an entire furniture set of IKEA GODMORGON/TOLKEN/KATTEVIK in light gray, marble effect VOXNAN; which combines a modern look and lower storage for hand towels, a hair dryer and shaving supplies. Plus, the high cabinet's glass doors make it easy to see inside the cabinet, the company notes. This saves precious time while getting ready for work; eliminates guesswork; and improves safety in the master bath. Talk about a stress relief!
In addition, the round shape of the sink is a nice contrast to the rectangular shapes of the furniture and provides space for toothbrushes, a soap dispenser and other smaller things next to the sink, according to the IKEA Web site. Other available furniture sets include GODMORGON/ODENSVIK and GODMORGON/BRAVIKEN furniture set in high gloss white featuring an IKEA BROGRUND faucet.
Tiny IKEA Bathroom Hacks and SEKTION
Some IKEA customers may not be aware but IKEA's SEKTION cabinets can be "hacked" to fit your IKEA bathroom. This creates a lot of alternatives for storage solutions, including pullouts, customized units and open storage, for example.
An IKEA master bathroom that reflects this is one we designed for IKD customers Tom and Claire from Tampa, FL. The very small space features plenty of open storage with a floating vanity with two pullout drawers to comfortably hold his-and-hers supplies.
Specifically, they had requested a "cool bathroom with plenty of storage," so we incorporated custom storage units above the vanity as well. The end result is a transitional design with individual cubbies for lotions, soaps and decorative items. This put everything within arm's reach and made the bathroom safer, very stylish and packed with storage.
Custom Bath Options
That said, IKEA hacks are sometimes limited by door and drawer sizes if you are using SEKTION cabinets. So, you may want to consider cabinet fronts from third-party custom cabinet manufacturers like Semihandmade; Scherrs; Reform or Kokeena.
If you have a tiny master bath that has challenging dimensions — perhaps, it's very narrow — then one option is to incorporate a floating vanity attached to adjacent custom cabinetry from Semihandmade, for instance. With this solution the vanity will provide storage with two large pullout drawers on the bottom, perfect for beauty supplies. In addition the custom cabinets provide ample storage for hand towels, larger towels and other grooming and cleaning items.
Wide Vanity with Vessel Sink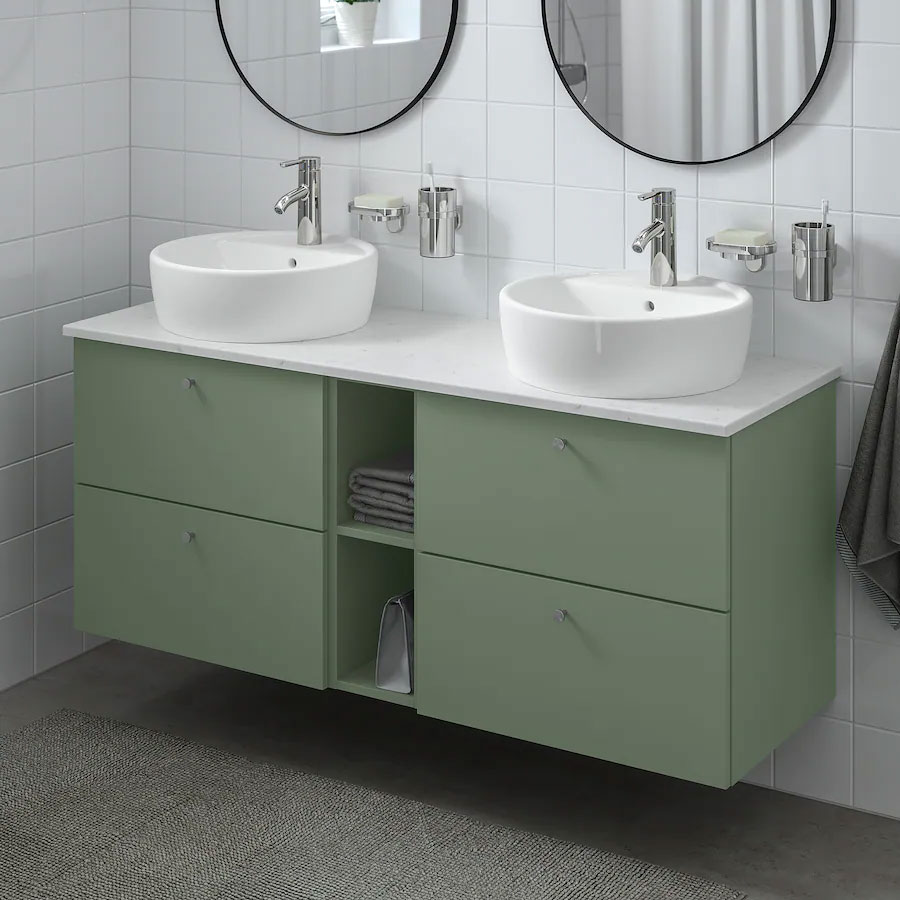 Photo credit: IKEA
Since storage space is always at a premium in smaller baths, another option is to consider using one vessel sink bowl with a wider vanity. By using one sink, the available counterspace seems to double and the added height of the vessel sink keeps it comfortable while washing up. Again, you can turn to the GODMORGON bathroom series here, and consider the GODMORGON/TOLKEN/TORNVIKEN cabinet, countertop and sink in brown stained ash effect/marble effect and an IKEA DALSKAR faucet.
Vanity Close to the Tub
If you like to relax and soak in your master bath then you can opt to include a simple vanity with one undermount sink bowl and extend the surface of the countertop over the tub. This creates an additional 'floating shelf' for storage of smaller items as well as a nearby landing spot for soaps and candles. To accomplish this, two 24″-wide units can be combined, for example, which establishes drawer storage for smaller items and toiletries as well.
Floating Shelves for Wall Storage
Bathroom storage space should, of course, be considered vertically as well.
Therefore, our design team likes to take advantage of every inch by maximizing the space between the tiles and the ceiling or walls by using IKEA LACK shelves. These shelves have a concealed mounting hardware that makes them look as if they're floating. The smaller shelves are 11-3/4″ wide and the larger shelves are 43-1/4″ wide, providing enough space for towels, paper rolls and other items, including artwork.
IKEA Accessories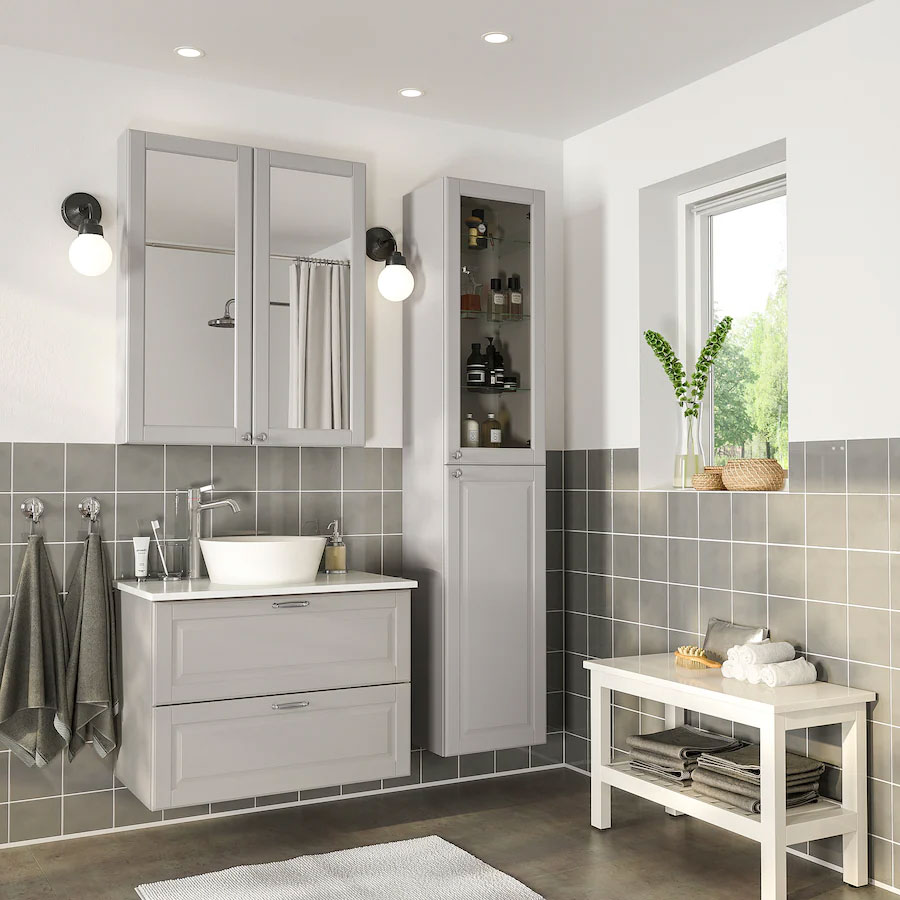 Photo credit: IKEA
So, we'd like to give you an extra master bath storage tip. That is IKEA accessories are a necessity for an IKEA bathroom that is both decorative and functional.
For example, consider the IKEA HEMNES bench with an underneath storage area to keep towels nearby; or the IKEA LUSTIGT ladder shelf to house hand towels or bath toys in a children's bathroom. Other options include the IKEA BRANAS laundry basket and the IKEA RASKOG utility cart (perfect for storing towels and soaps). The IKEA FRIHULT wall lamp in brass is also a great option as a vanity light, whether used in single or dual applications.
Clearly, it is possible to think outside the box with your IKEA bath project, even if the box you are working with is small! That is why we are here. To guide you in your IKEA product selections and to design an IKEA remodel project that suits your storage and style needs equally. Let us help you achieve the IKEA bath of your dreams so then all that will be left to do is for you to sit back and relax.
Learn more about how we can design a fully organized IKEA bathroom, kitchen, laundry room, mudroom and closet at www.inspiredkitchendesign.com.