A first look at what it's like to fly the JetBlue Mint Studio from London Gatwick
JetBlue is up and running with service to the two major London airports, realizing ambitions that were years in the making.
A little over a month after launching its first transatlantic route — between New York-JFK and London's Heathrow Airport — the carrier launched its second with service from JFK to London Gatwick.
The dual-London-airport strategy came as a surprise when JetBlue announced it earlier this year.
Want more airline-specific news? Sign up for TPG's free new biweekly Aviation newsletter!
Both airports serve different but significantly overlapping needs — akin to New York's JFK, LaGuardia, and Newark. In broad terms, it's Heathrow that boasts major flagship carriers and links all around the world, making it a crucial link for any airline looking to secure business travel demand to London. Gatwick is more leisure-oriented and serves as the home airport of ultra-low-cost-carrier EasyJet. Both airports have decent connection options to central London, and which airport is preferred generally depends on where you're going in the region or where you're connecting to.
"They complement one another very well," Geraghty told me on Wednesday, ahead of the inaugural flight to Gatwick. "We're also the only airline flying from Gatwick to the U.S. right now."
From the area of London where I was staying this weekend — Wimbledon, visiting friends — both airports would have been equally easy by taxi ahead of my flight home, but Gatwick was a nice quick — and affordable — ride.
My former colleague Zach Honig flew on the Heathrow inaugural, and covered his experience flying Mint out of Heathrow on the return.
I flew over to Gatwick in Core — JetBlue's economy — so TPG offered me a Mint flight back. I booked the flight right when it went on sale and, luckily, was able to snag one of two Mint Studios, the first row of Mint seats which feature extra space, for an extra $199.
Arriving at Gatwick
Gatwick is one of the major airports in London, and despite the broad strokes painting it as the leisure airport, it also sees plenty of business travel. Don't mistake it for a dinky side operation.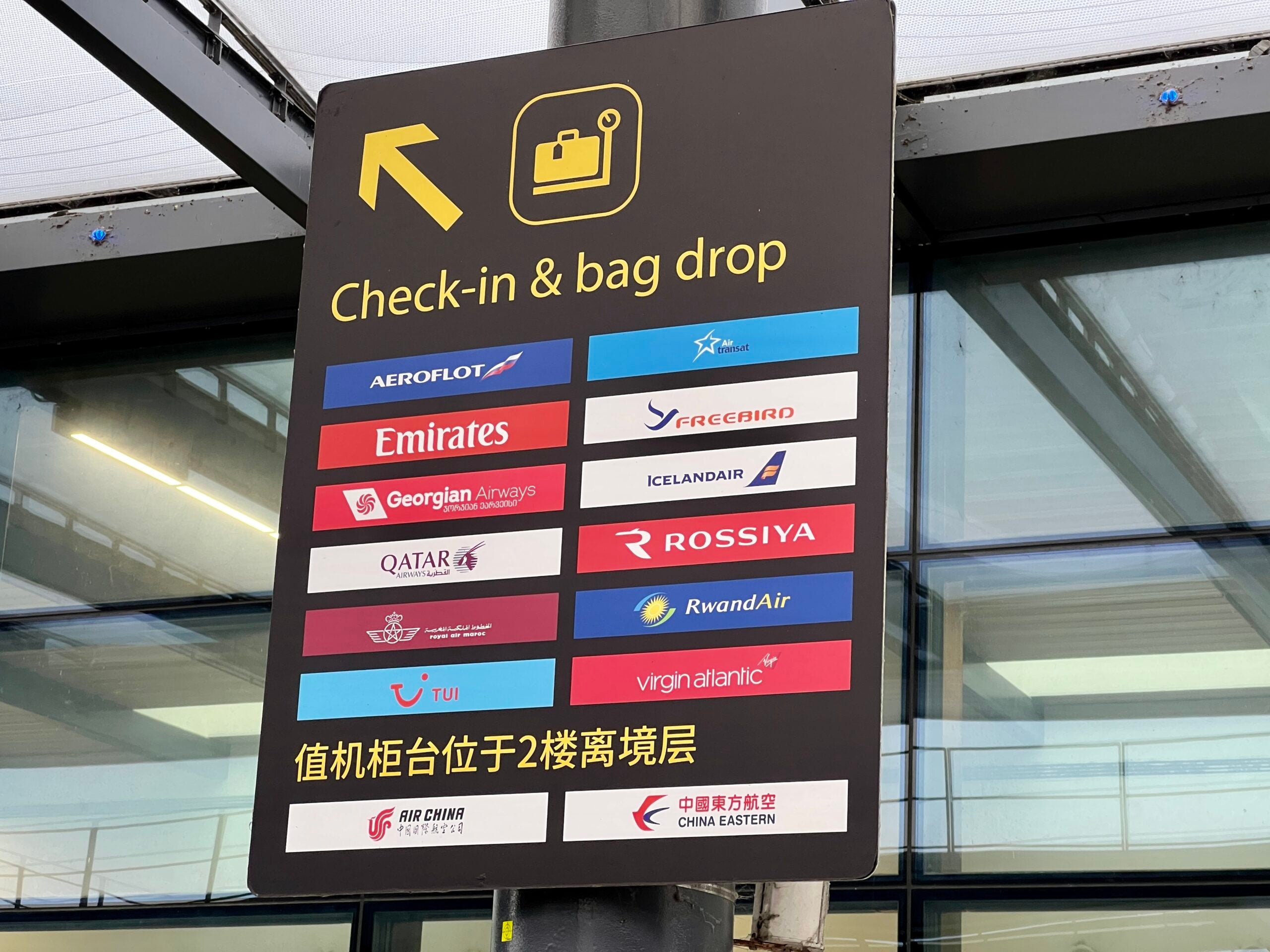 JetBlue flies from the North Terminal, which it currently shares with every other airline at Gatwick, part of a COVID-era consolidation.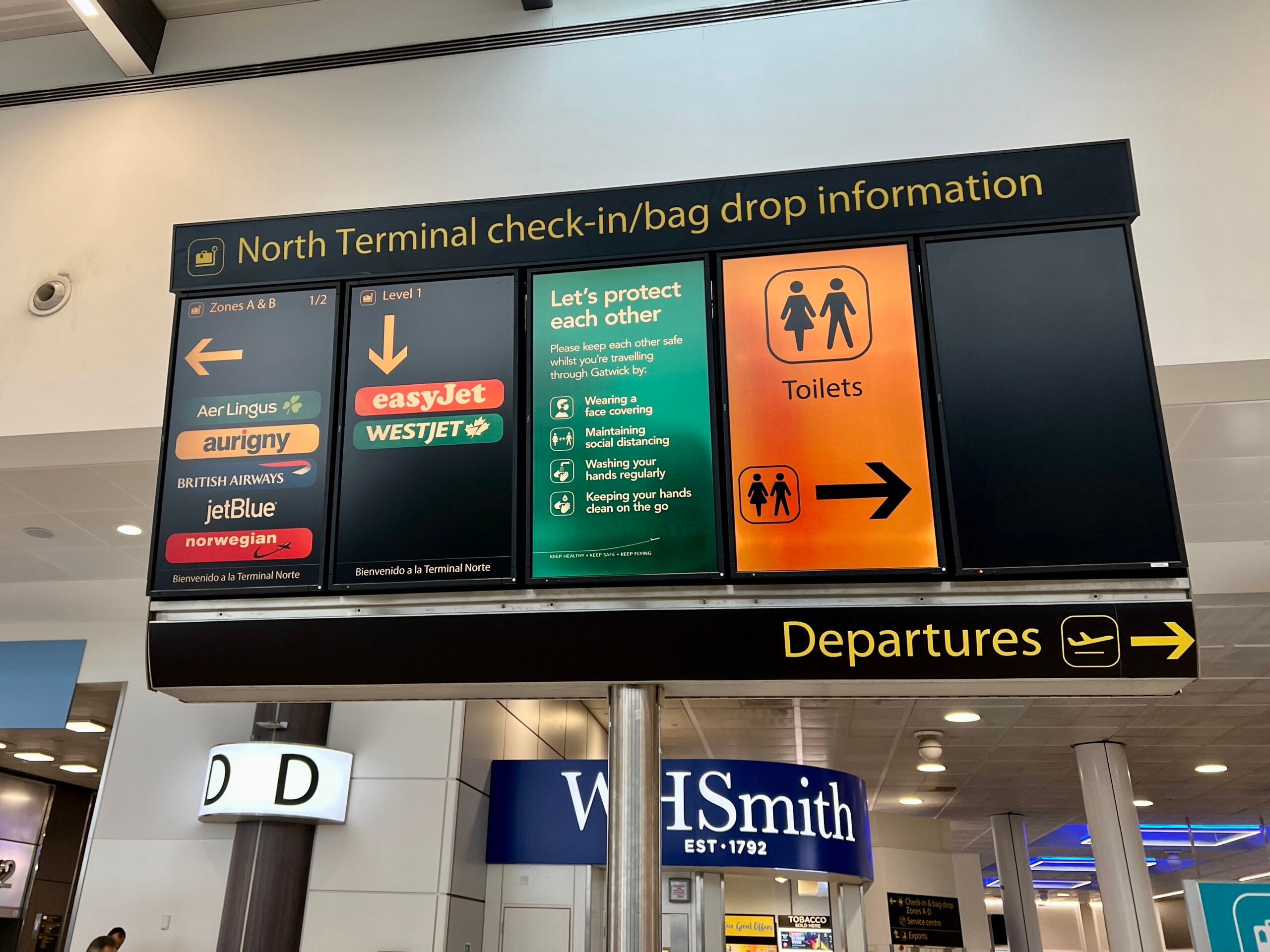 The New York-based carrier is still missing from the physical signage around the terminal, but all of the electronic displays have the JetBlue logo prominently.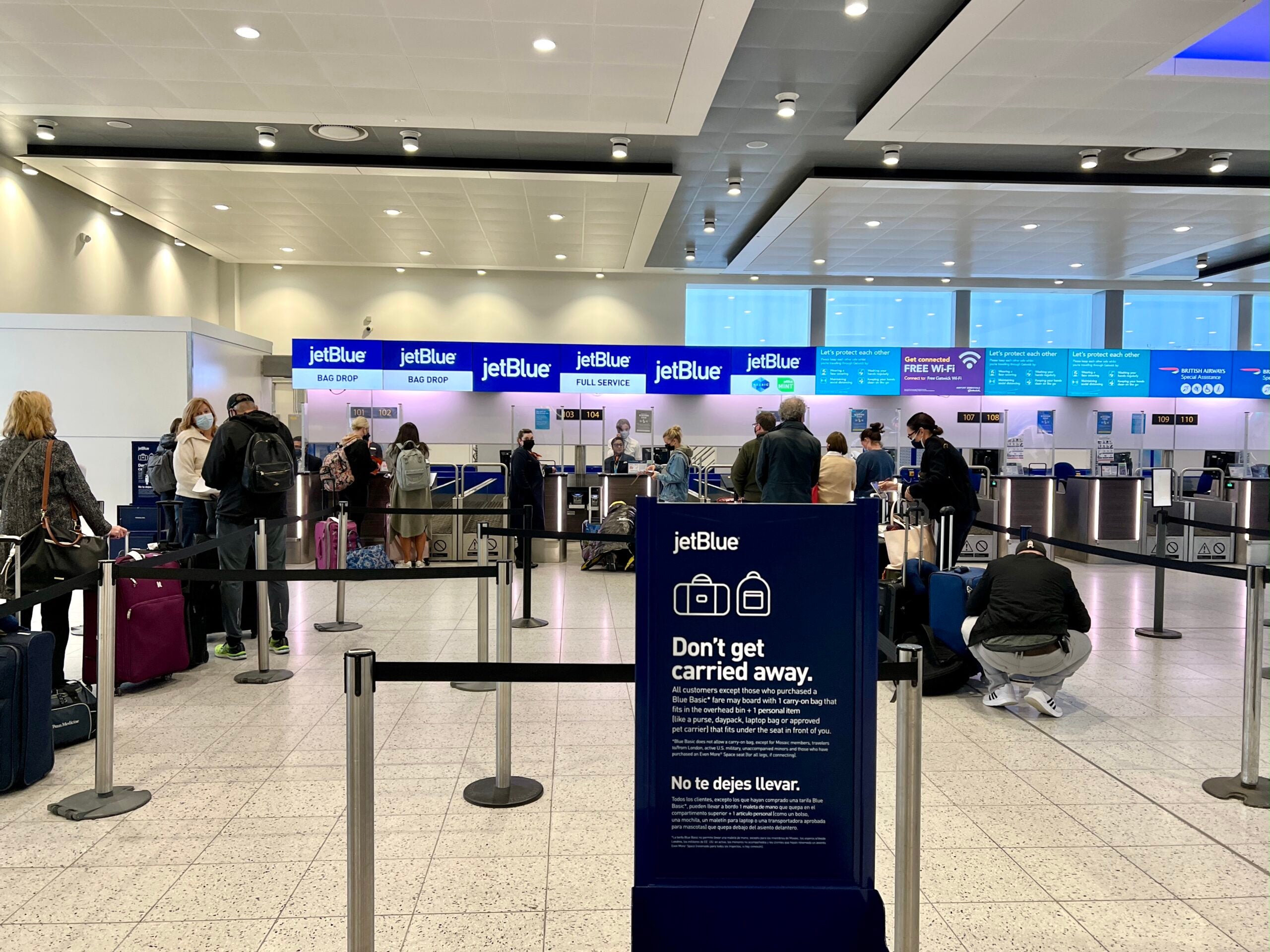 Even without the signage, just looking around the terminal, I was able to spot the JetBlue check-in counter.
Setting up a new base can be tricky for an airline, particularly when it's an international base — and particularly in the days of COVID restrictions. So it wasn't surprising to see a bit of a queue at the JetBlue check-in counter, both at the Mint desk and the Core one.
Within moments, though, an agent came up to me asking if I had an American passport and just carry-on luggage, and offered to give me a hand at the self-check-in kiosks.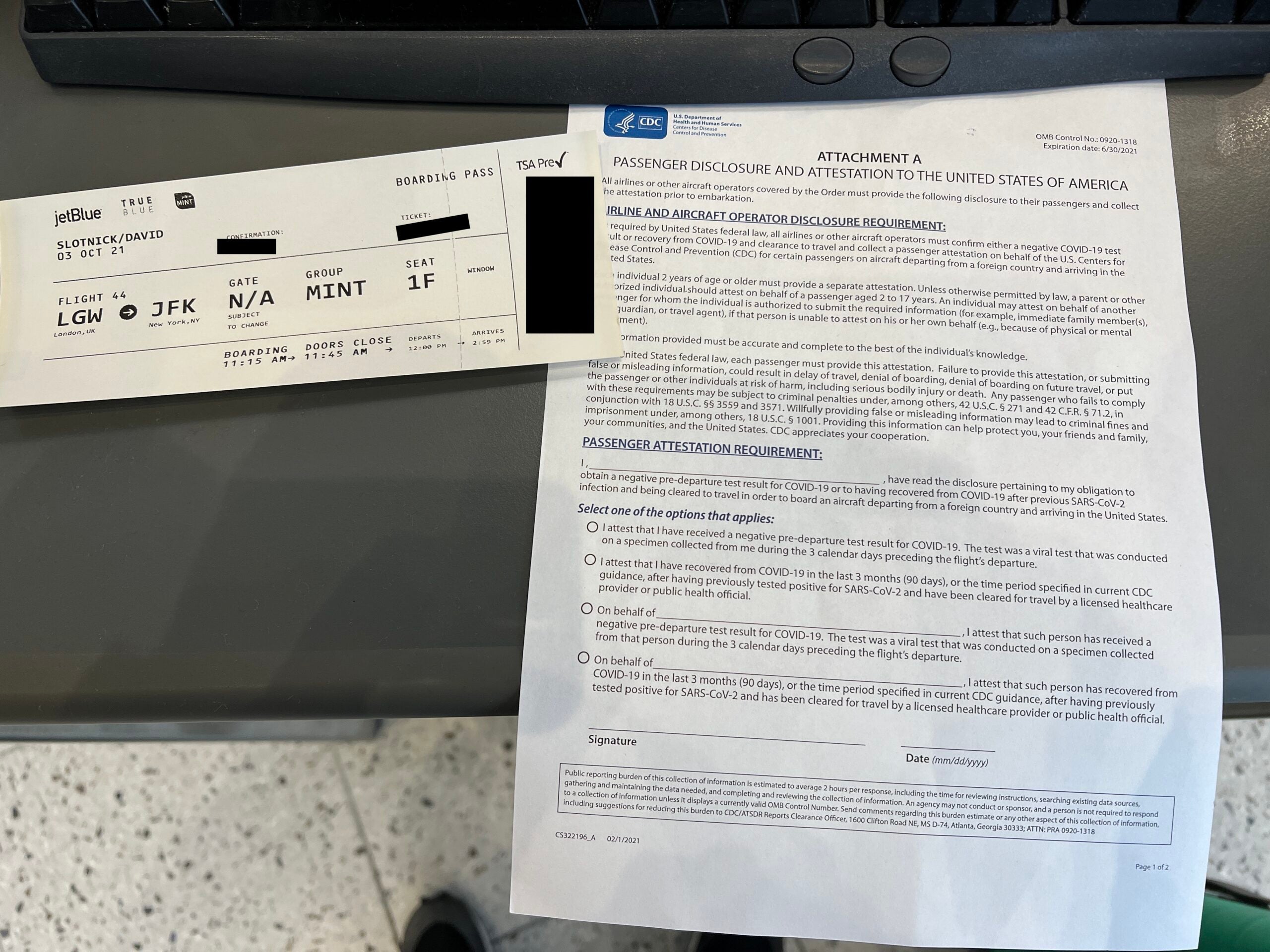 The agent, who was a new hire, along with a JetBlue employee who was training her, helped me scan my passport, then looked at my negative COVID test and had me fill out an attestation form. I returned the form to the agent, got my boarding pass, and went through security.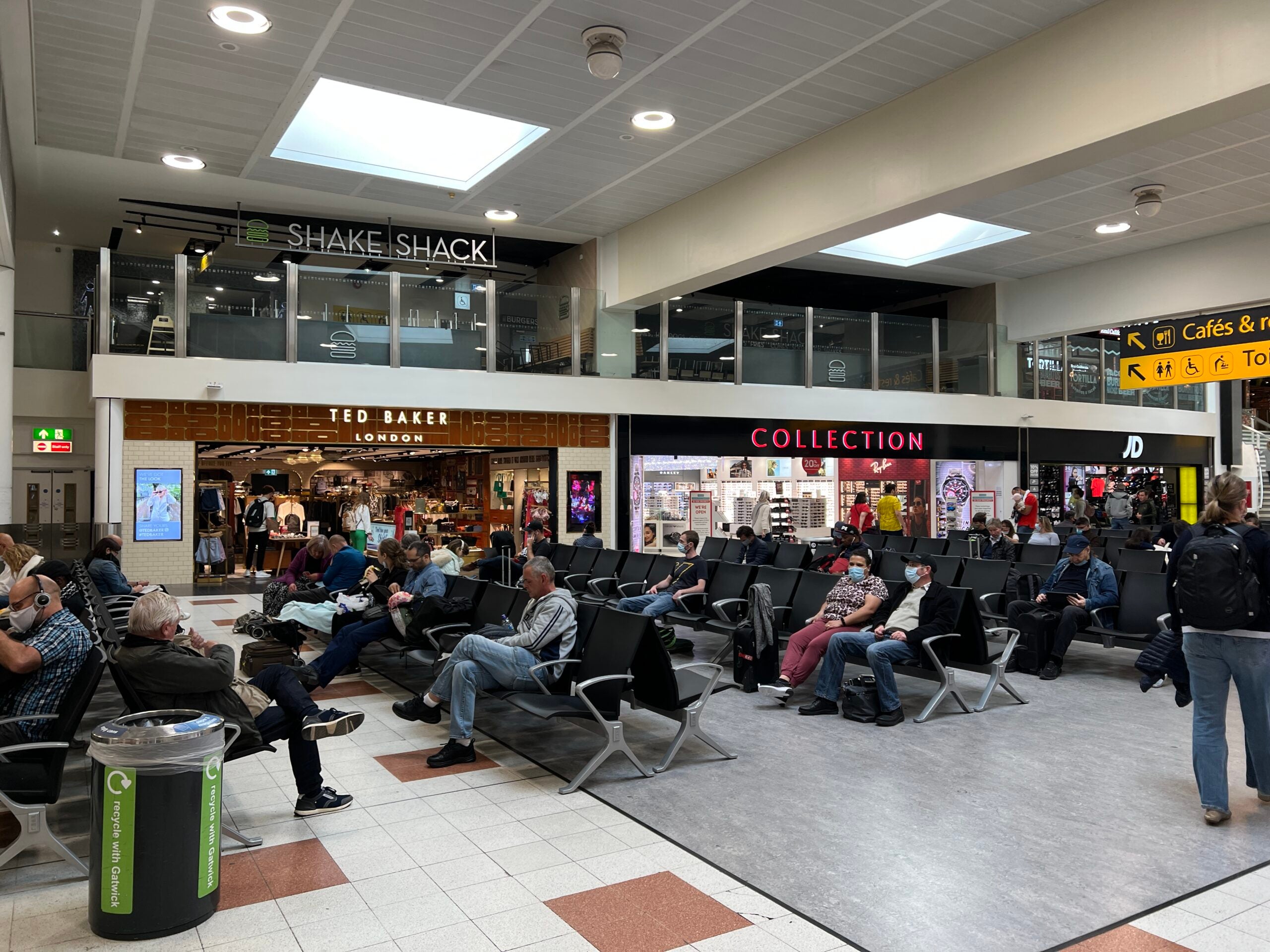 JetBlue does not offer lounge access to Mint passengers at Gatwick — just like at Heathrow and JFK.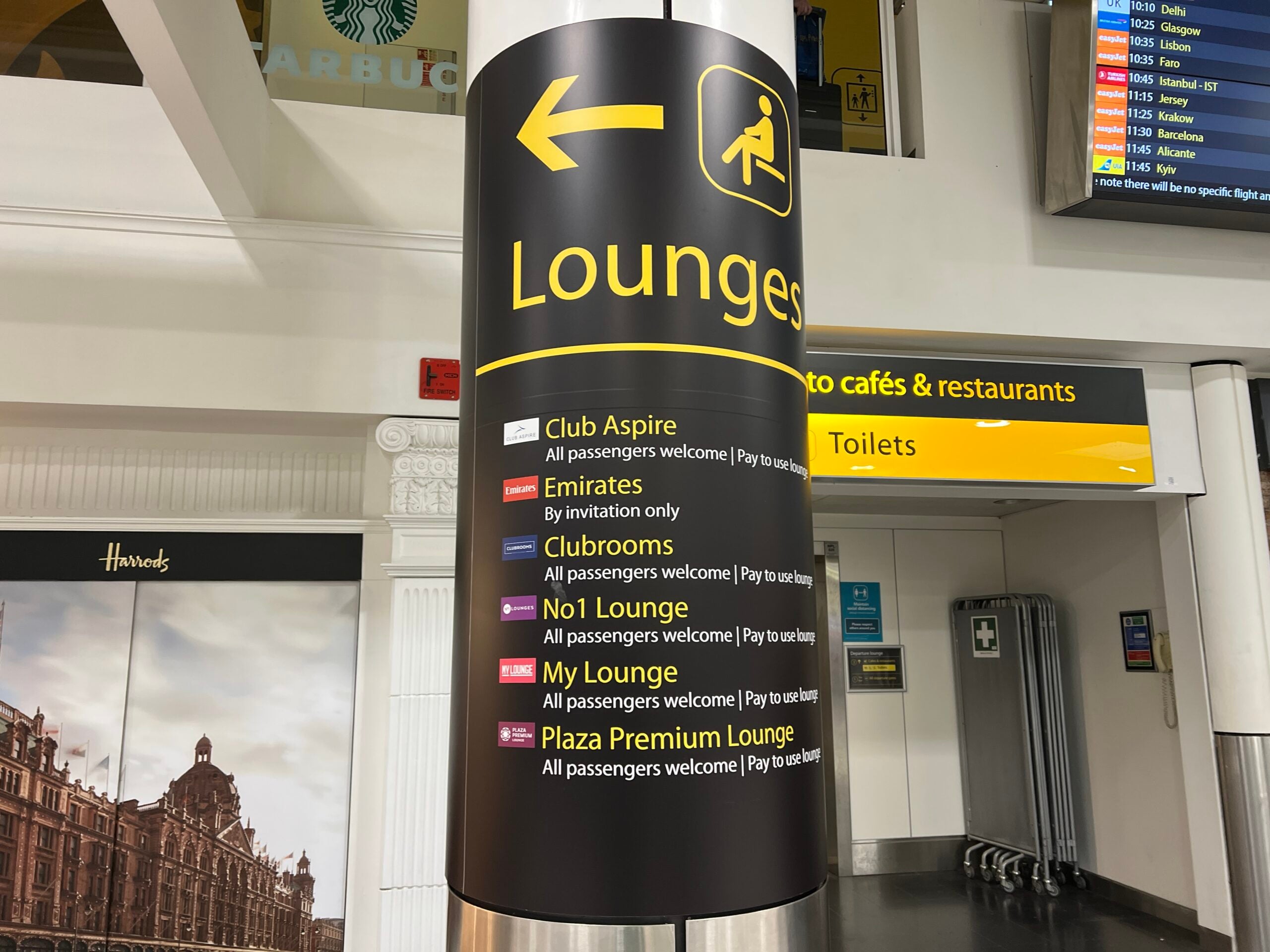 But there are plenty of shops, cafes, and restaurants in the terminal — so it's easy enough to kill time. If you would rather go to a lounge, however, there are a few options for Priority Pass members.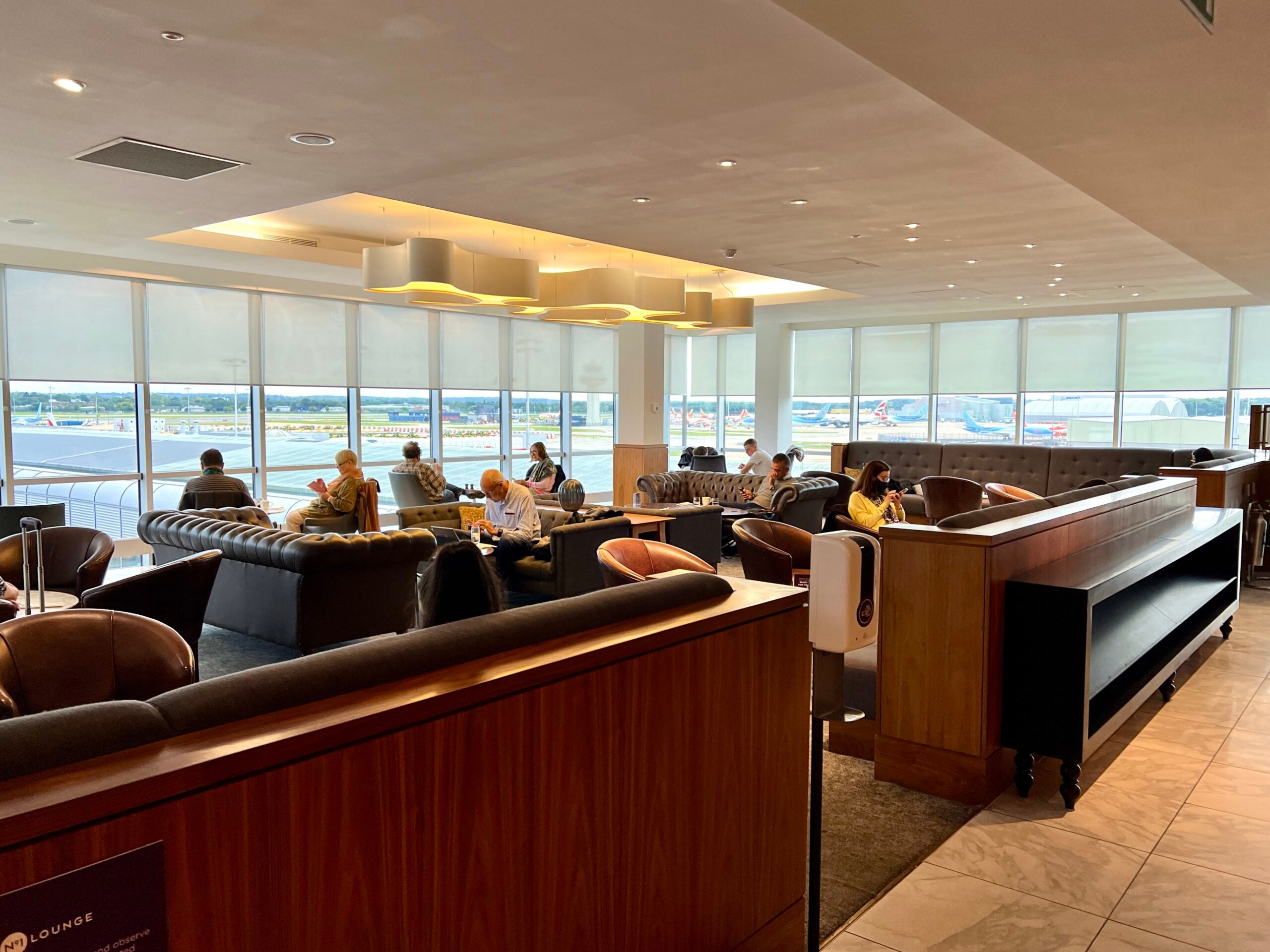 Of course, given the decrease in travel due to COVID, it's worth noting that some of those lounges have temporarily closed. For now, the No. 1 Lounge is available.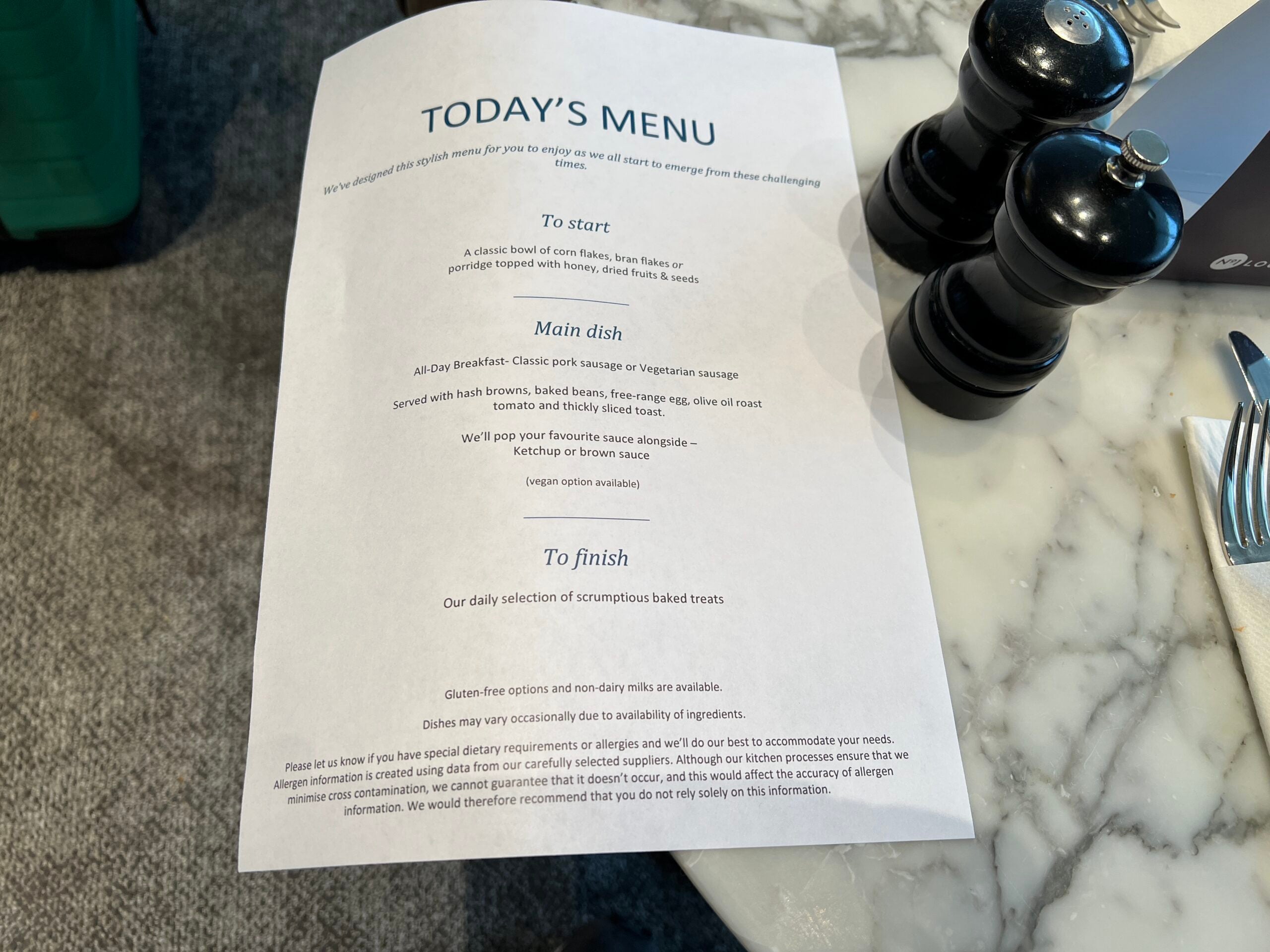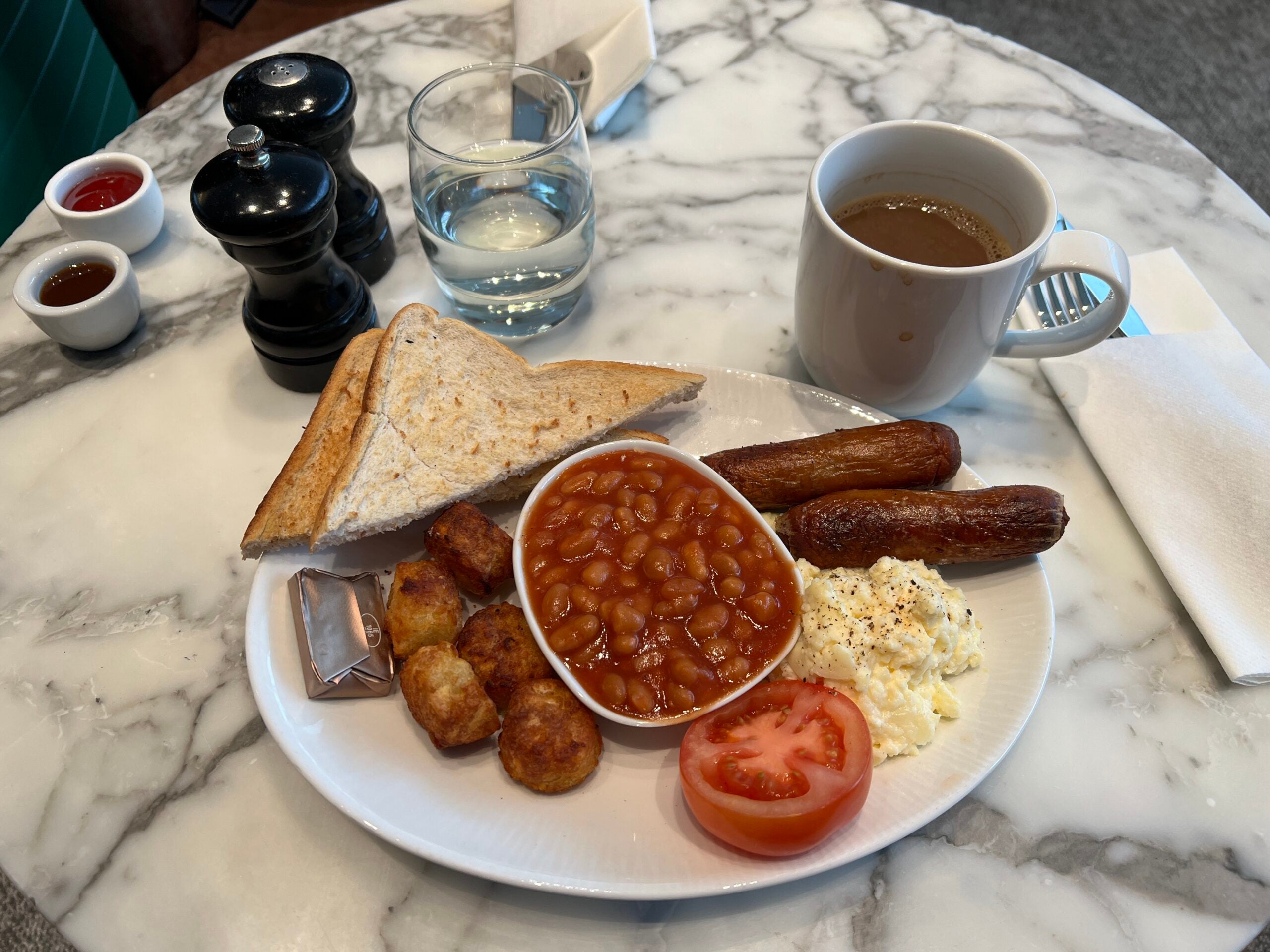 I checked in at the front desk with my Priority Pass card and boarding pass, and ordered breakfast — food is all table service, while coffee is self-serve.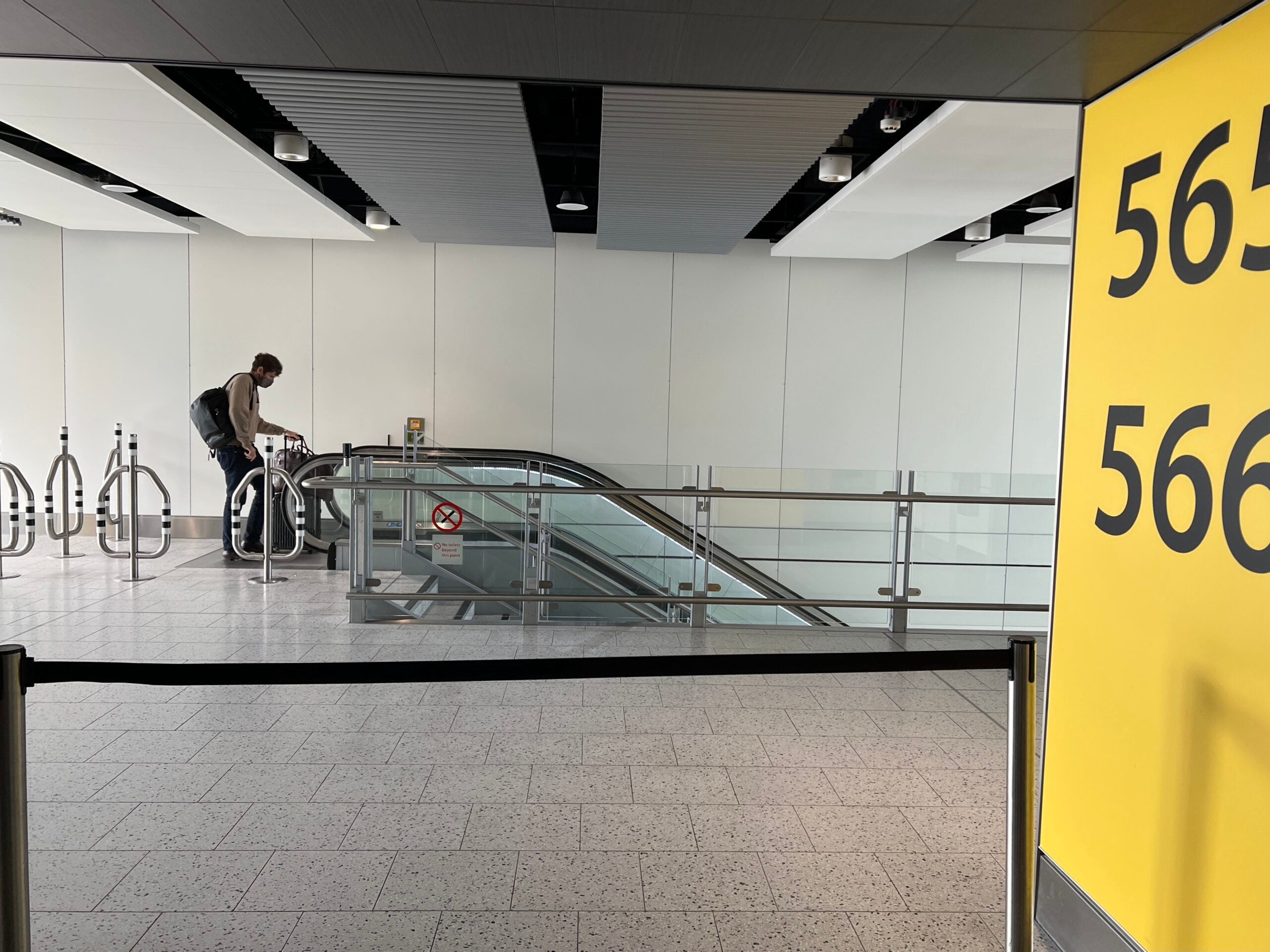 I moved towards the gate a little before boarding. It was a short walk, past a secondary security question area, then down an escalator.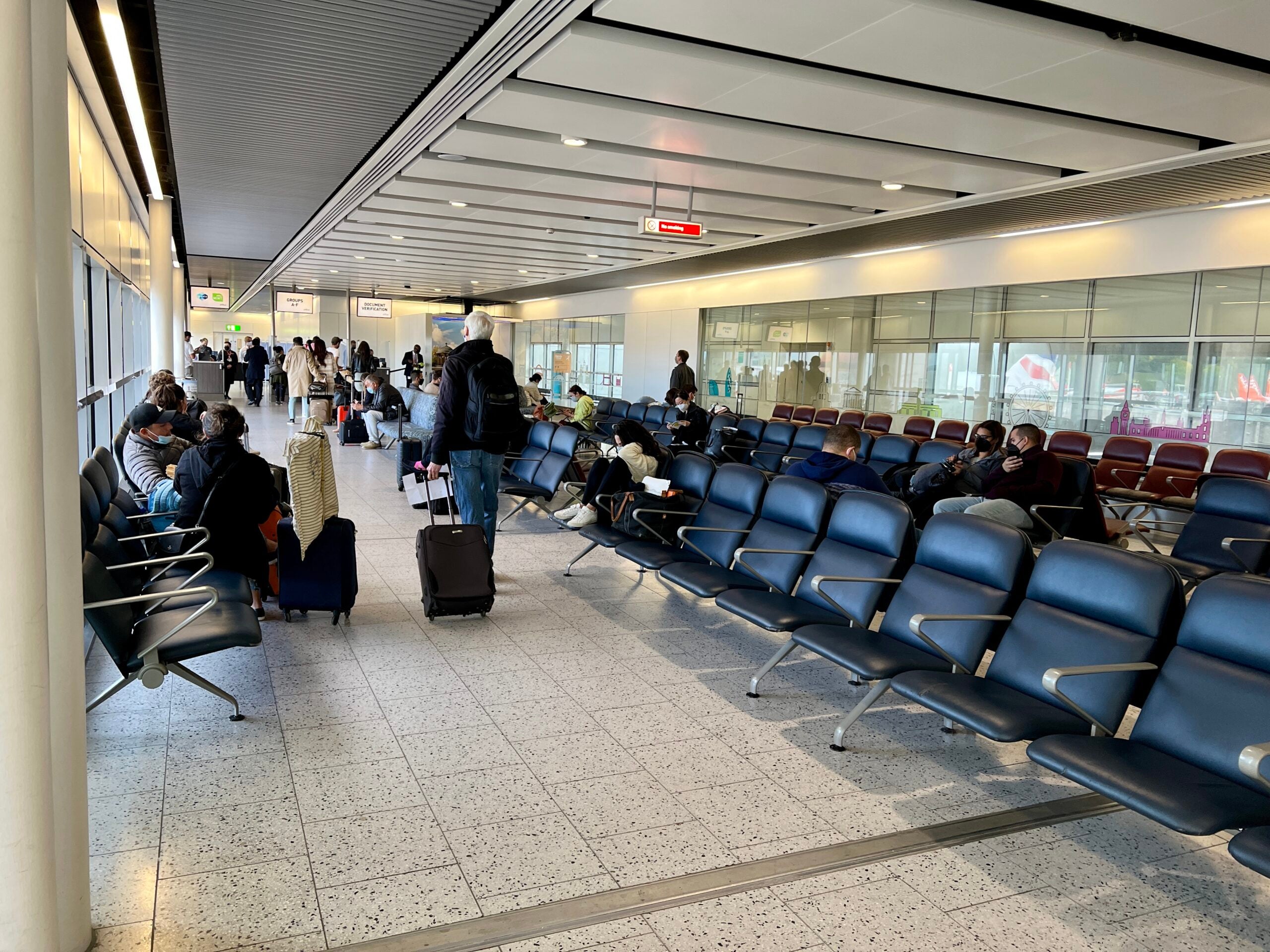 At the gate, the agents called passengers who hadn't had their documents verified at check-in — generally because they didn't check bags and used a mobile boarding pass — to verify that they had taken the required COVID test.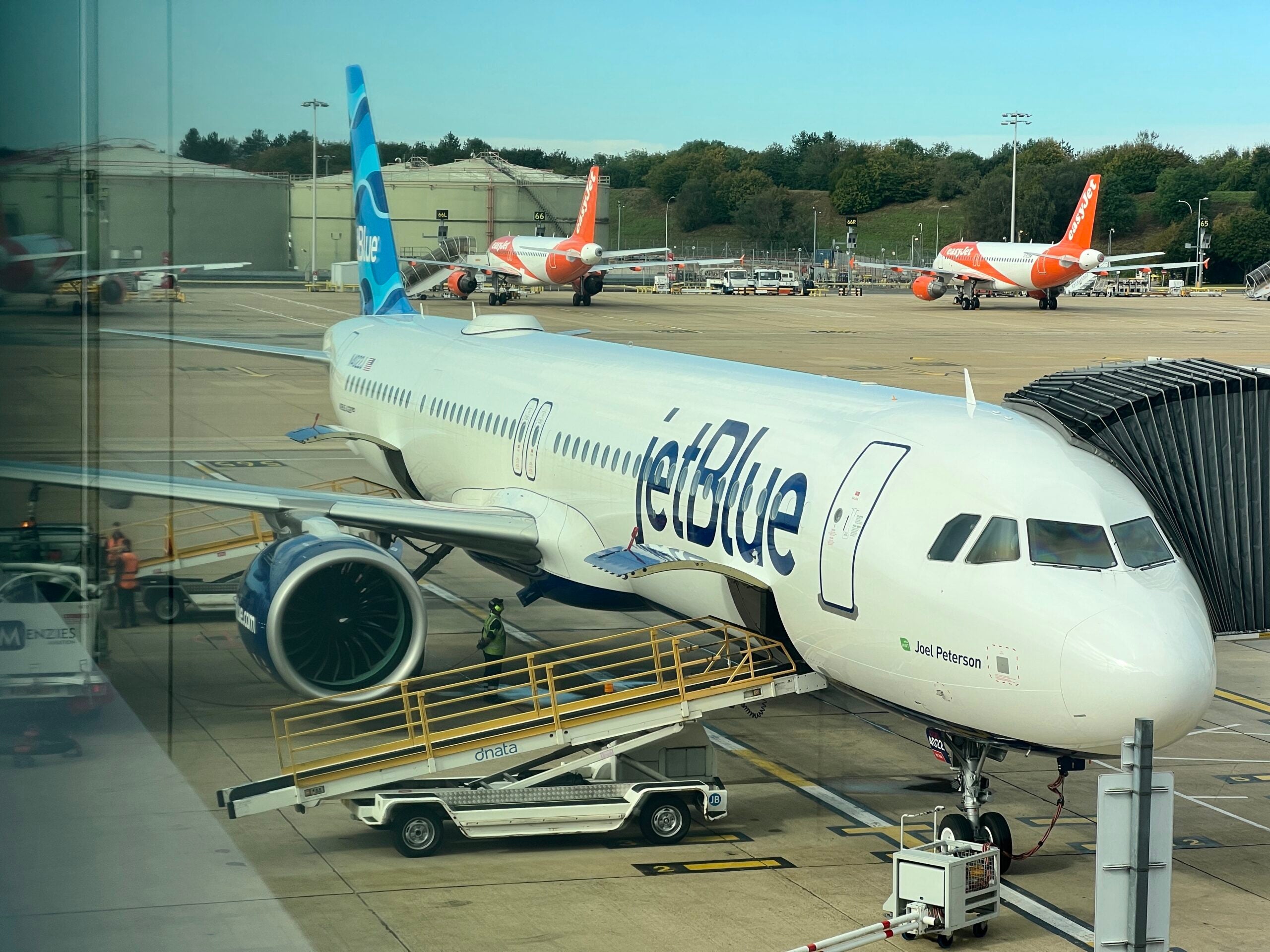 Boarding began right on time, with pre-boarding quickly followed by Mint and Mosaic passengers.
A sweet suite, and a sweeter studio
The Airbus A321LR that JetBlue uses to operate its London service has 12 rows of its Mint business class seats arranged in a 1-1 layout, facing forward on a slant — that's a total of 24 Mint seats. It's similar to the A321neo, just with more rows of Mint.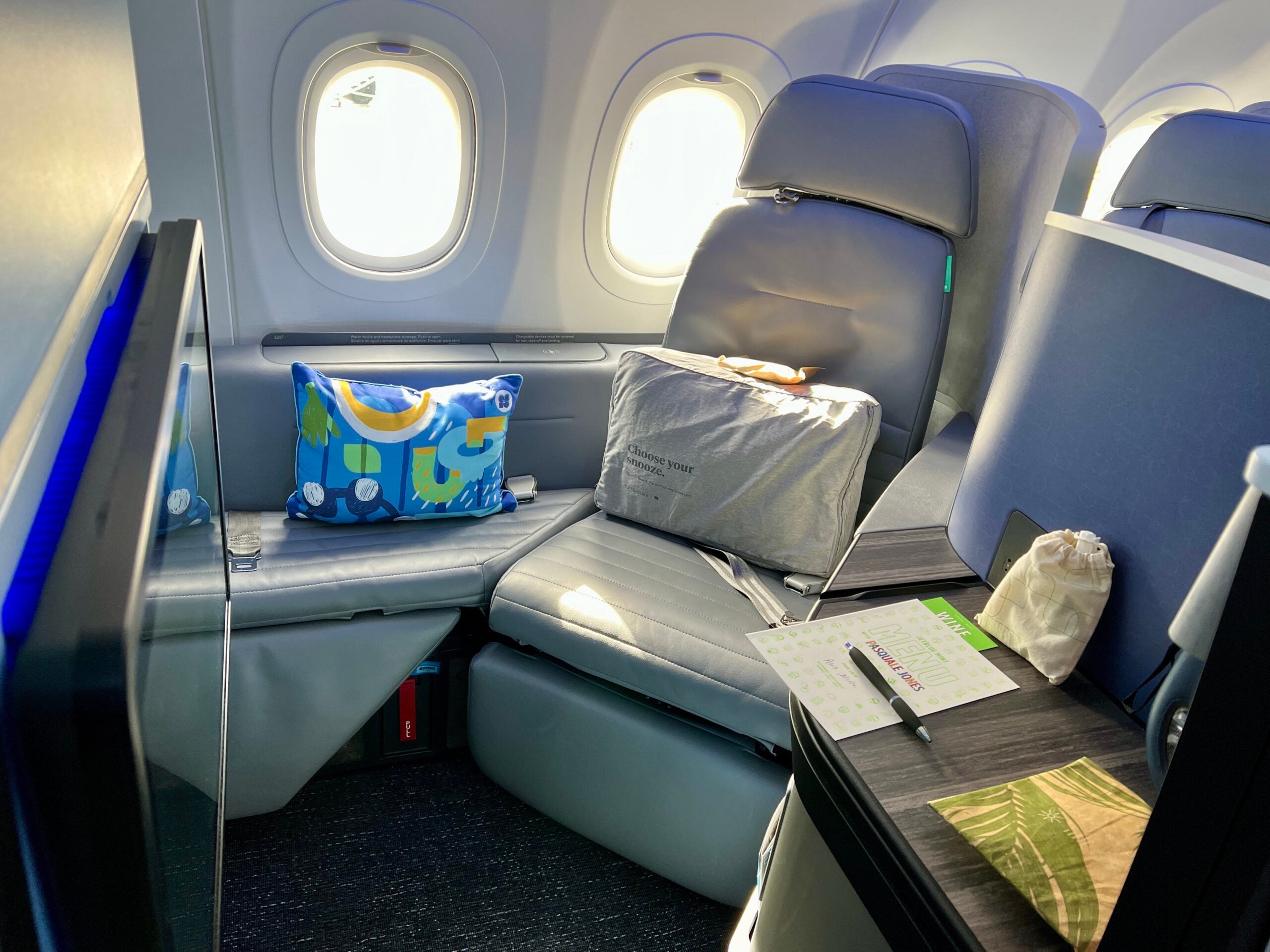 The two seats in the first row have some extra room and are considered a slightly different product, the Mint Studio. The remaining 22 seats are Mint Suites.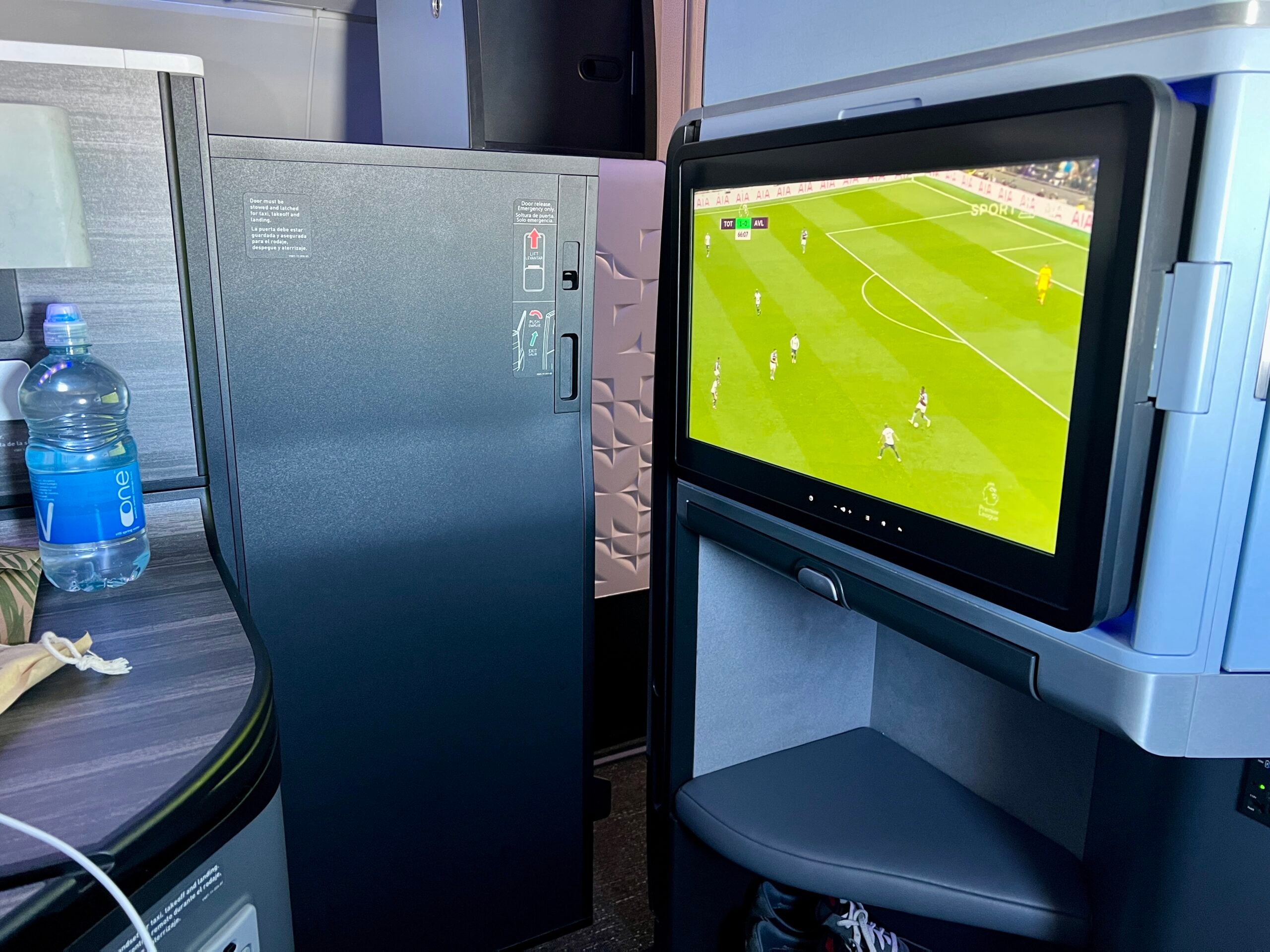 Both the Studio and the Suites have sliding doors, but they don't close completely. There's a small gap, and the doors rise only to about chest level if you're standing. So there's definitely privacy, but less than you'd find with a properly closing door like on Qatar Airways.
I sat in seat 1F — the starboard Studio. You can read a review of the Suite on a flight from London Heathrow here.
The Studio typically has a price premium above the Suite, typically $199. The service is exactly the same, but you get a nice bit of extra space. It's basically like the airline didn't have quite enough room for another row of seats, and decided to just elongate the first row instead.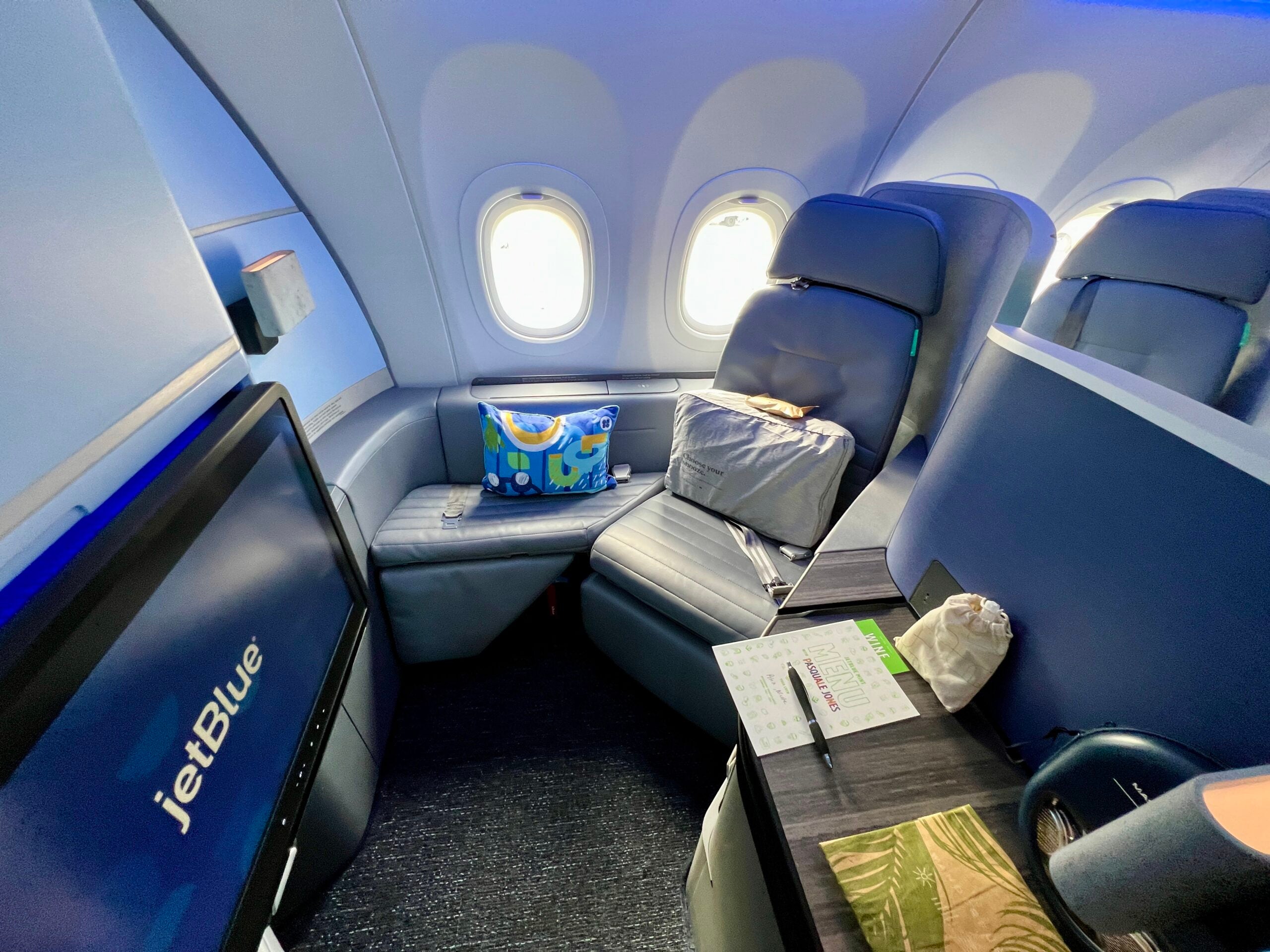 It's not a make-or-break amount of space, but it is definitely fun to have and extremely comfortable, even compared to the impressive Suites.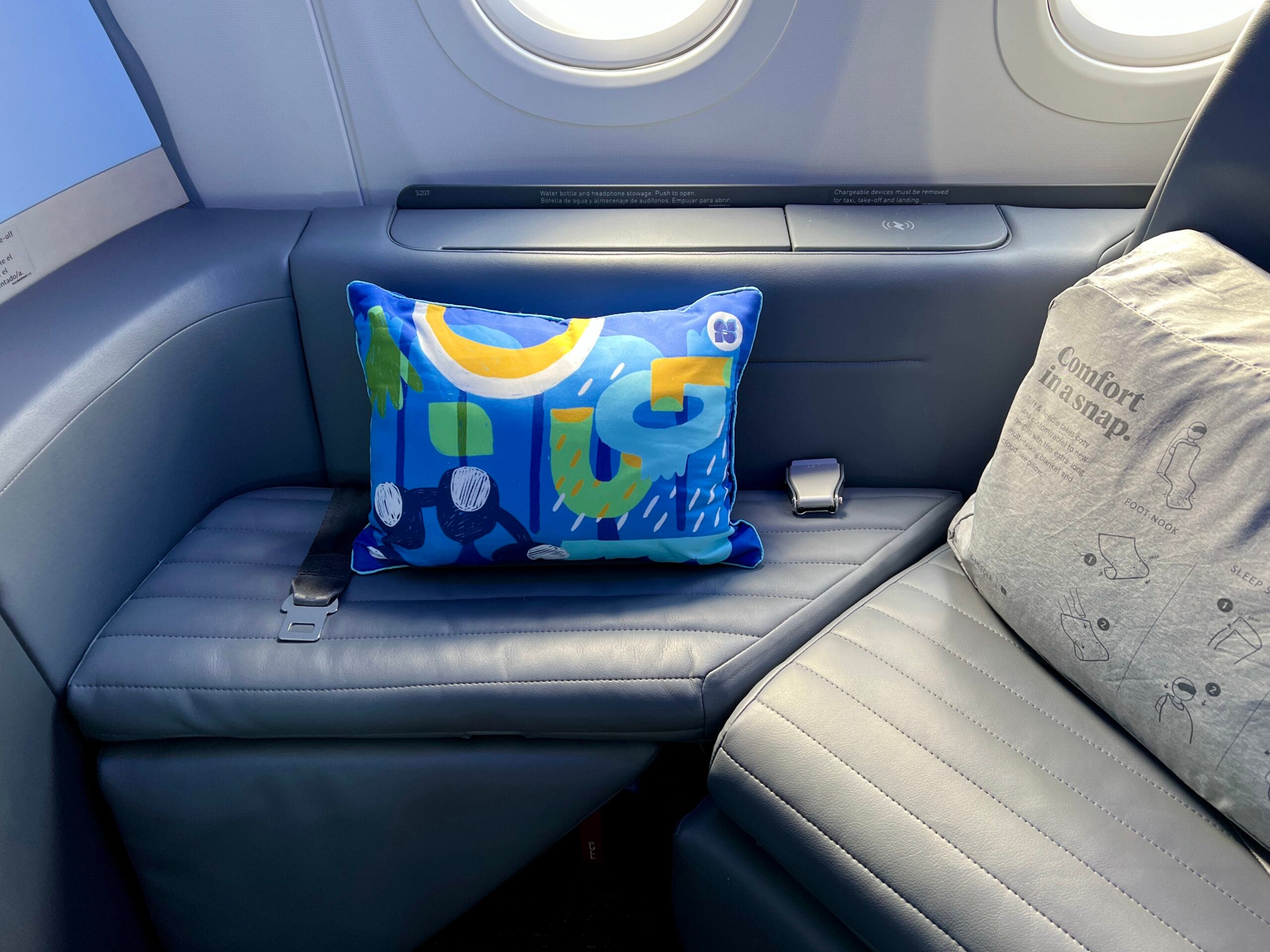 In theory, some of the extra space can function as a "buddy seat," where a travel companion can join you and sit to watch a movie, have a drink, or even eat dinner. There's even a second tray table and a seatbelt for that seat, although someone can't sit in it during take-off or landing.
London calling: Where to sit when flying JetBlue's A321LR to and from the United Kingdom
In reality, it would be a bit of a squeeze, unless the other occupant is a child or a significant other, or someone you're okay getting quite up close and personal with — they'll practically be in your lap.
Although I actually ran into a friend on this flight, we decided to skip the buddy seat.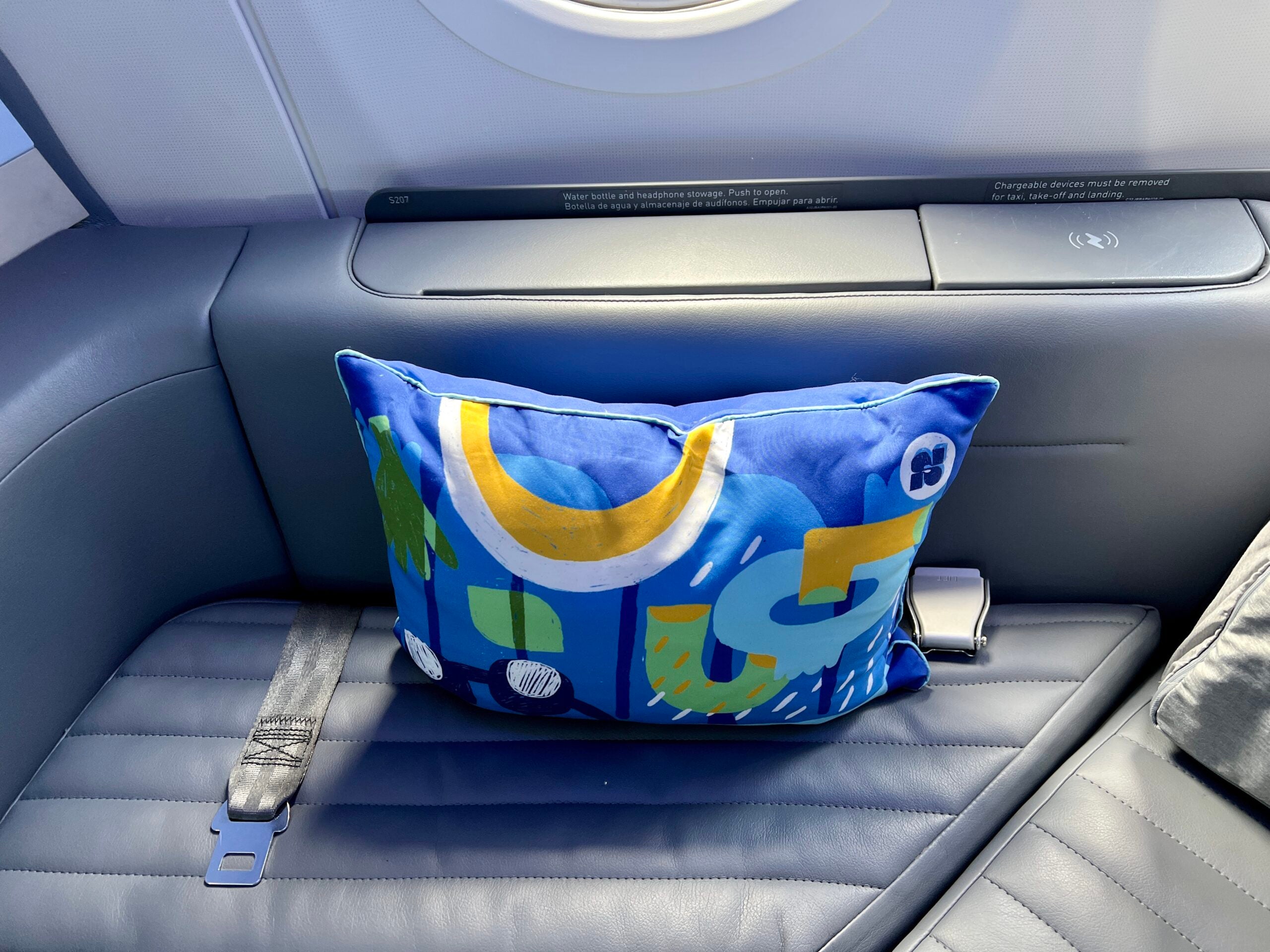 Instead, I enjoyed the extra storage space in the pod, and the extra shoulder room. I could sit almost sideways, slouch, slant, lean or even curl my legs under me without feeling at all tight. And when I lowered the seat into bed-mode to take a nap, I couldn't believe how spacious and open it felt around my head and shoulders.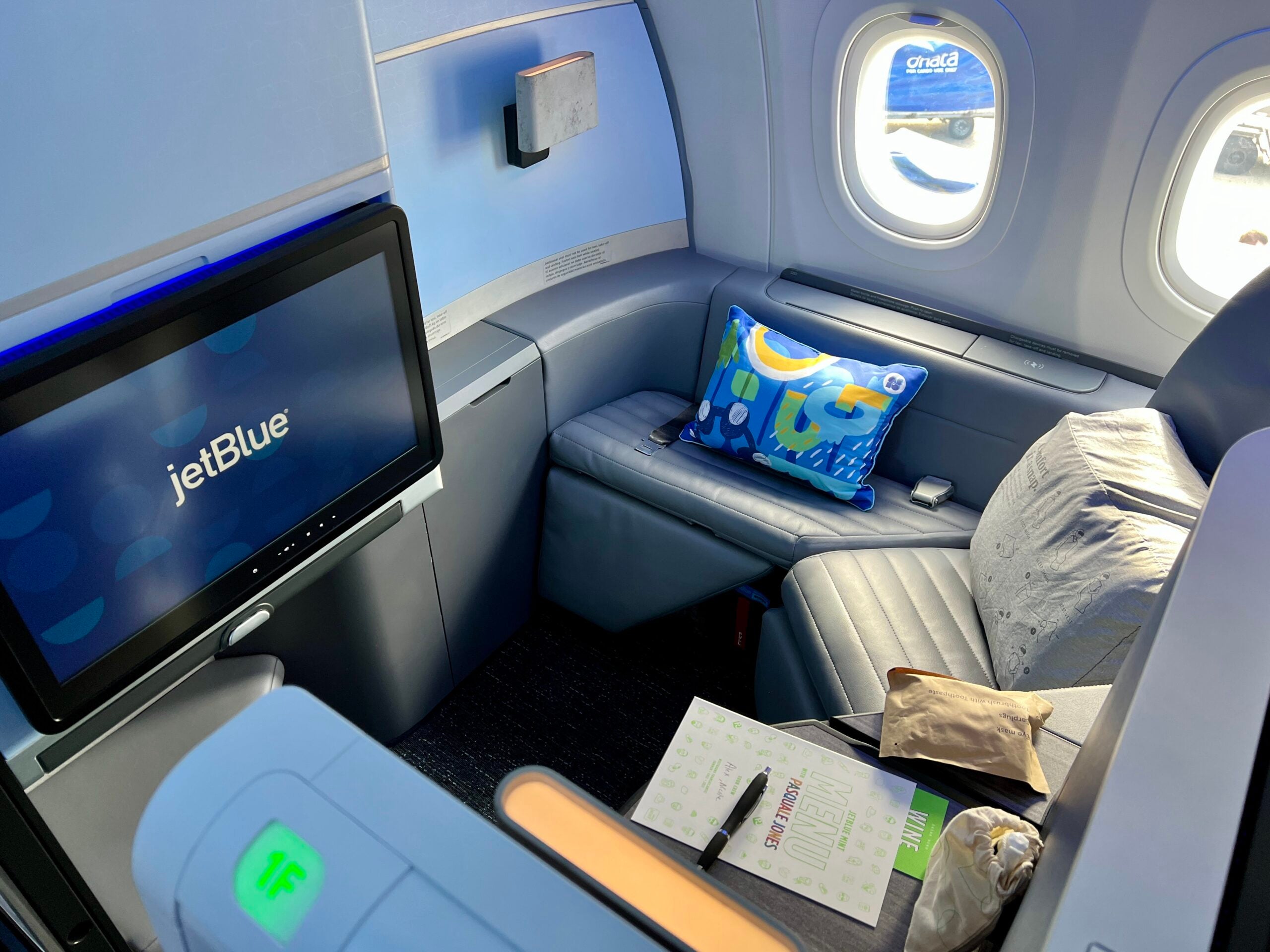 It also meant more space to put my backpack and other stuff during the flight.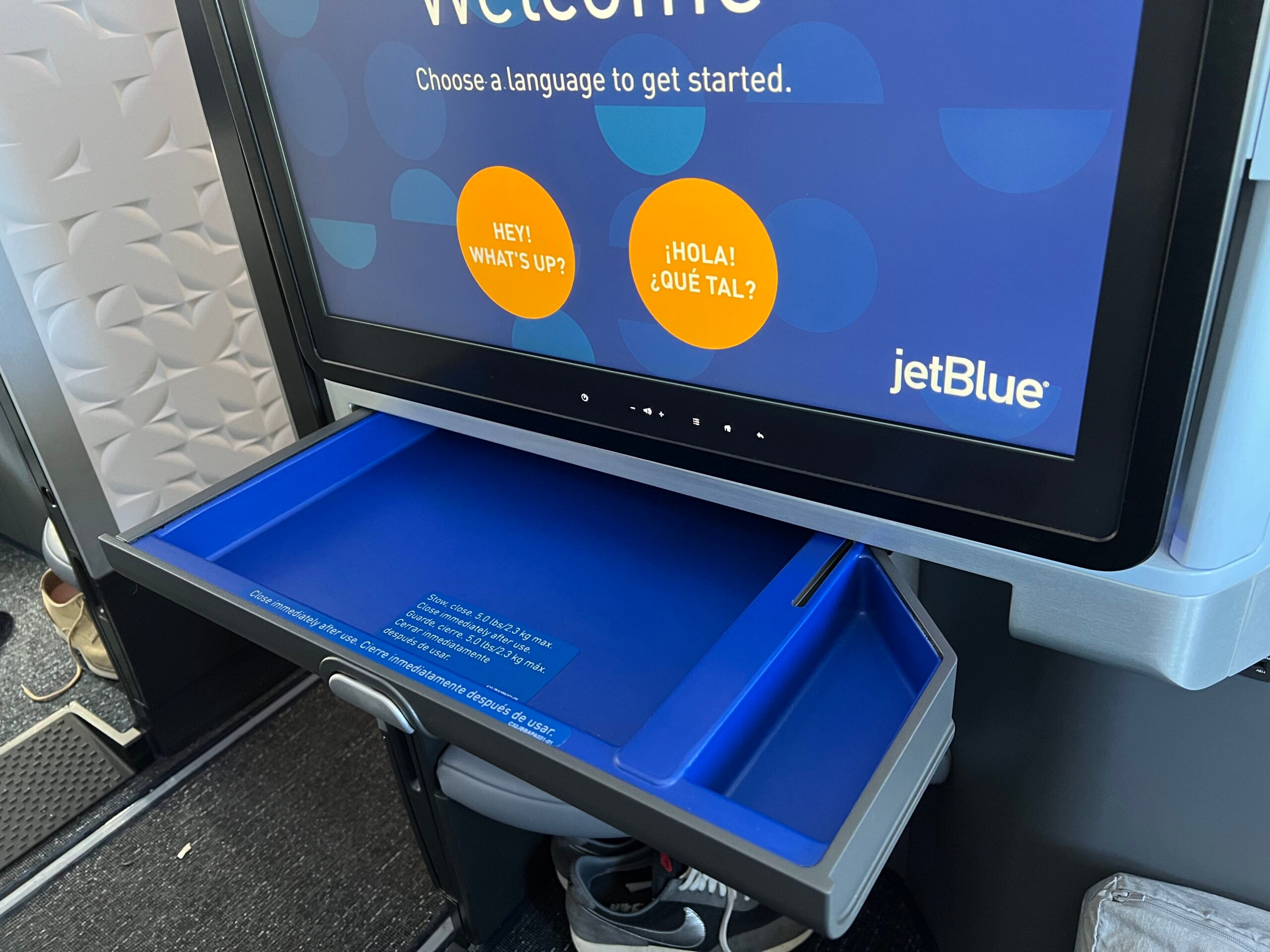 Not that there was a lack of storage space — the Studio was loaded with drawers and compartments for just about everything.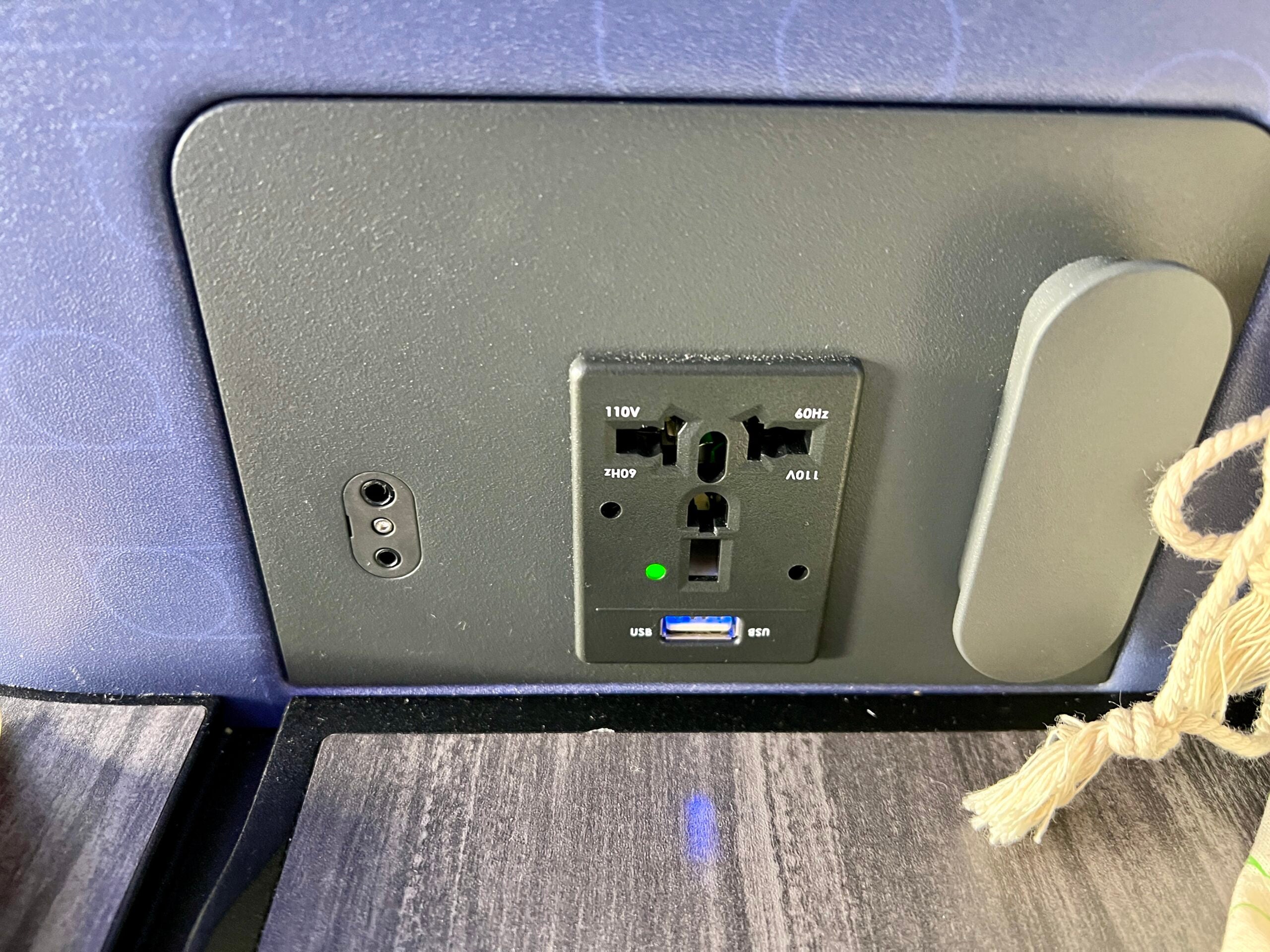 There were also two full-sized power outlets, as well as USB ports.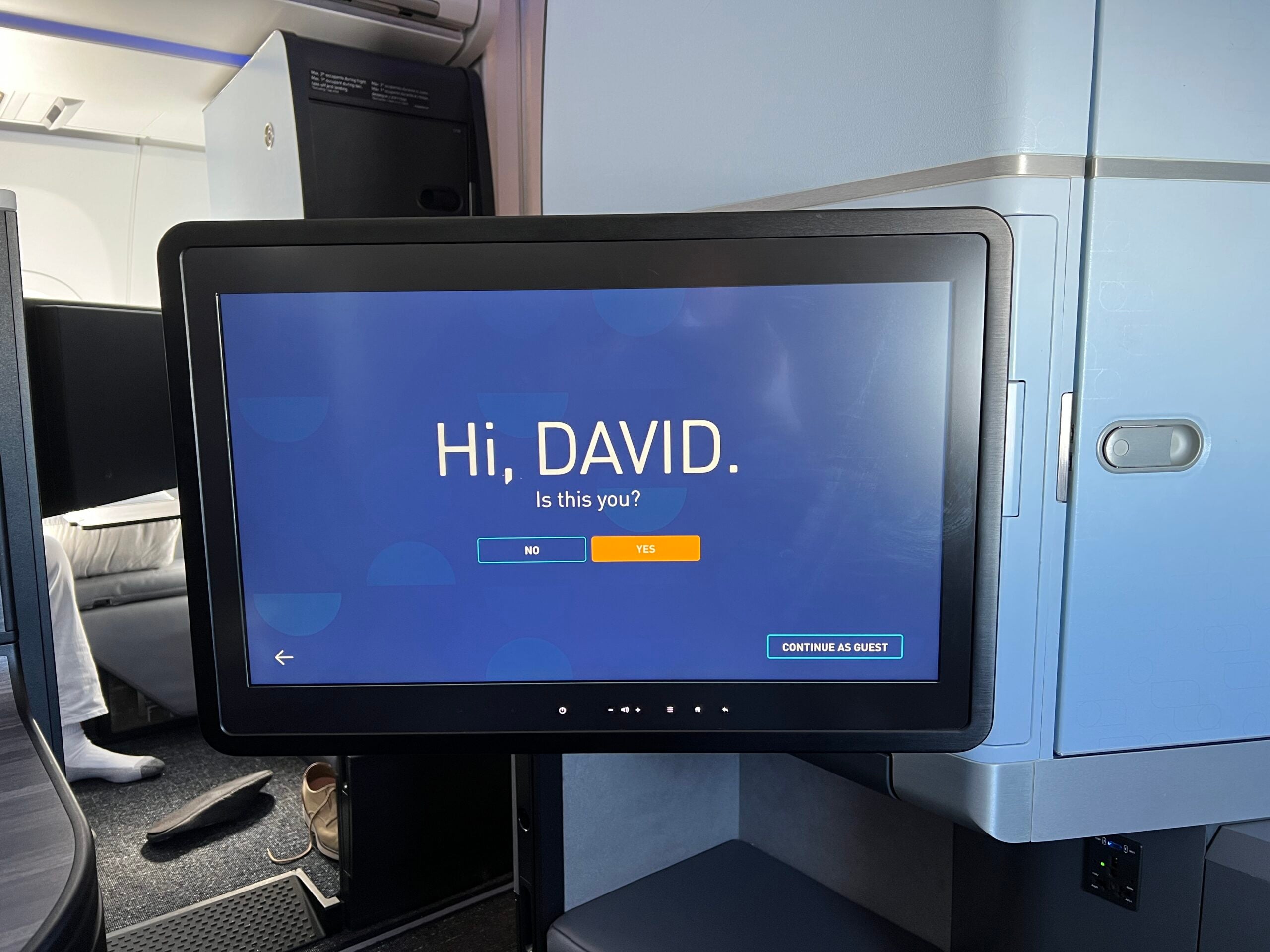 There's a gigantic 22-inch in-flight-entertainment screen — the regular Suites get a smaller but still impressive 17-inch one — which angles out towards you aside from during take-off and landing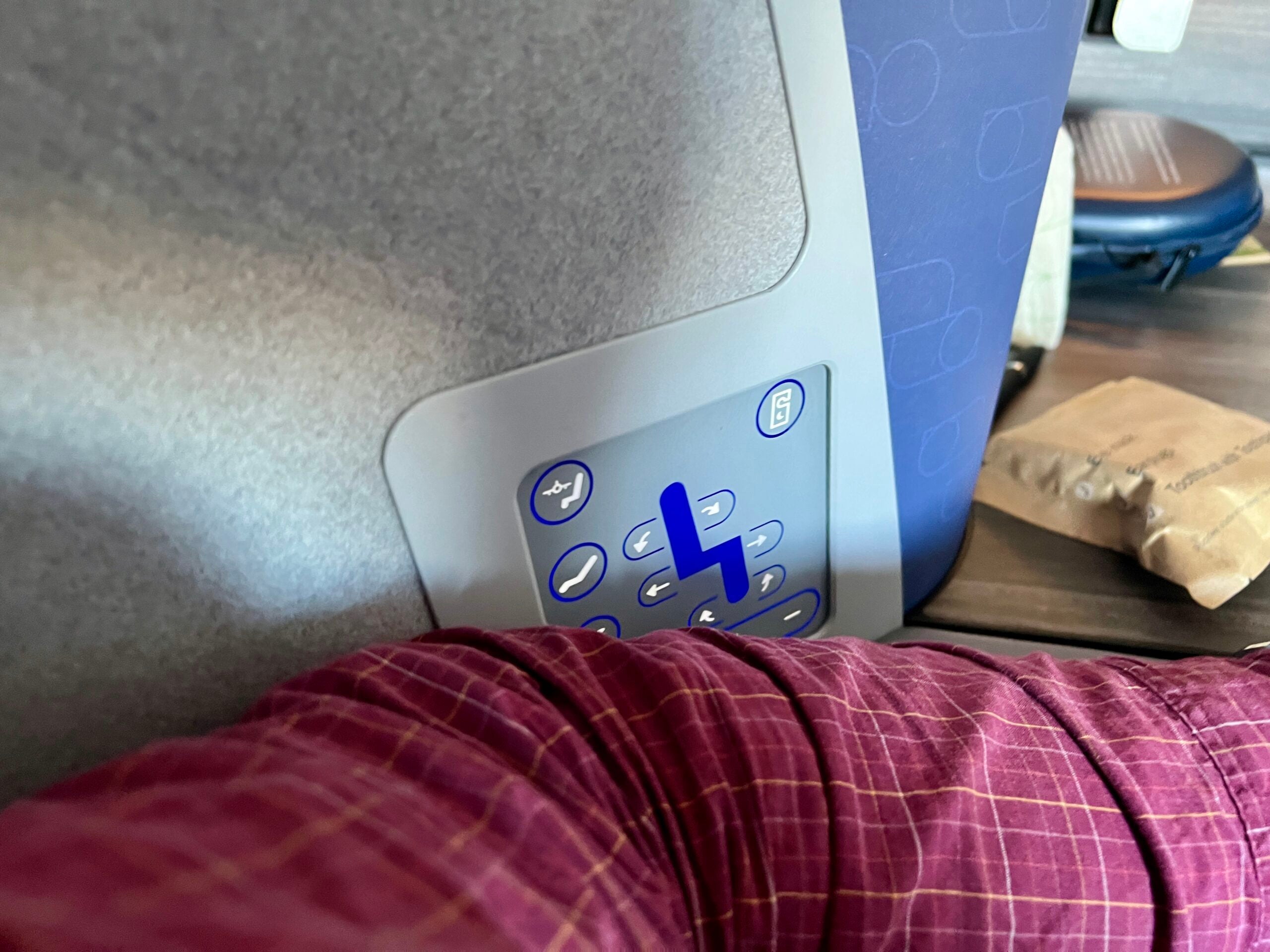 The seat was quite comfortable, and there was only one minor flaw — I kept knocking the seat control panel with my elbow, making the seat move unexpectedly. By the end of the flight, I had gotten used to positioning my arm carefully,
Waiting at each seat were a few different amenity kits.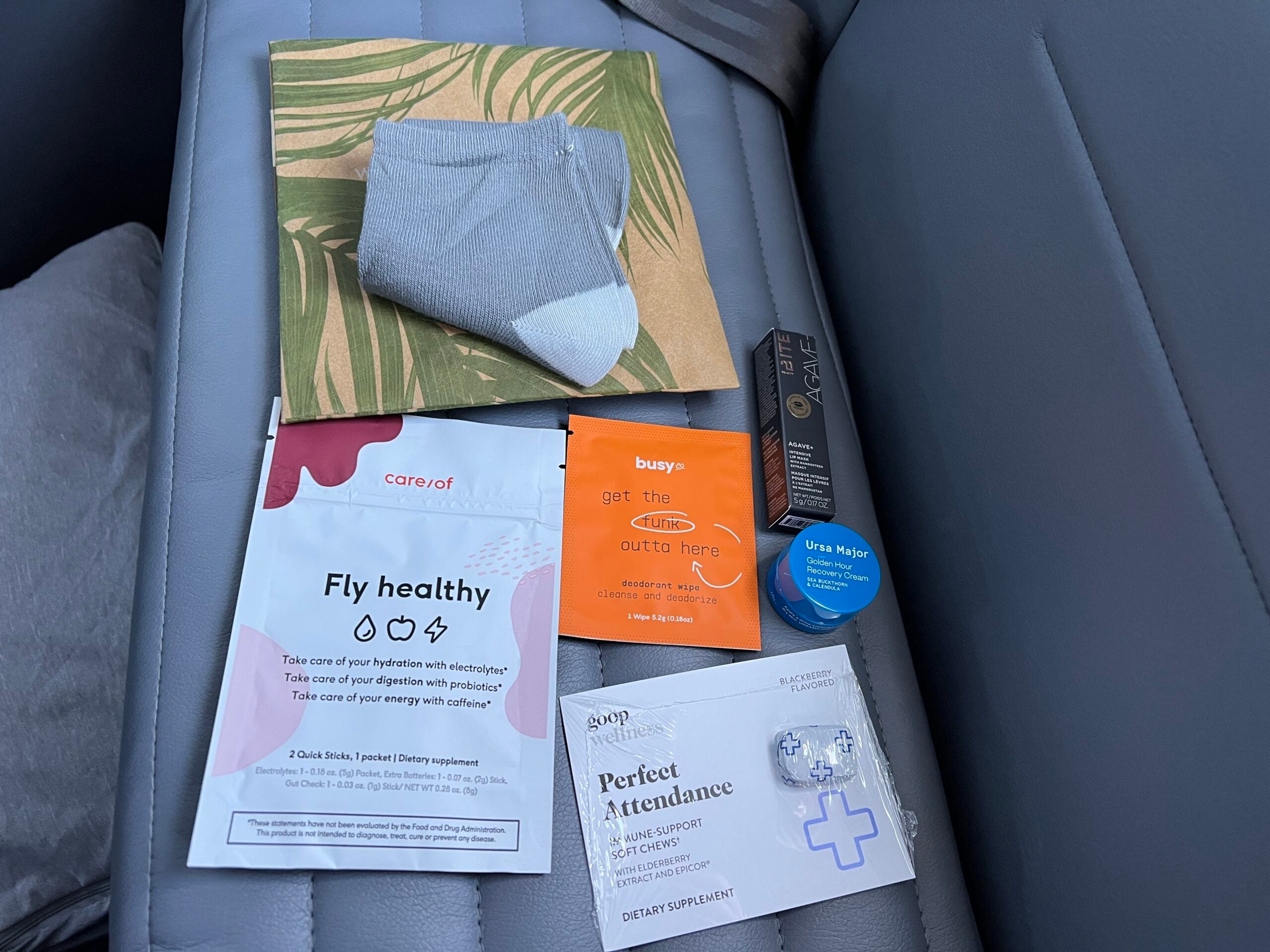 One, from Wanderfuel, had a handful of supplements, including an "immune support" chew, as well as a lip balm, socks, and a deodorant wipe — a really handy addition for red-eyes.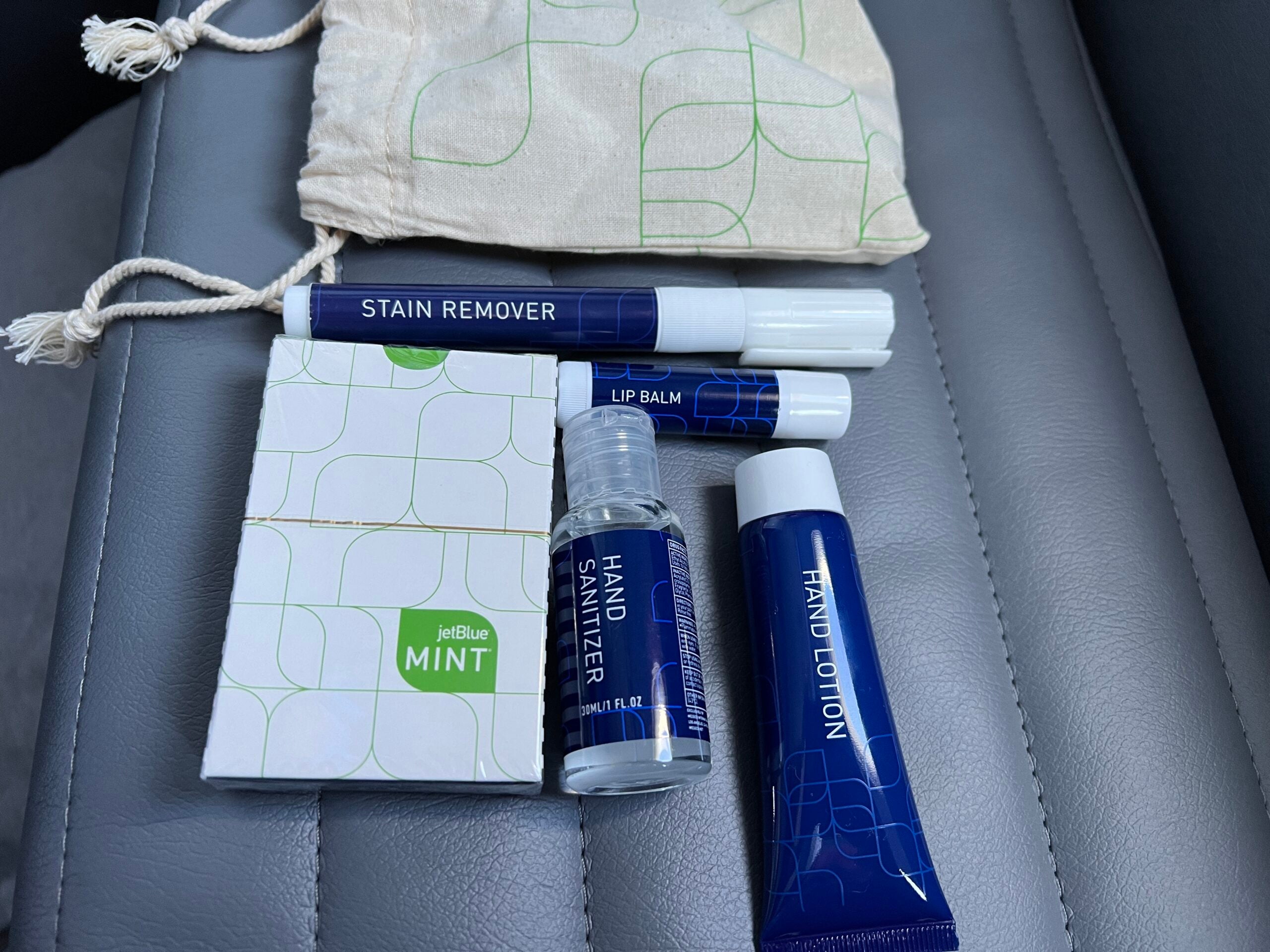 Another pouch contained hand sanitizer, moisturizer, lip balm, a stain remover pen, and a Mint-branded "flight-deck" of cards.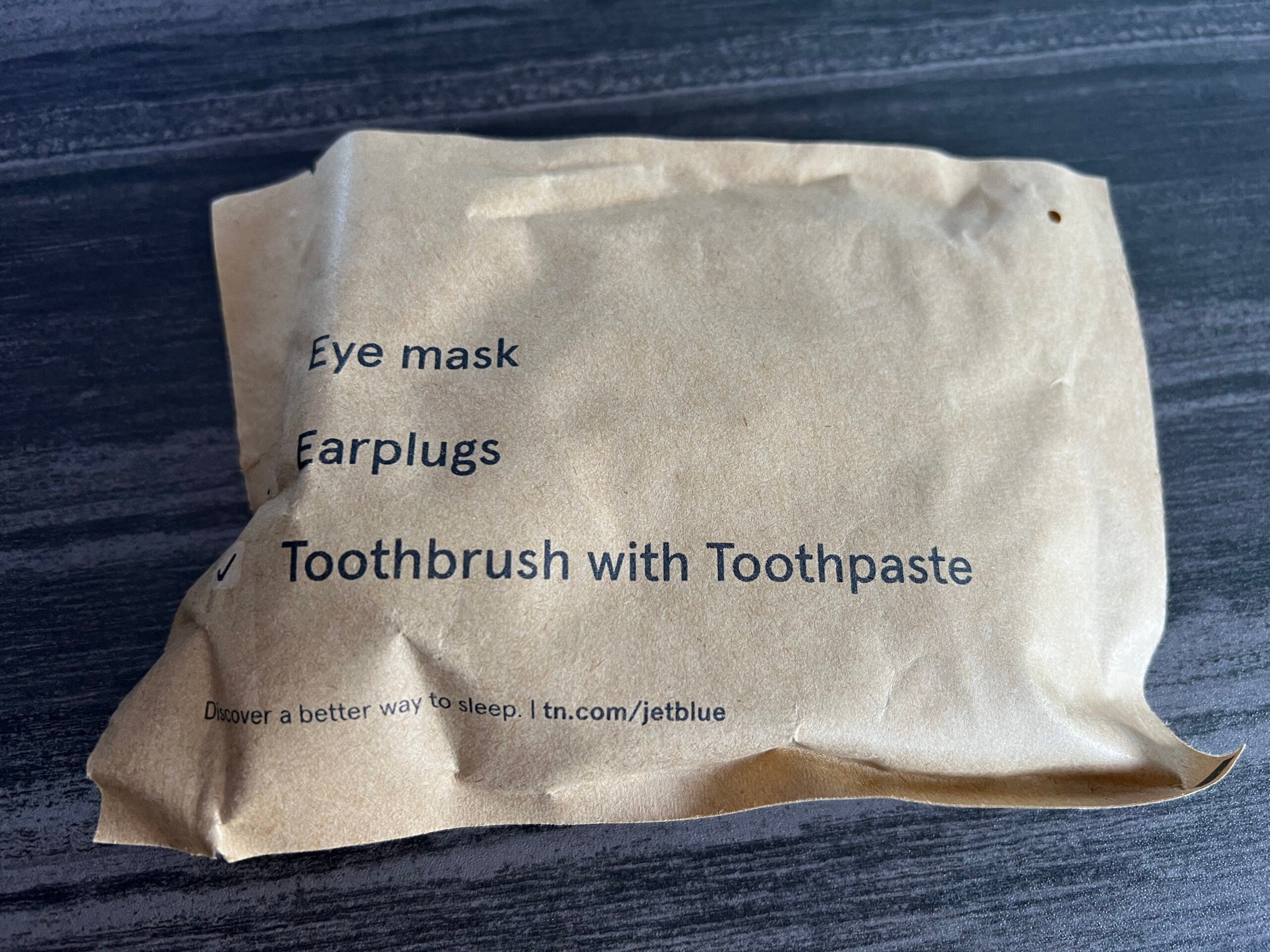 A final pouch held a toothbrush and toothpaste, as well as ear plugs and an eyemask.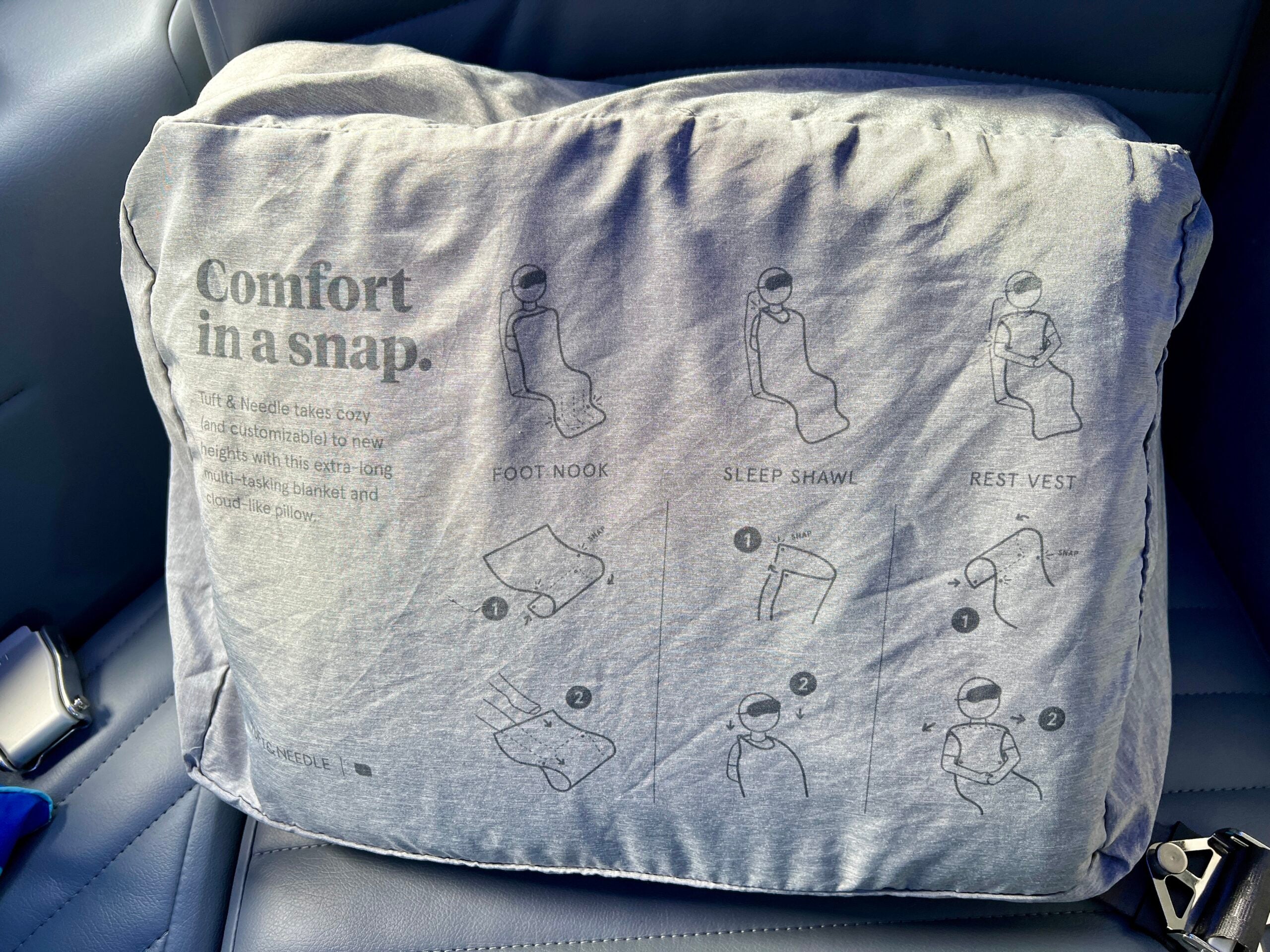 There was a small pillow sitting on the buddy seat, and a bag with a bigger pillow and a blanket from Tuft and Needle sitting on the main seat — I put these aside, on the floor by the buddy seat, until later when I took a nap.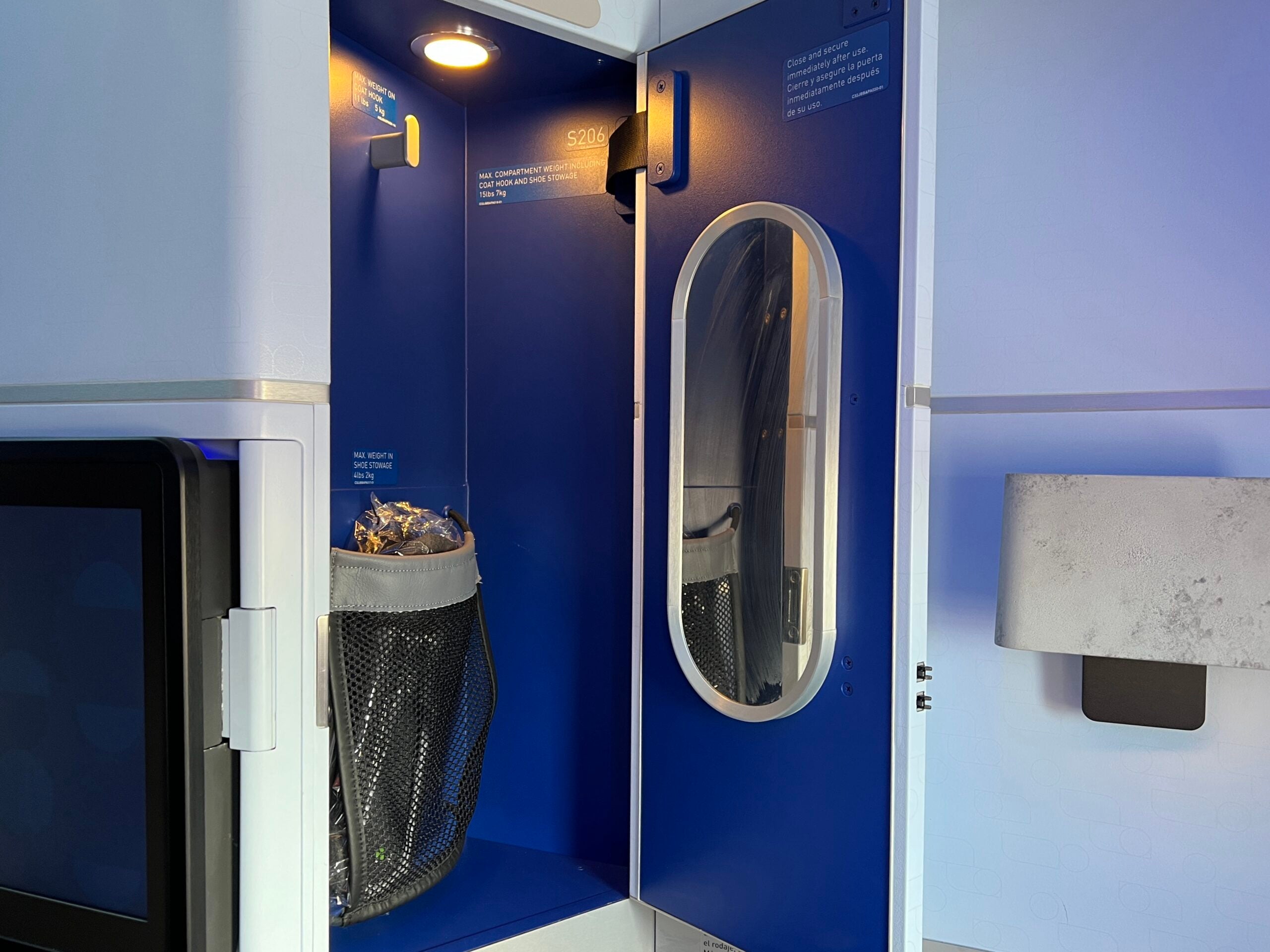 There was also a pair of slippers in one of the compartments.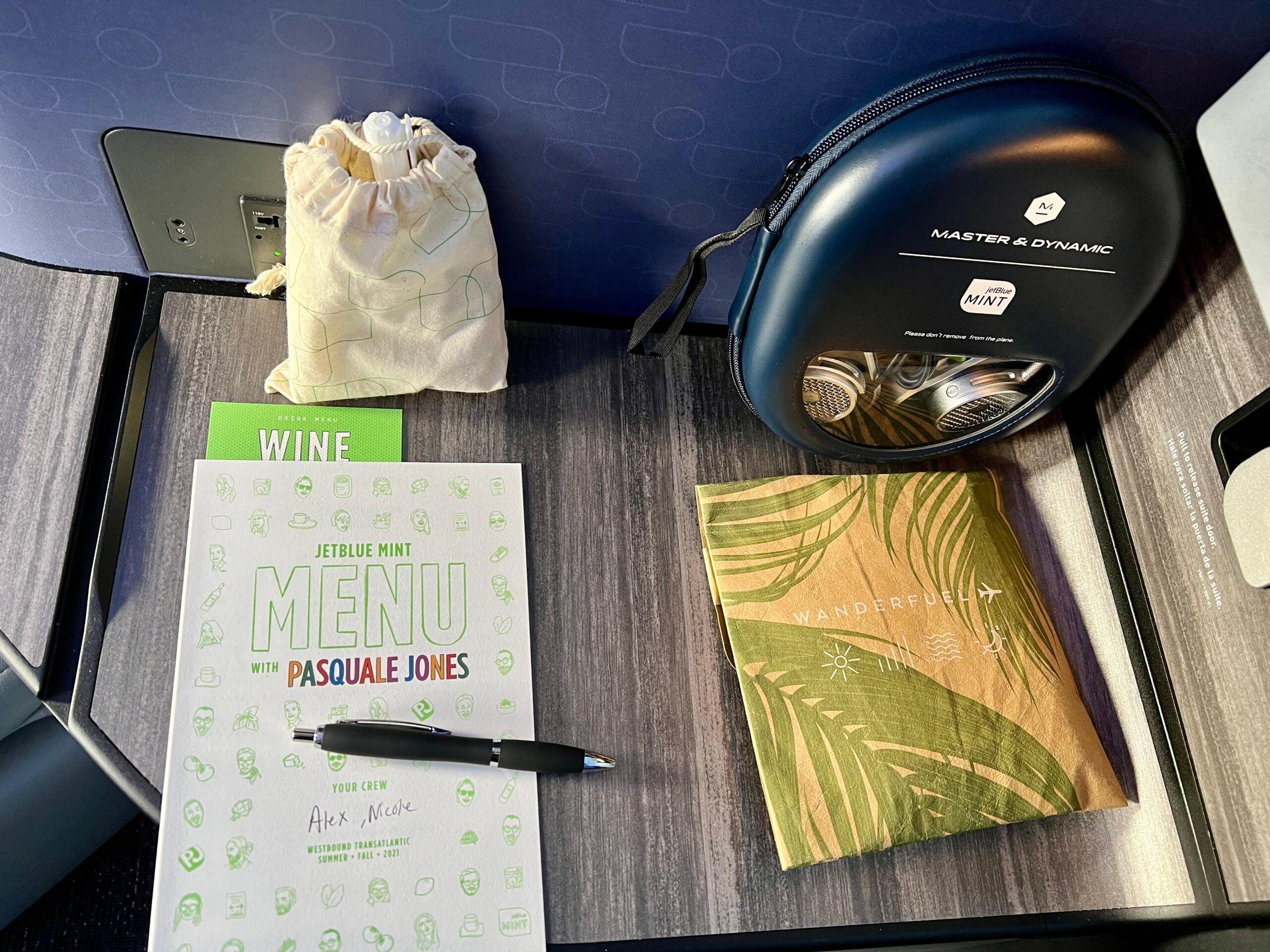 Finally, there was a menu with the names of our flight attendants — a nice touch, I thought — and a pair of headphones.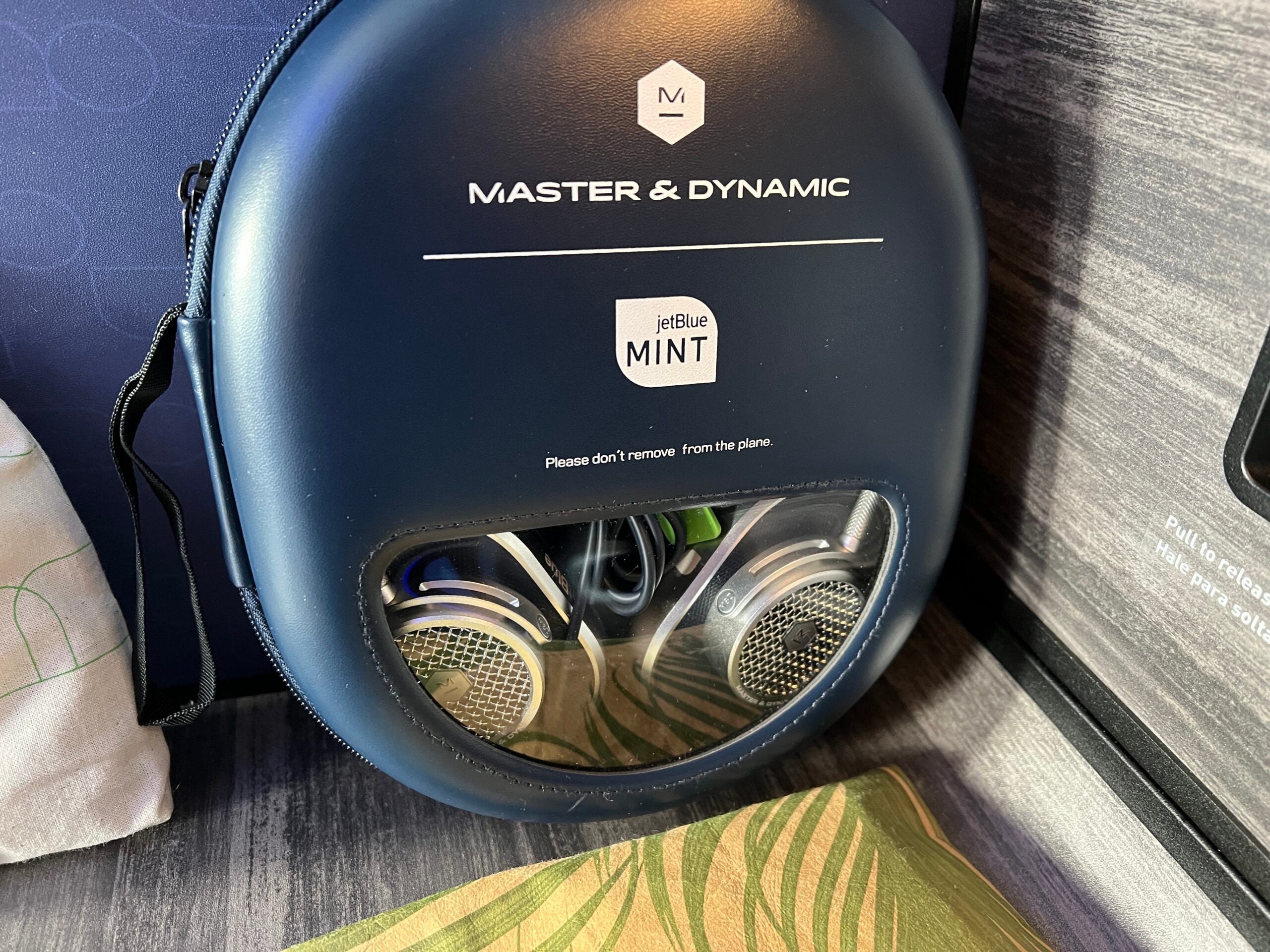 The headphones, made by New York-based Master & Dynamic, are high quality with excellent sound, but with a catch. There's no active noise cancellation — for some, that's a dealbreaker on flights.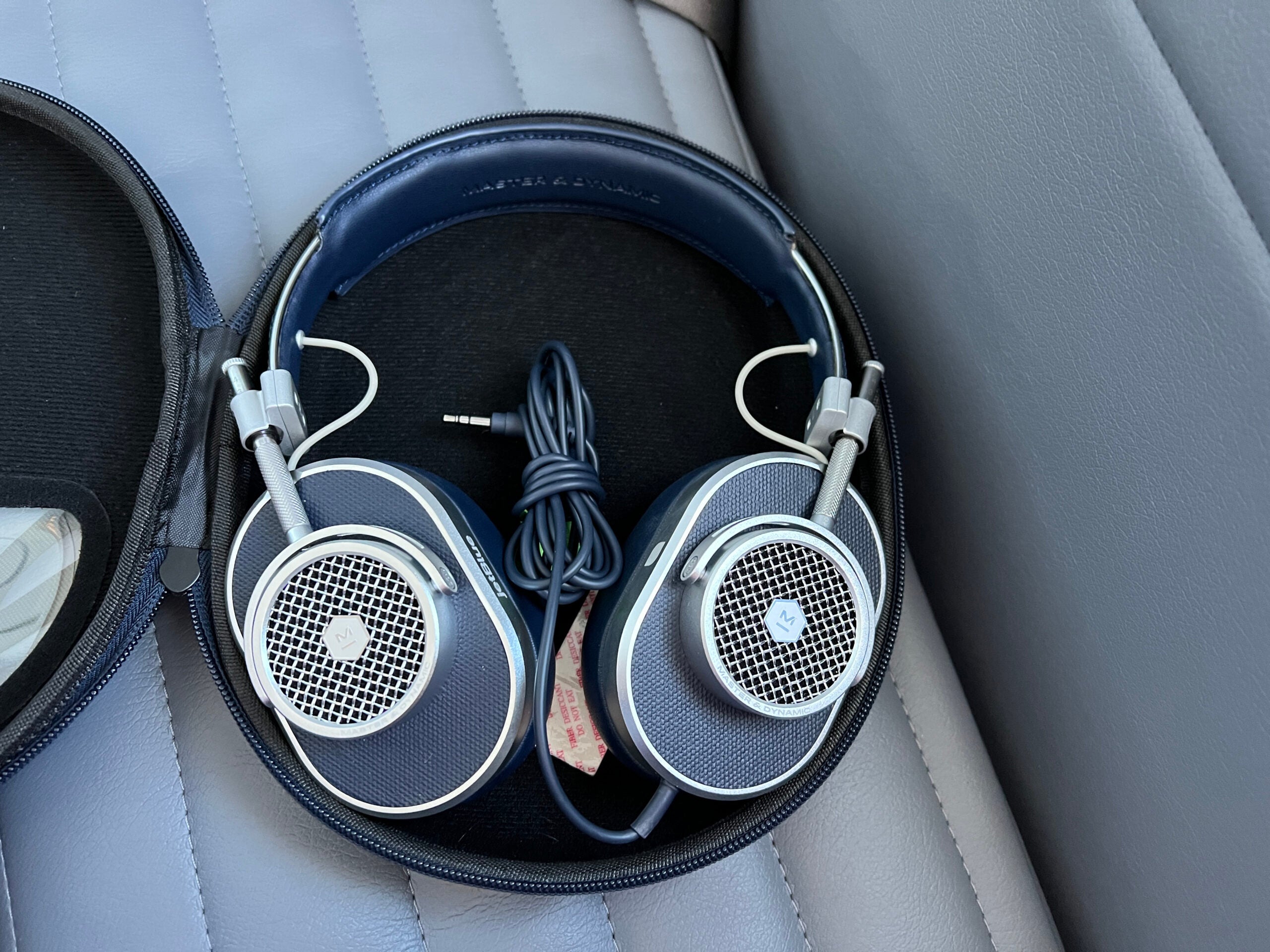 On the other hand, they blocked the engine and plane noise more than well enough (though it might be different sitting closer to the engine), so I had no trouble hearing anything.
Onboard service from Gatwick
A few minutes after I boarded and settled into my seat, Nicole, one of the flight attendants, came by to introduce herself and offer a drink while boarding wrapped up — choices include a blood orange juice, champagne, water or a mimosa. I went with the orange juice, which was sparkling and delicious.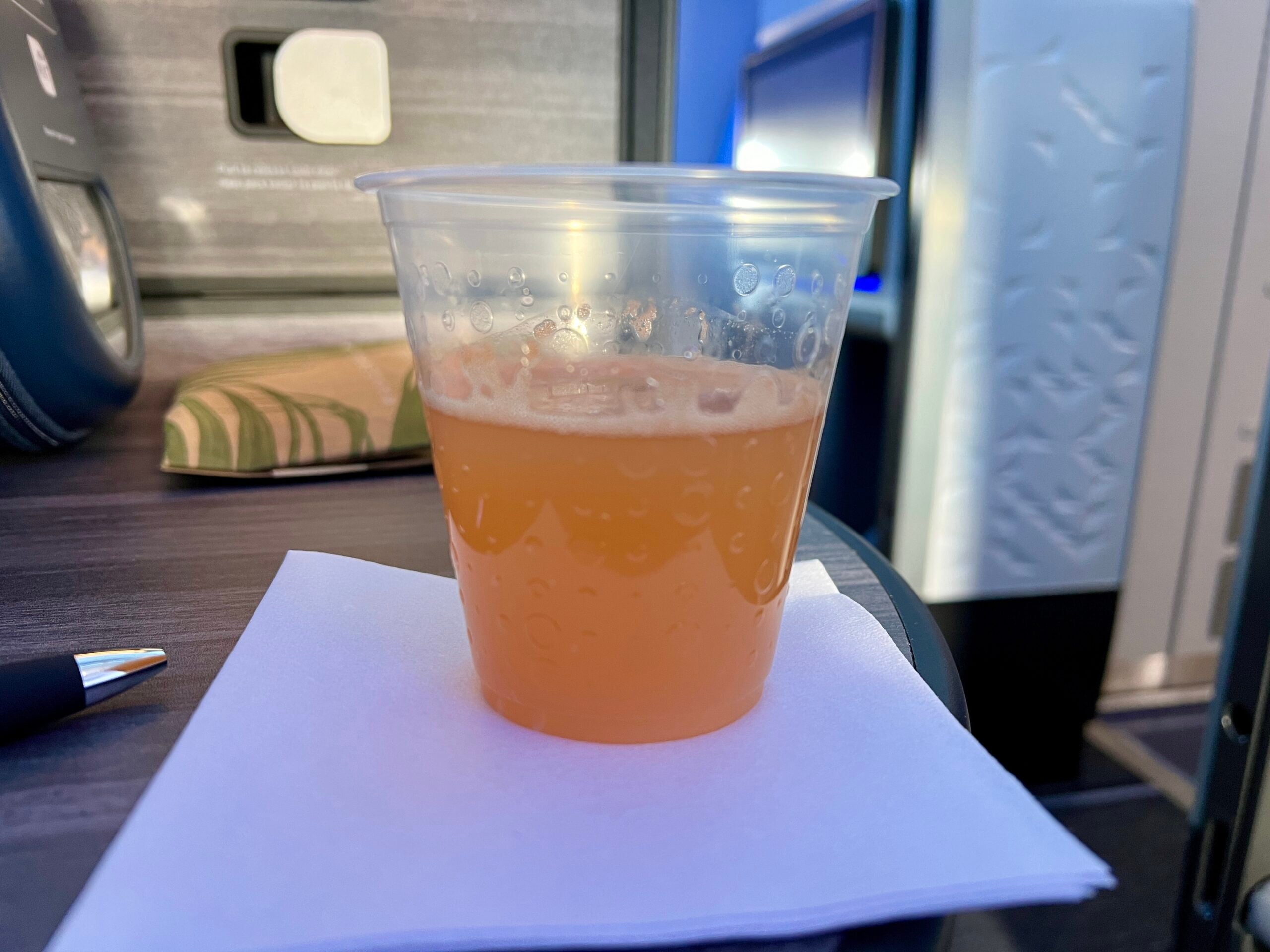 Boarding wrapped up, and we pushed back right on time. After a lengthy taxi around to the runway, we were airborne just before 12:25 p.m.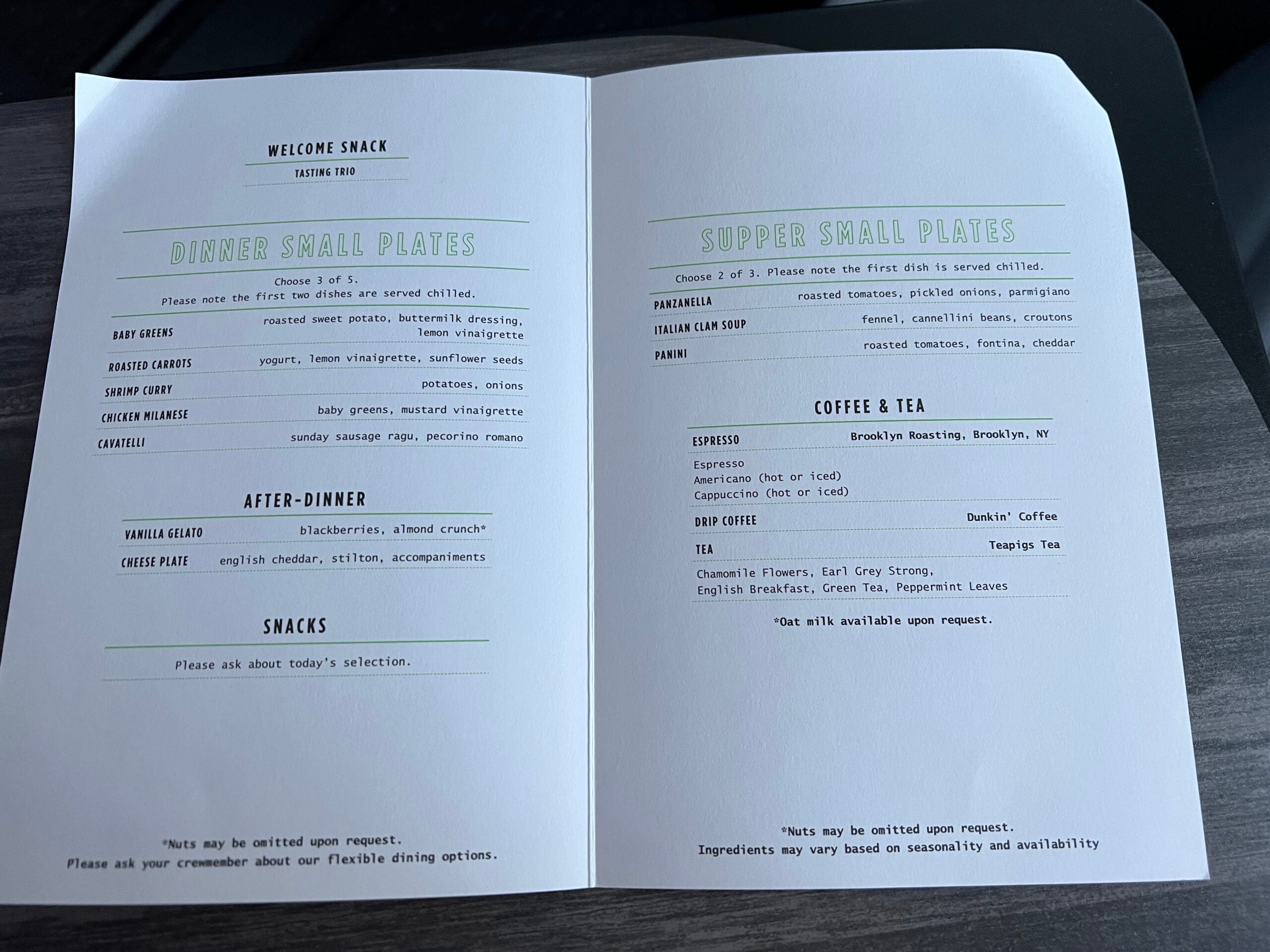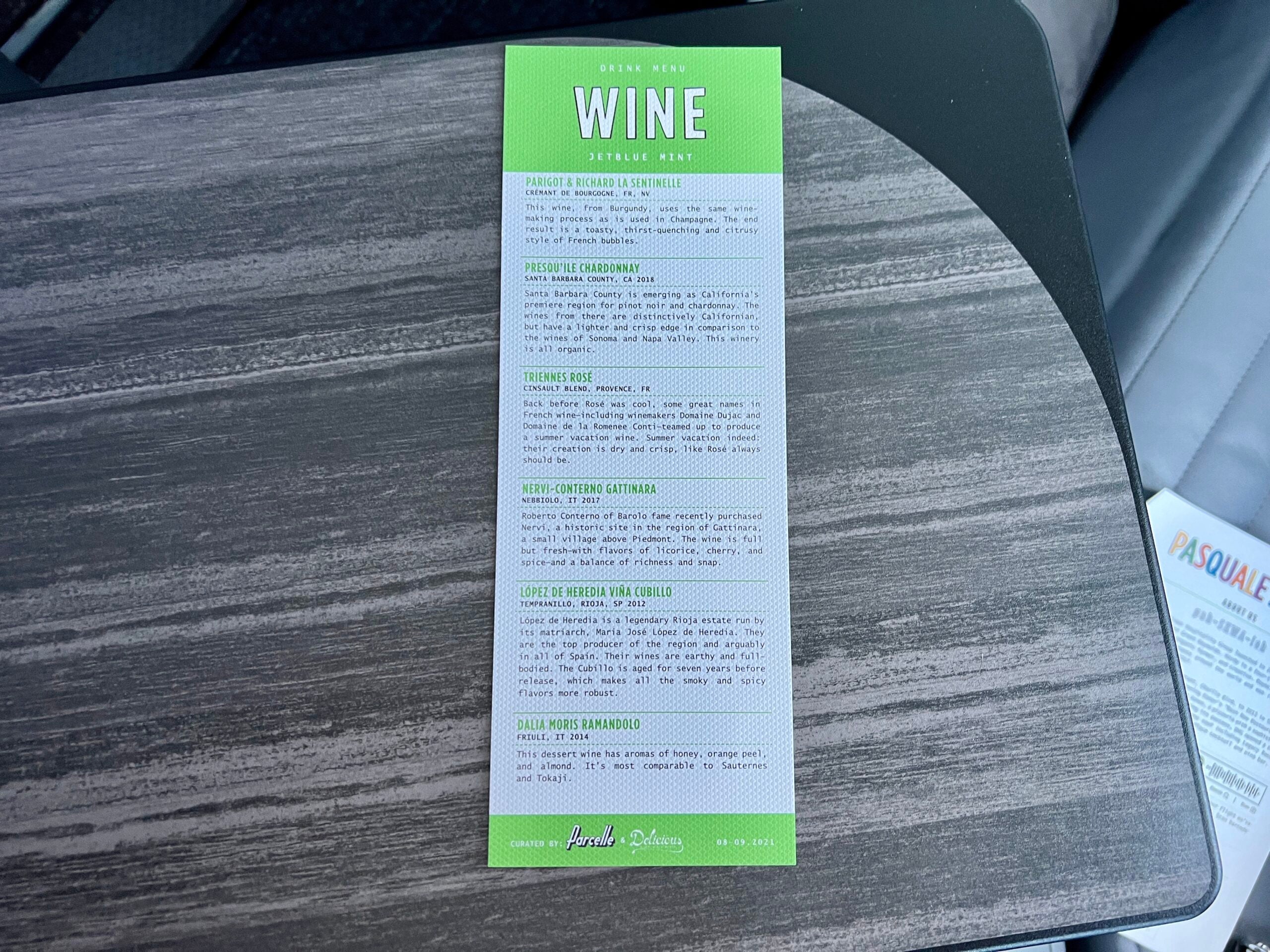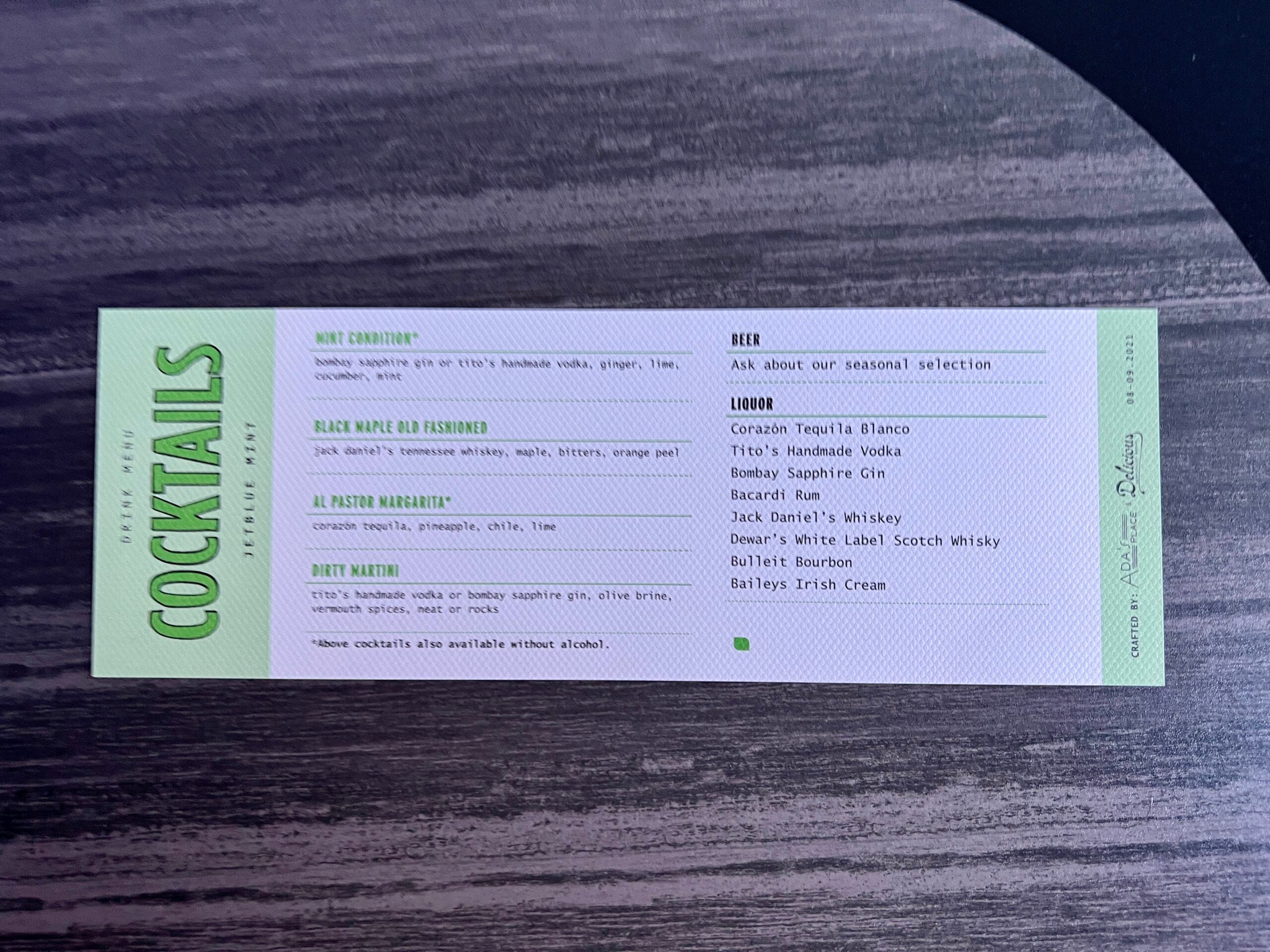 As soon as we were above 10,000 feet, Nicole came by and took my order for lunch, and my pre-landing meal, so that she wouldn't have to wake me to get my order later. She also asked what I'd like to drink — I decided to try one of the cocktails on the menu.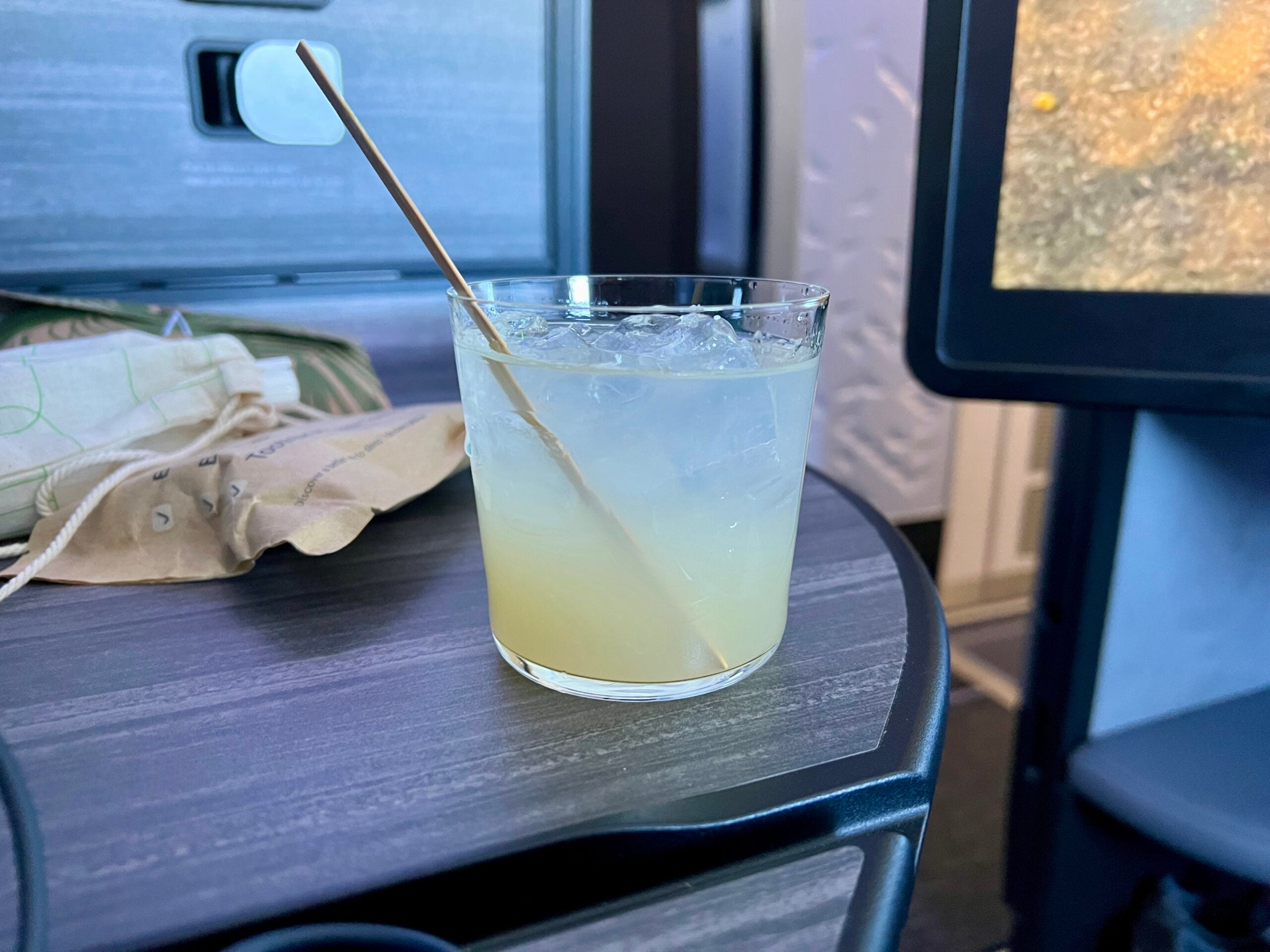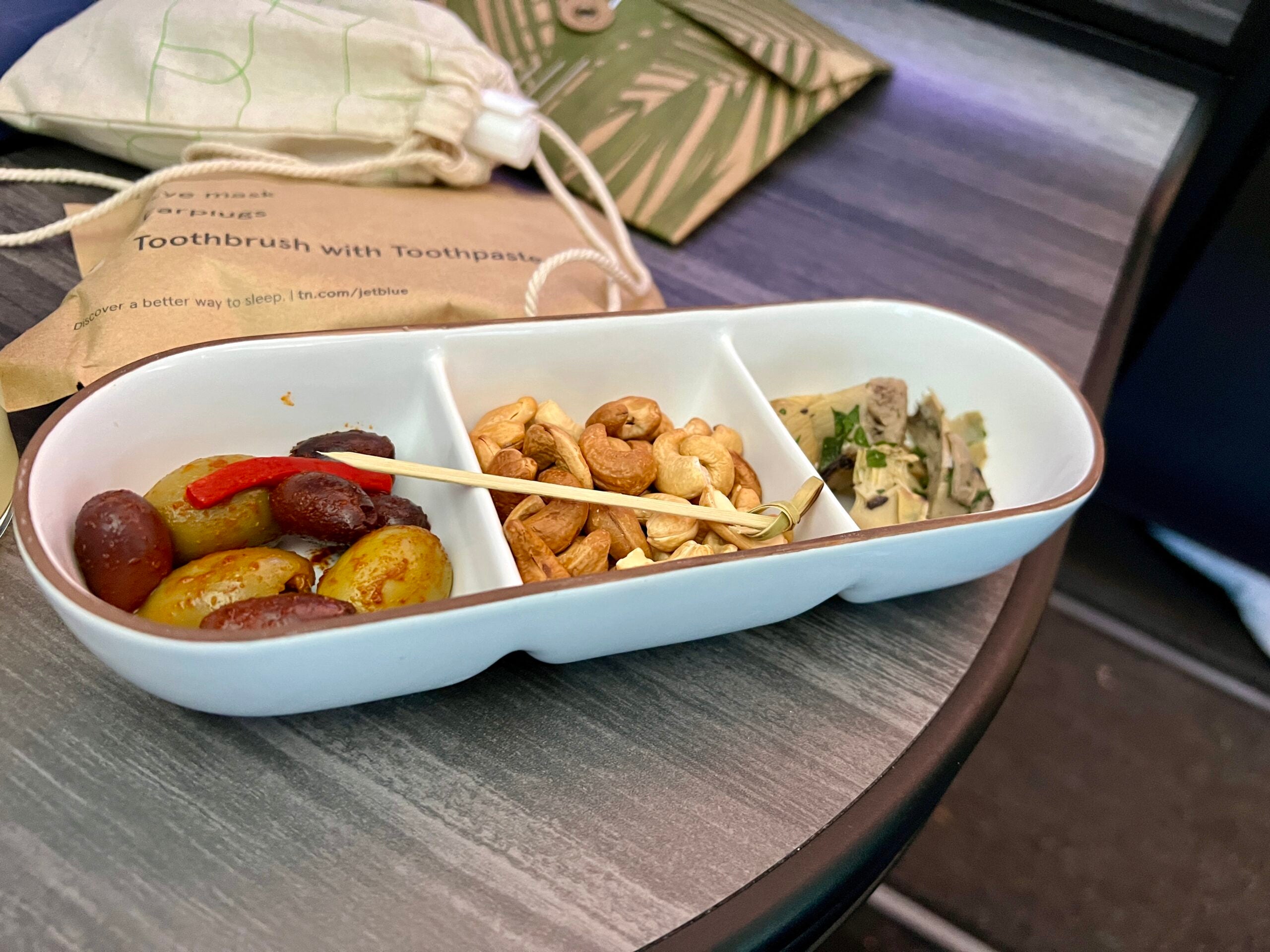 A few minutes later, once the two flight attendants had taken everyone's order, Nicole brought my drink, followed shortly by our other cabin crew member, Alex, with a snack platter.
Lunch was brought out about 30 minutes later — about an hour after take-off. There were five dishes to choose from — reminiscent of the Dig Inn meals served on the eastbound flight in coach, but not quite the same. I opted for the baby greens salad, the roasted carrots, and the chicken Milanese.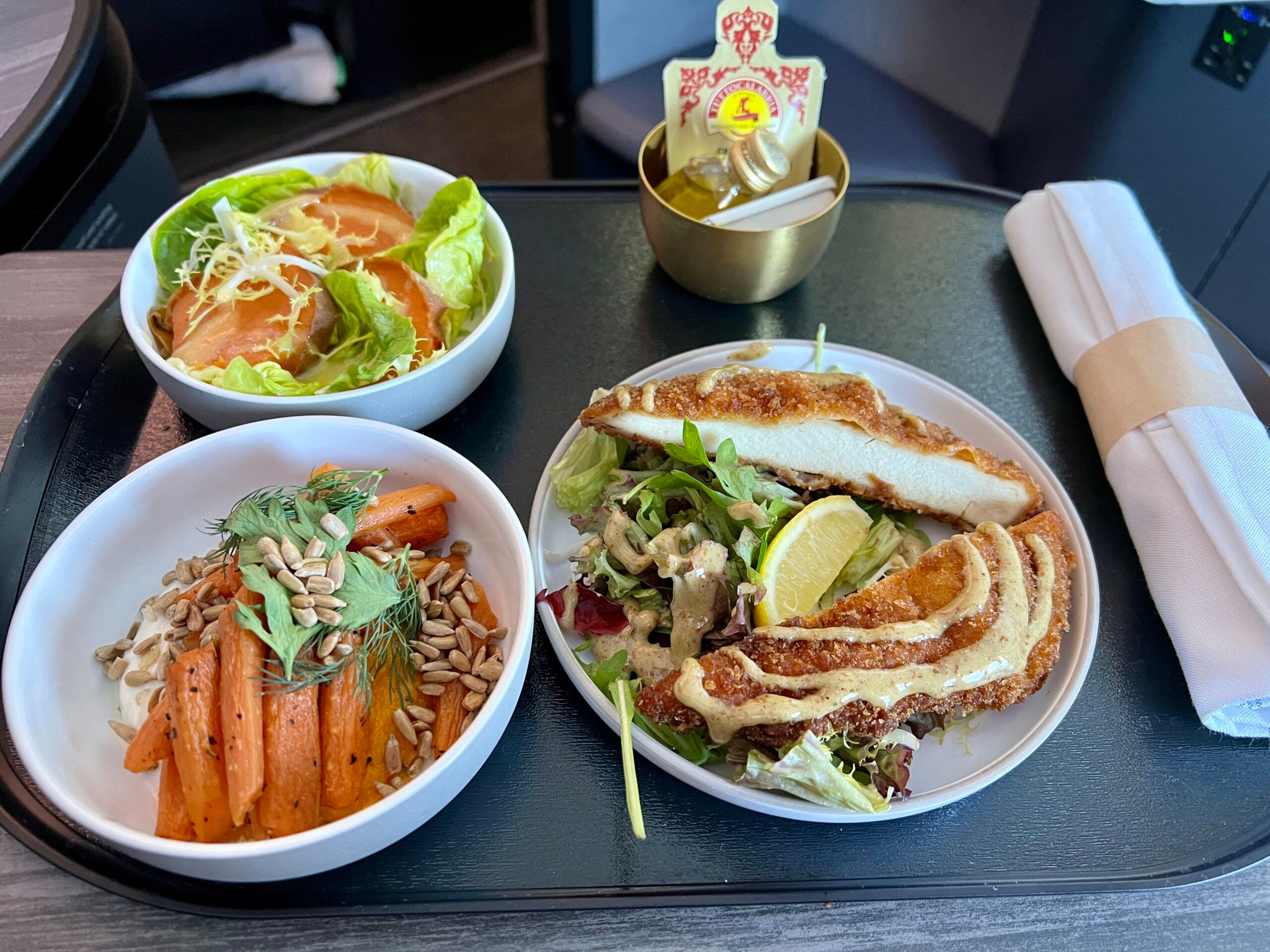 I hadn't even realized how hungry I was, but all three were delicious. The carrots, in particular, were my favorite. Served cold, the roasted carrots came on top of a Greek yogurt dressing, and were quite flavorful. The chicken, too, was excellent — impressively crispy.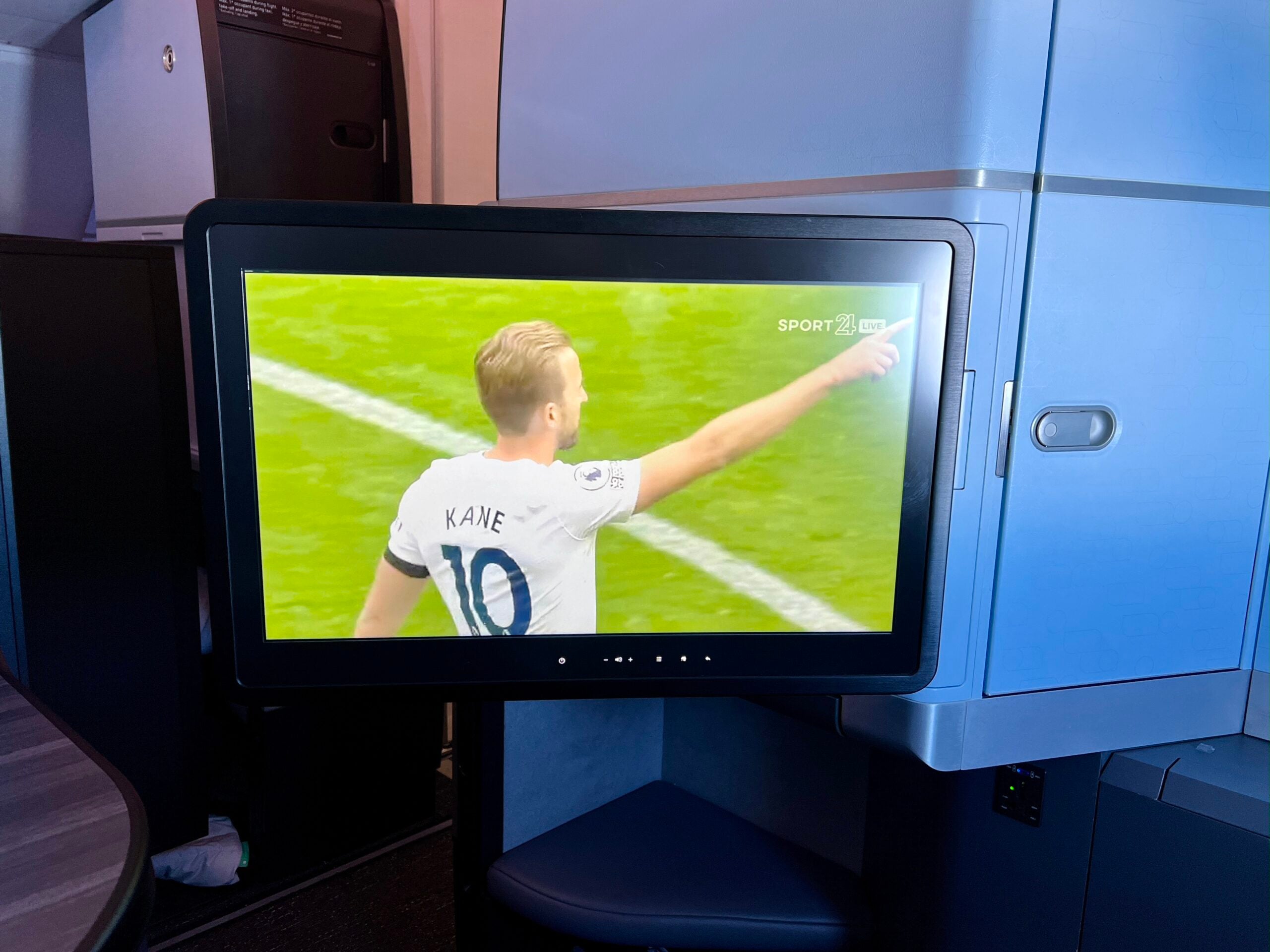 Throughout lunch, I was thrilled to see that the live TV options included a channel with Premier League football (soccer), meaning I could watch Tottenham Hotspur, my club. Thankfully, we won, and I managed to not jump out of my seat and spill my food everywhere after Pierre-Emile Kordt Højbjerg's incredible first goal.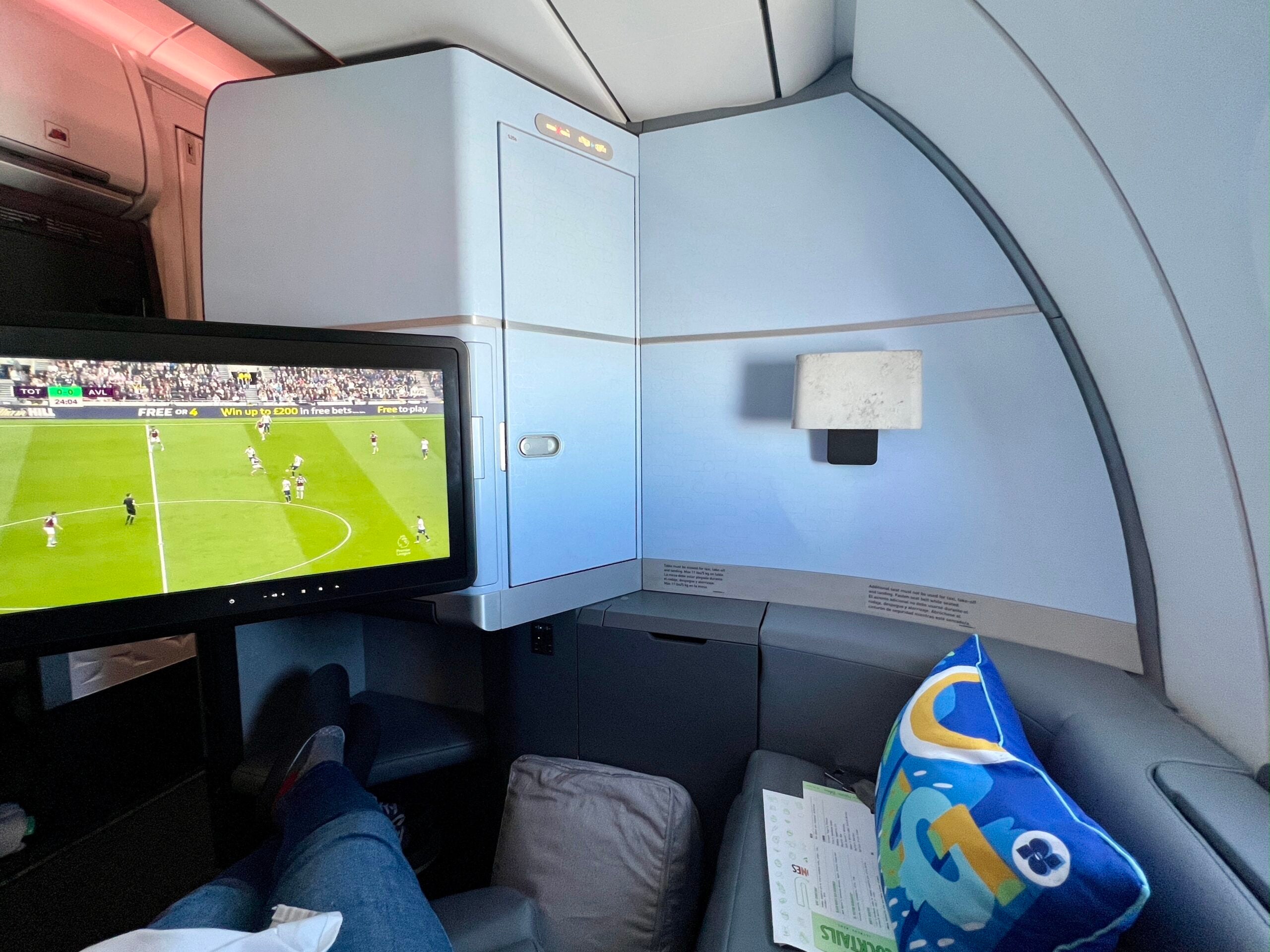 Lunch was cleared, and I settled back to watch the rest of the match.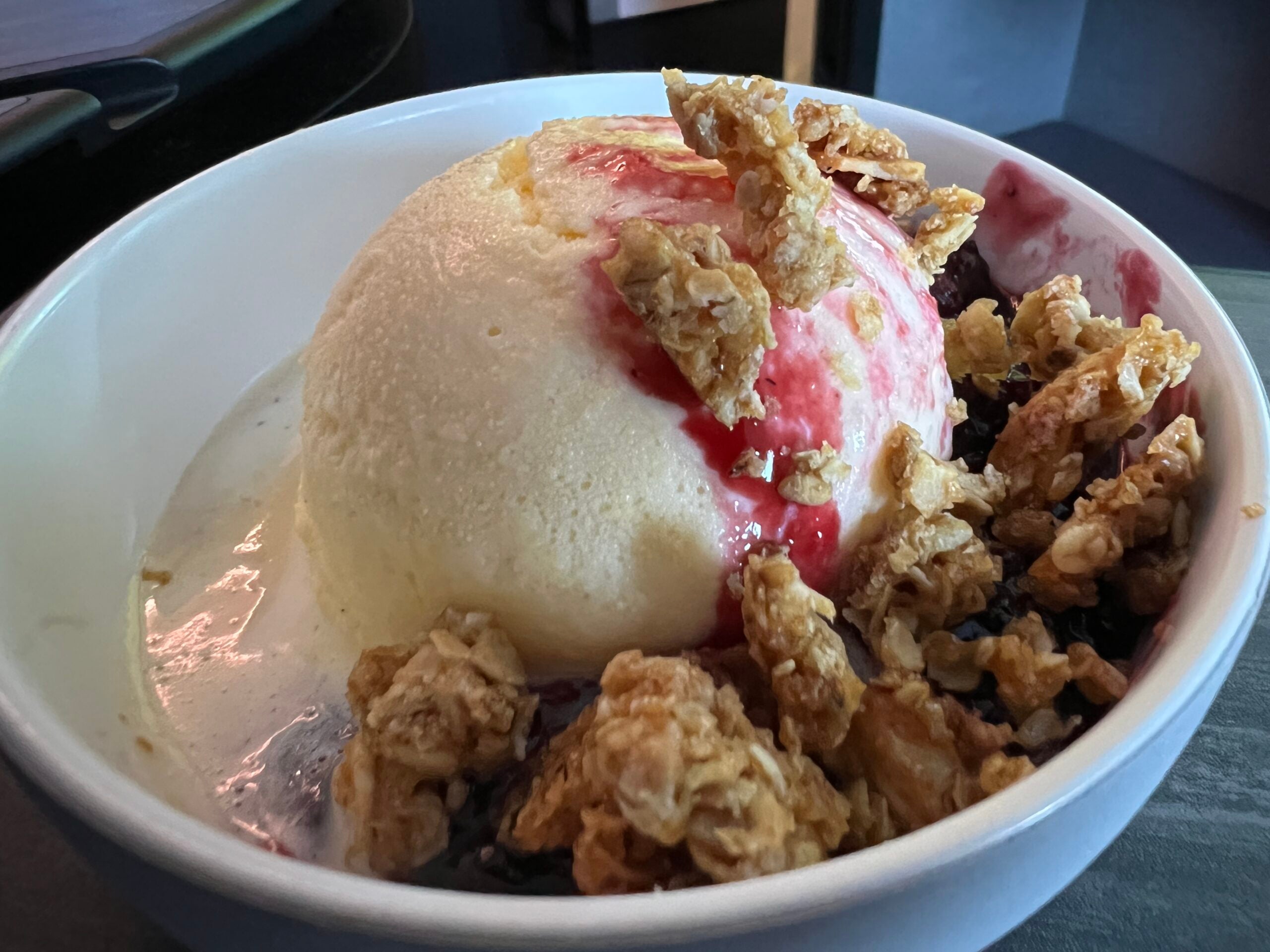 A dessert cart was brought out around 3:10 p.m. London time. I opted for the vanilla gelato, though I was tempted by the cheese plate. Still, the gelato was fantastic, so I stand by the choice. I also had a cup of coffee, which came on a drink cart following the desserts.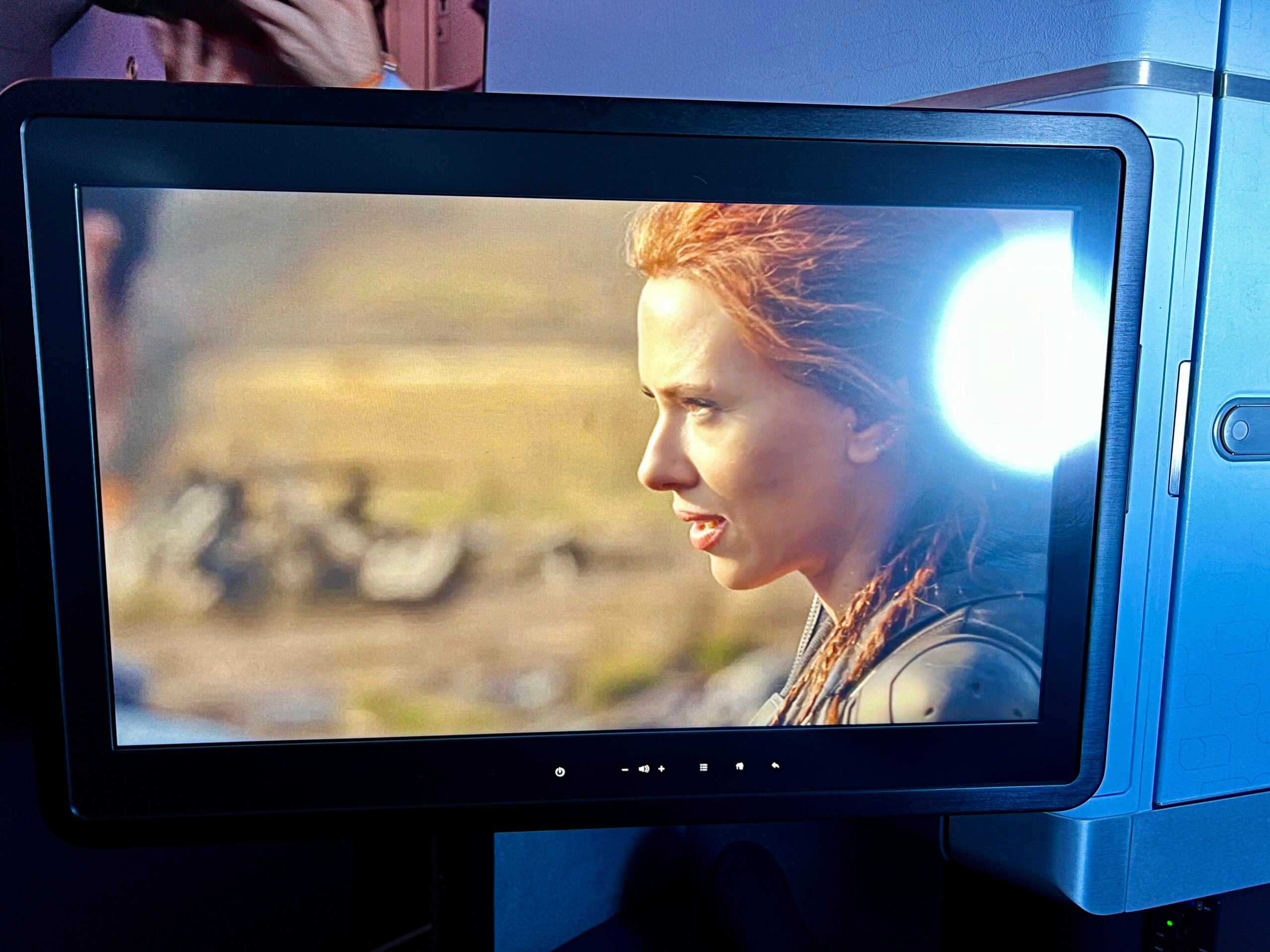 After the match, I decided to start Black Widow, which I hadn't had a chance to see yet. I was pleasantly surprised to see the recent release available on the IFE.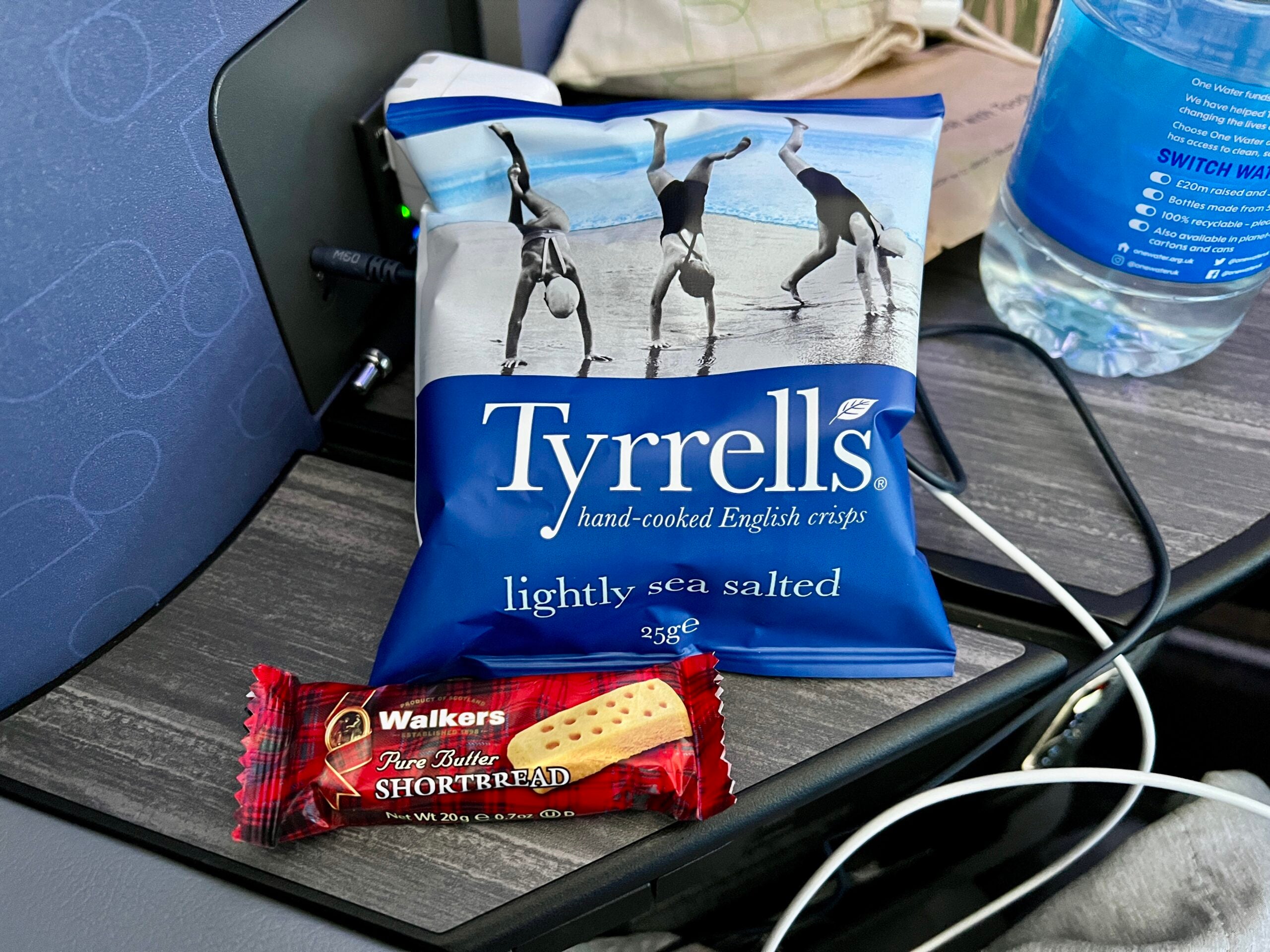 As I was watching the movie, the flight attendants came by a couple of times with a snack basket, which included Tyrrell's potato chips (or crisps) and shortbread.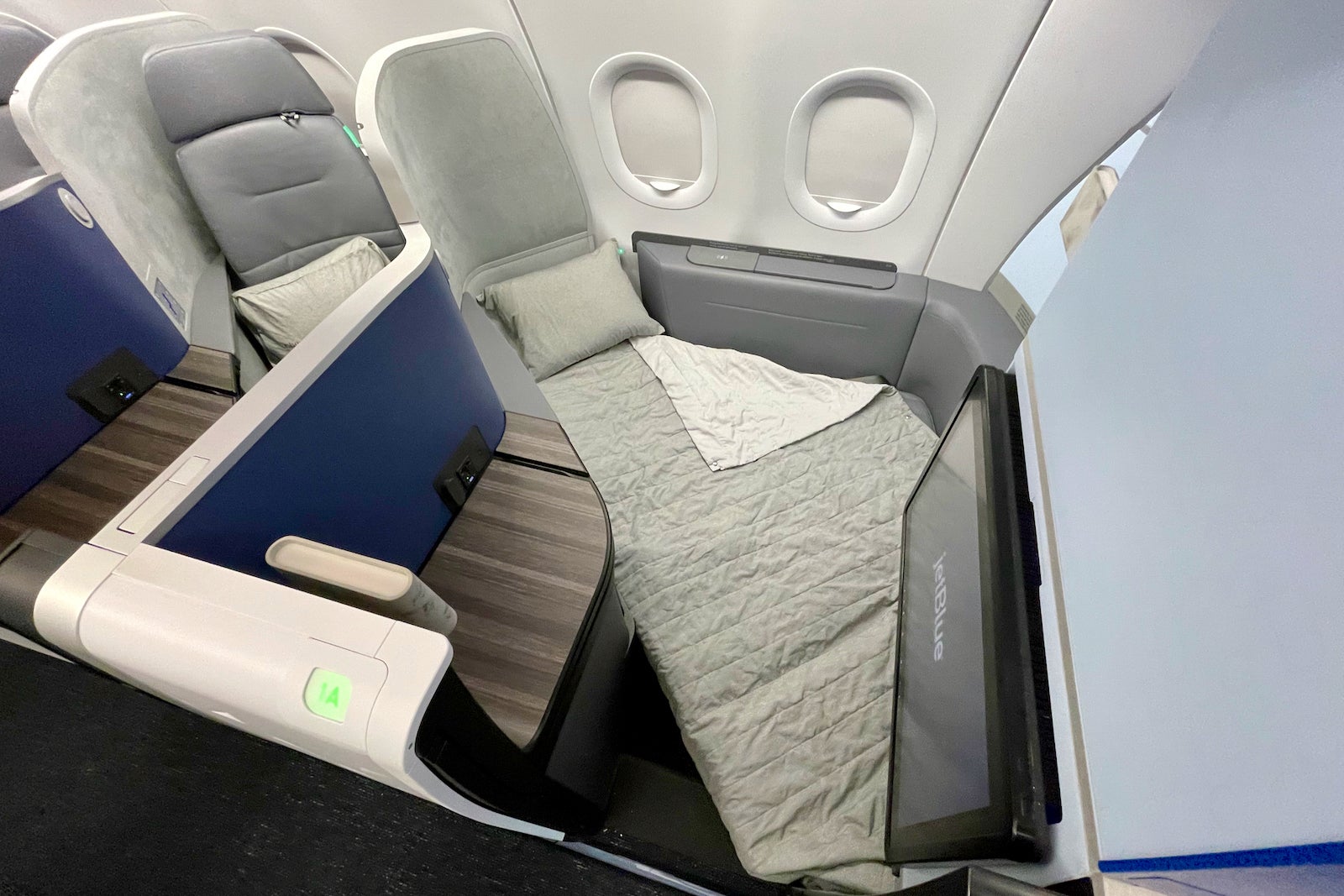 I was fairly jetlagged and sleep-deprived, so I took a nap after the movie. I was so tired at that point — despite the coffee — that I forgot to take a photo of my seat in bed-mode! But to give a sense of what it's like, take a look at the above photo that we previously took during a tour of the new Mint cabin when JetBlue first announced it.
I woke up after about an hour, and surfed on my phone — thank you, free Wi-Fi — until the pre-landing snack came out, which was about an hour and change before landing.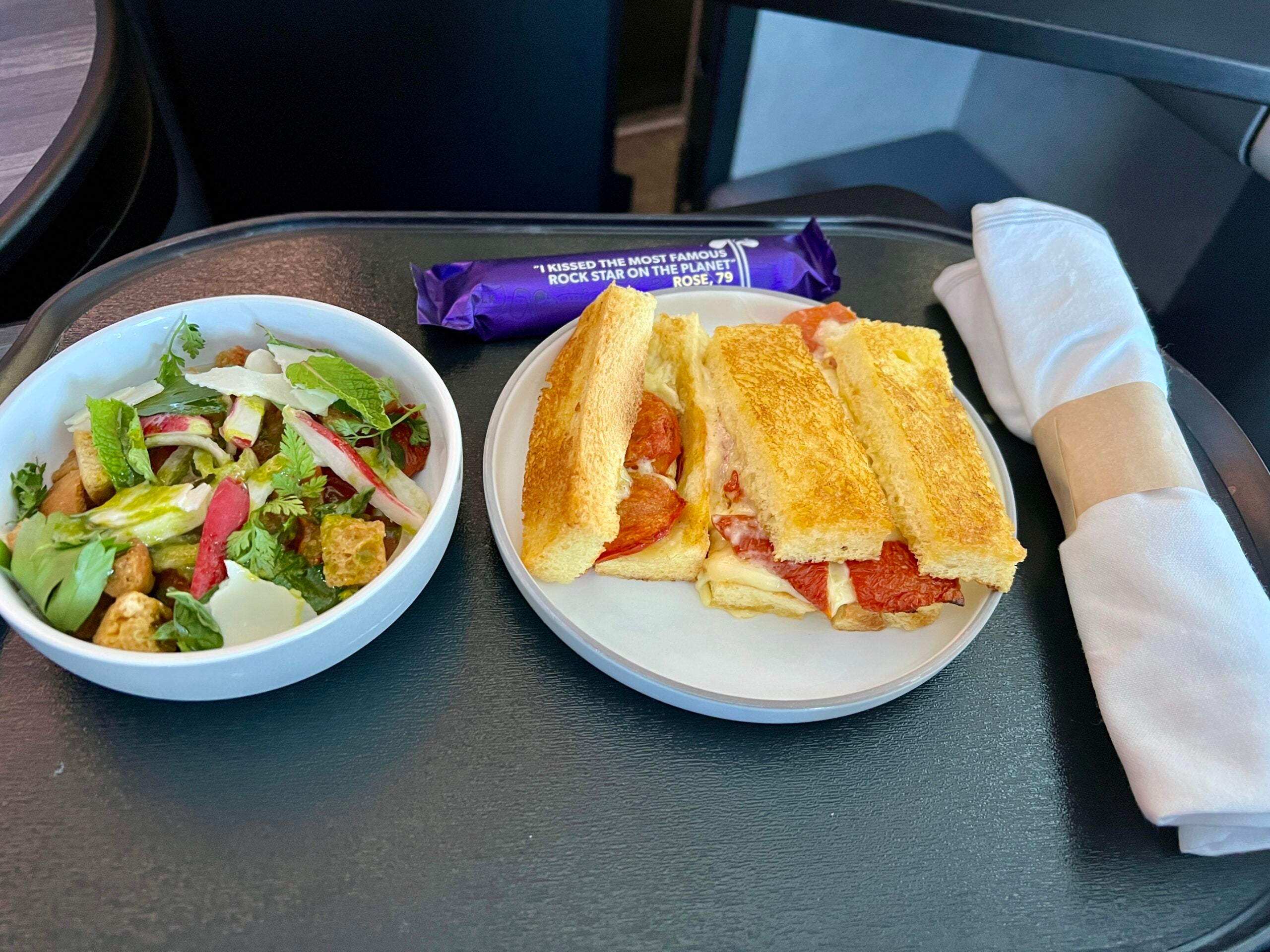 This time, I opted for the Panzanella salad and the tomato and cheese panini. Both were excellent, though the Panzanella stood out.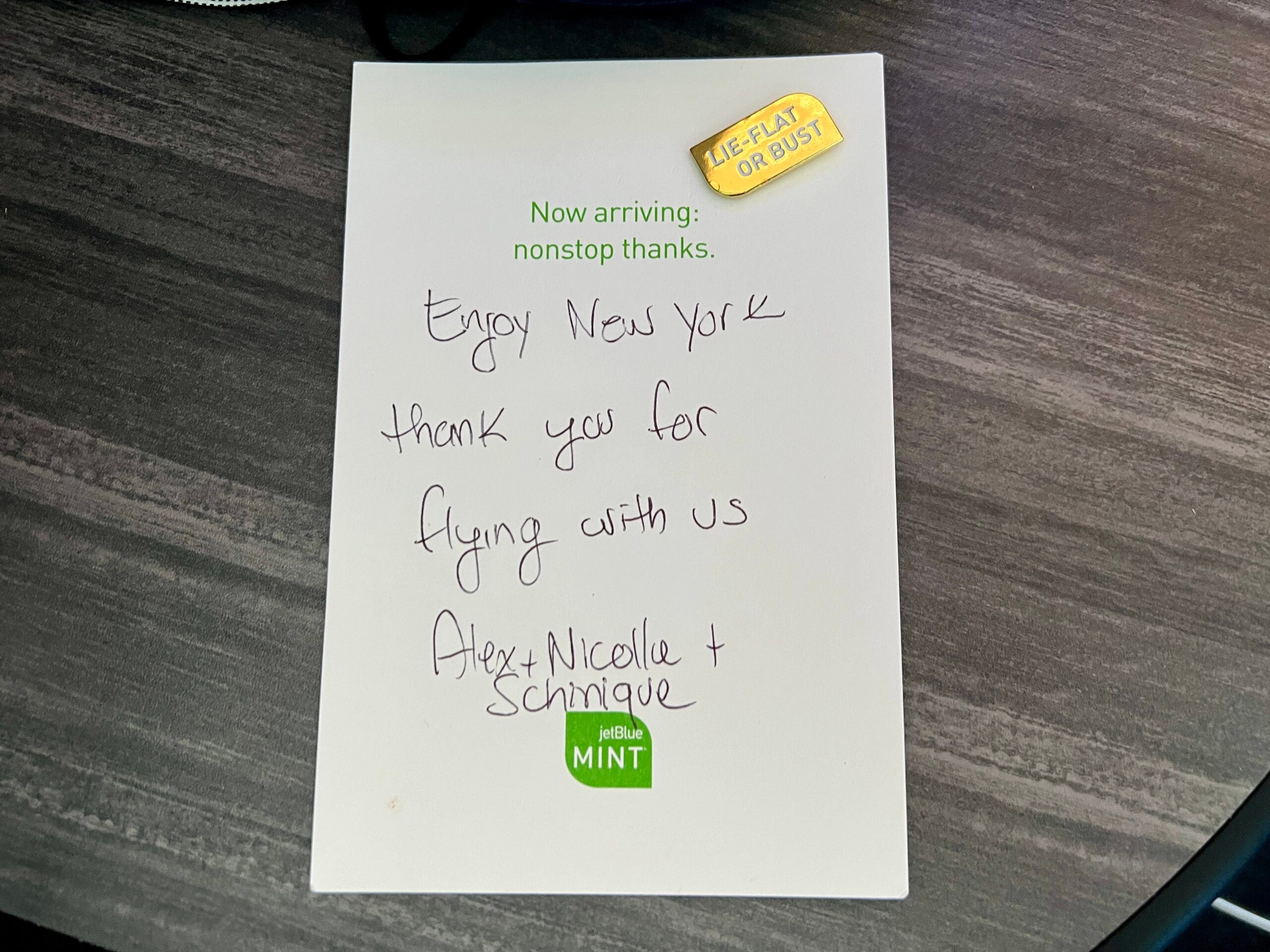 As we prepared for landing, flight attendants came around with disposable hot towels, and a nice hand-written note with a Mint souvenir pin.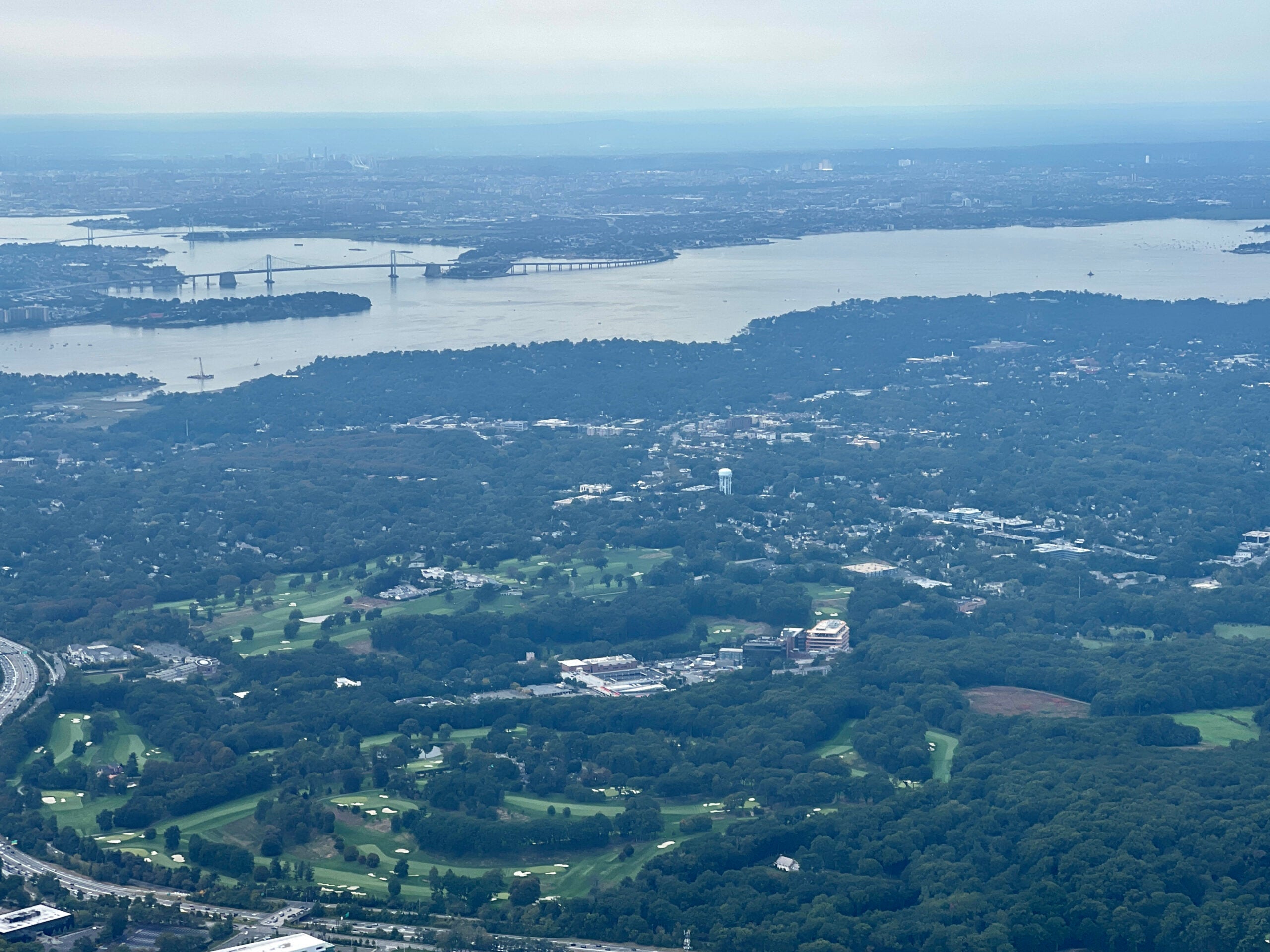 Finally, we flew over Long Island, descending until arriving at JFK.
Bottom line
JetBlue's business class from London is a light, pleasant, unfussy experience. It's a comfortable seat, good food and stylish cabin and amenities — none of the pomp and circumstance other carriers offer, just a solid, enjoyable, well-considered product.
As someone who likes to get to the airport early, the lack of lounge is a bit of a downer, but that's exactly what Priority Pass is for.
Overall, the Gatwick experience was a good one. I typically fly to or through the U.K. a few times a year, and wouldn't hesitate to fly on JetBlue again, in either cabin. As I live in Boston, I'm excited to see the carrier bring its trans-Atlantic service to New England in 2022.
Featured photo by David Slotnick/The Points Guy