A Modern Shared Kids Room (with Custom Bunkbeds) with Rubeena Ratcliffe
Though our kids have been sharing a room for over 3 years now, I am still fascinated by how others arrange and share rooms. It took us months to decide on a layout and we tried many layouts before finally landing on the one we have today (which I still toy with changing up all the time). If you invite me over Im going to peek in the kids room and ask you how its all going, whats working and whats not.
One of the most beautiful kids rooms Ive had the pleasure of seeing in person is the one designed and built by artist Rubeena Ratcliffe and her talented architect husband Jesse Ratcliffe. Ive been begging her for a tour and despite having a new baby and a thriving art career she made time to share with us and I couldnt be more grateful.
Below are some questions about the room, how they built it and how its changed over the years with their growing family. And read through for a genius tip about reducing clutter!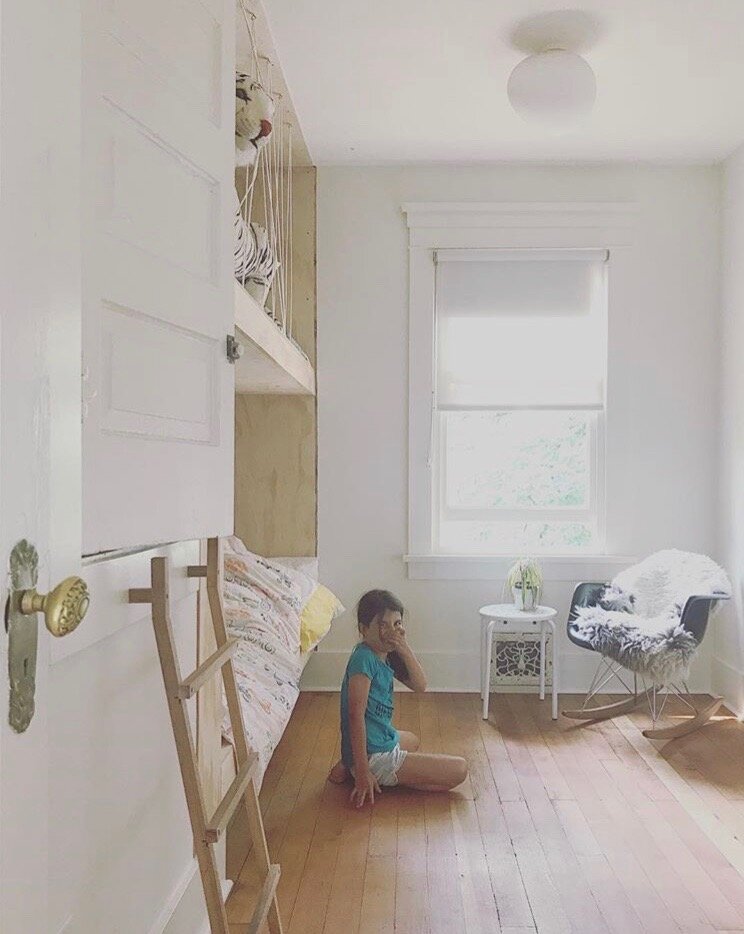 Your kids room is incredible and makes me wish we had built a custom bunk bed fortress with secret entrances. Can you describe the parts of this bed and how you built it?
Well, thanks Alison! It means a lot coming from you. Our house was built in the early 1900's. With 3 small/med rooms upstairs. The room itself is quite small, with a cubby that we hardly ever used. Where the bunk beds are now, we had a crib with a strange space for standing only or lying down along the cribs edge. I had a baby that couldn't sleep without one of us being in there until an hour into his deep sleep. When my son was around 3 and my daughter was 5, we thought it would be great for them to share a room. I shared a room with my twin sister until we were in grade 7 and I loved it. Also, the kids really wanted a bunk bed. So we thought, hmmmm maybe this can be their xmas gift. Jesse started measuring the space and we started chatting and sketching at night while kids were asleep. I took the kids to my home town Edmonton in December for a week. Jesse being handy with the table-saw and our little workshop in our backyard he spent every night cutting building and carrying the large pieces of plywood up to the room. The ladder to the cubby was added by us a year before the bunkbed was built. So we thought, let's use the cubby as a landing to the bunk bed. On the phone at nights with Jesse talking about how the progress was going, i was a little worried. He was talking about the hole in the wall and in my mind i pictured my kids falling through the studs being stuck in the wall and calling 911. hahaha. We used white rope on the top bunk to cage in the animals. We were happy with the outcome and kids were ecstatic. It was 100% complete, but like almost everything in our house we just cant ever fully complete a project. There were a few things I started disliking. Im 5'3", so I could barely see Uma on the top bunk. I love cuddling with my kids or just petting them when I'm walking by their room.
Or when Uma wanted to go to the washroom at night she had to always go through the 'hole' in the wall, through the cubby and down the ladder to the washroom. We had a lot of close calls. A few years of this we decided to change it up again. Also, we were expecting our third baby which put us all in a frenzy.
We turned the top bunk into a hang out toy area (I refer to it as the lego graveyard) and we put both kids side by side. Building a cabinet on the floor where the kids can store their toys, and under the beds would be storage stuff that we dont always need to get access to, thick blankets, switching out between winter and summer things. Jesse was adamant the bedsheets be the same tone as where the bed lay. Beck's bed being on the lower bunk is cream/grey. Closest we could get to the plywood colour at ikea. And Uma's white with white. It looked good. Jesse has an incredible eye.
The room is mostly white but still feels warm and inviting. How do you think you achieved that?
We love white but we also love wood. I think its the combination of the two. I also think with the floor being raised and the window seeming larger than it is, makes the space airy. And, with the view of the trees and the evening sun spilling in between the leaves, the space is warm and inviting. Our cat 'Carl' loves lounging in the room too. We all do. Lighting also is key to every room. We have dimmers everywhere!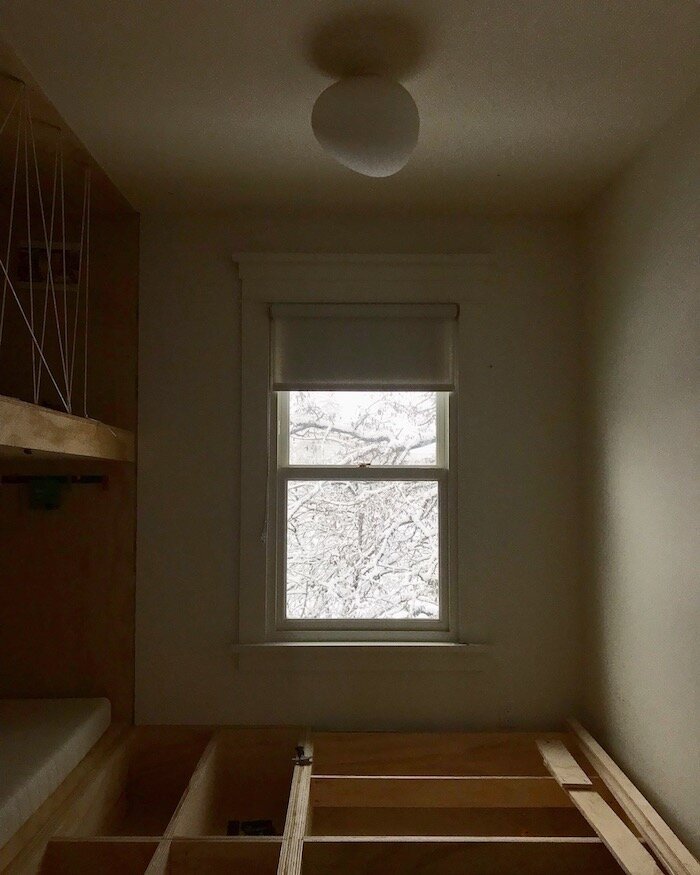 How do you deal with toy clutter and clean up in your home and this room in particular?
Well, we like to hide the stuff making it appear to be minimal and clean hahaha. Jesse is a minimalist and an architect. And, myself, well, lets say, I appreciate minimalism, but Im also the kind of person that'll buy something in hopes that the kids will play for it for hours and hours hahaha. Working at home and being a stay at home mom, Ive slowly had to appreciate clutter once in a while. But we usually have a basket for baby toys, a basket for transformers, a shelf for books only. Its hard for me to throw out their stuff. But Ive created an email address for my kids years ago. So i send pictures of what they make and do and email it to them. When they get older they can go through their email messages.
What were your intentions for this room versus how it is used in reality? I feel like parenting is a constant lesson in letting go of expectations (at least for me). Is this room representative of that for you?
yes, completely. I was hoping my kids would be able to sleep side by side with them chatting or listening to a bedtime story before the fall blissfully to sleep. But with Uma being 3 years older, she wanted to read her own books, Beck our son who is 5 wants to sleep right at 8pm. He's very orderly and clean. Uma not so much. So there were lots of battles between them and us.
So we ended up caving and letting Uma have her own room a year later. Beck's room is still a hang out area for him and his friends and even for Uma and her friends. All the kids love going on the bunk bed. And, the cat still likes lounging in the evening sun. We all do. The room is always changing. And, who knows. Maybe our baby 'Indira' will want to sleep in the same room as her big brother?
Any advice for anyone tackling a similar project?
Just try to keep it as simple as possible, Avoid patterns for interior things. Measure 20 times before cutting and select good hinges and pulls. Our kids sometimes have a hard time pulling open the storage cabinets with their little fingers. We both studied architecture and lived in Amsterdam where we lived in a 150sqft apartment. Our mini fridge was on top of our closet, our bed was literally cut and rounded on one corner so it could fit in the room. Anything is possible. You just need to live in the space for awhile so you can see the different possibilities.
If you could do it all over again would you do it the same way?
The room itself yes. We love projects especially when there is no deadline. Using your imagination and being a kid again but with a little training involved and a little wine.
Thank you Rubeena (and Jesse) for sharing this beautiful room and a peek into your gorgeous family.
You can find Rubeenas incredible art here and more beautiful photos with hilarious insights of motherhood on instagram