Designing Guest Suites for Holiday Company
This should be a happier, healthier, more celebratory holiday season than last year's! People are freer to travel and potentially safer in doing so. Families and friends will enjoy reunions in each other's homes. That's great news, right?
Yes, but… All of this gaiety can also mean labor, expense, friction, and stress on the host's part. Particularly right now, since we still do have a dangerous virus circulating. "The addition of COVID gives us more to consider as hosts and the additional decision-making can make things more stressful," cautions burnout recovery coach Dr. Kate Steiner. Have and share a plan to address your needs, local laws, and everyone's expectations before your guests arrive, she recommends.
Pandemic Hosting Preparations
You can create a welcoming, safe space for loved ones and manage your own well-being at the same time. "Part of what makes hosting stressful is the belief that we have to constantly be available for our guests," Steiner shares. "Instead, maybe you deem mornings as host-free, you have coffee and breakfast items available, and everyone wakes on their schedule with no set agenda." These items can be set up in your guest suite if there's space and a small refrigerator for creamer, or organized in a guest tray in your kitchen.
Steiner notes that you can also set out a basket of disposable masks, hand sanitizer, cleaning wipes, and other COVID protections in your guest room, and should also provide a printed card with your home basics, like Wi-Fi network and password, TV instructions, and even notes on how to use the shower if yours isn't standard; no one wants toweled guests in the hallway shouting for help!
There are numerous items and ideas to consider for guests of all ages and abilities, and for more than just the bedroom and bath they'll be using. Marina Umali, a wellness designer and feng shui practitioner in the greater New York City area, suggests decluttering and organizing your home spaces ahead of time. "If you clear the space ahead of time and remove any unnecessary objects, it will be much easier later on. Organization is key," she declares. "Make sure you have enough silverware and drinkware, serving platters, cutting boards, bowls, etc." Checking the condition of your hosting items, including linens, dishware, towels, etc. ahead of time is also helpful, in case something important didn't make it through the year in great shape. Not having to run to the store on Thanksgiving or Christmas morning makes hosting easier.
Hosting Children and Teens
Preparing your home for young guests is helpful too. In addition to tucking away any breakables out of sight, Umali suggests having toys and games on hand for them to enjoy. "If you're designing a kid-friendly area, make sure there's room to move around and no sharp corners," the designer cautions. "Seating for multiple children and adults is always good to have," she adds, suggesting multifunctional, mobile pieces like poufs, storage ottomans on casters, and other light, comfy pieces.
Young guests are often hungry guests! If you don't want them running in and out of the kitchen while you're preparing the holiday meal, setting up a cabinet in the guest suite or play area to accommodate healthy snacking can be helpful to all. This can include a mini fridge, storage for plates, cups, etc. and counter space for assembling items. Chef and culinary consultant Bridget Bueche recommends including "mini no-cook snacks prepped in advance and easy to clean up."
Once you've completed basic preparations, it's time to look at your guest space with an eye toward health, safety, accessibility, functionality, comfort, and joy – the five facets of wellness design!
Healthy Guest Suite
If you've ever stayed at a loved one's home and been woken up by the sun beaming through an uncovered window at an unholy hour, or been roused by headlights from cars coming and going outside, you may have experienced the pain of sleep deprivation. Optimize your guest bedroom for healthy sleep with blackout window coverings and cover any bare windows in an open bathroom visible from the bed.
Another sleep disrupter can be noise. Consider the location of both your guest accommodations and, if there's no flexibility in its location, the position of the bed on a quieter wall. Plants, filled bookcases, solid core door, and carpeting or large area rug can all help mute outside noise.
Another health consideration is air quality, especially during a pandemic caused by an airborne virus. Consider adding an air purifier to your guest room. This will also help anyone with other respiratory conditions.
Safe Guest Suite
If possible, host your guests – especially elderly friends and family – in a room with an adjacent bathroom. You want to avoid staircases and dark halls, if possible, between their bed and bath. "Making sure there's ample light during the evening hours and nighttime is important," Umali recommends.
A gentle nightlight, potentially from an LED strip below a floating vanity and/or nightstand, can be helpful in guiding someone safely in and out of bed. There should also be a bedside lamp, so someone can switch off the room light and avoid navigating in a strange, dark room.
Bathroom falls are sadly common, and particularly dangerous for older adults. If the floor in their bathroom is slick, consider having a nonslip preparation professionally applied. If there's room, add a seat to the shower to help a user with balance issues. It's also worth the time and effort to install a grab bar at the entrance to the tub or shower to make getting in and out safer. Fortunately, there are many stylish options that don't need to be blocked behind the wall, and won't detract from the room's aesthetics.
Another bathroom hazard can be mold or mildew. Consider replacing an old, noisy vent fan with a quiet, sensor model that pulls moisture out of the air without anyone having to remember to turn it on or off.
Accessible Guest Suite
Guests of all ages and abilities will appreciate some accessibility features. These can include a handheld showerhead that makes showering easier, a luggage rack to prevent bending to the floor to find something in a suitcase, and a bench or chair in the room, especially if the bed is high. (That's not an ideal option for a guest suite anyway!)
If you have guests with mobility challenges, setting up a mini kitchen in their suite can add ease, comfort, and accessibility for them. "Induction portable burners are incredibly useful and safe," Bueche points out. She also suggests a smoothie maker, coffee maker, electric kettle, and a mini fridge. "Stock the fridge with alternative milks and cream or ask ahead their preferences…overnight oats in jars can be stocked. Nut mixes, jerkies, and trail mixes are great snacks," she adds.
Functional Guest Suite
Luggage racks and handheld showerheads make a guest suite more functional too. If your guests are workaholics or journalers and you can provide a desk and task lamp for them to use, they'll likely appreciate the consideration. You can also add functionality by ensuring that the outlets all work and providing either a USB option or charging cube close to the bed and desk.
Comfortable, Joyful Guest Suite
Being able to modulate the room's temperature creates a more comfortable space. While you probably can't do that with your home's HVAC system, you can achieve thermal comfort with a ceiling fan and dual, layered bedding, so each guest sharing a bed can choose whether he or she wants a duvet, throw, or just top sheet. If your home is exceptionally arid, consider adding a humidifier to your guest quarters (and your own).
Providing some pampering elements, like organic sheets and towels, sound speaker, coffee maker, mini fridge with filtered water, fruit, and coffee creamers all make guests feel like five star guests.
Final Thoughts
As long as you create a safe and reasonably comfortable guest area, what your guests will ultimately remember is the great time they had with you. As coach Steiner suggests, "Try to suspend your worries about making the visit perfect and enjoy the time you have with your guests. Focusing on those moments in the present will help make the visit enjoyable for everyone."
Jamie Gold, CKD, CAPS, MCCWC is a Mayo Clinic Certified Wellness Coach, wellness design consultant and the author of three books on design and remodeling. The latest, Wellness by Design: A Room-by-Room Guide to Optimizing Your Home for Health, Fitness and Happiness, (Tiller Press) published September 2020. You can catch Jamie's WELLNESS WEDNESDAYS on Clubhouse the first and third week of the month at 1 PM Pacific/4 PM Eastern and her new videos on her recently-launched YouTube channel.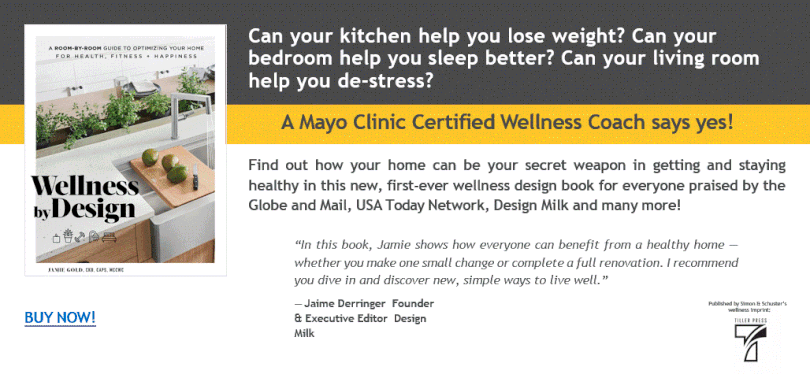 This post contains affiliate links, so if you make a purchase from an affiliate link, we earn a commission. Thanks for supporting Design Milk!