Fall Porch Decor Ideas Anyone Can Pull Off This Year
Nothing says you're ready for fall like a porch full of seasonal goodies like pumpkins, autumn flowers, wreaths made of fallen leaves, and pretty much anything in fall-ish colors. Coming up with the perfect combo is not as tricky as you may think. There are a lot of great ideas when it comes to fall porch decor and we've gathered some of our favorites here so we can share them with you.
40 Decor Ideas to Spruce Up Your Porch for Fall
1. Shades of White and Soft Neutrals
Yes, we said fall is all about the oranges, the yellows, and the browns but you can successfully come up with a stylish fall porch decor even without relying on these nuances. Perhaps something simpler based on shades of white and soft neutrals can suit your style. You can find inspiration on thegracehouseinteriors.
2. Pumpkin Display
It does not really fall without pumpkins. They come in all sorts of shapes and sizes and even in different colors and you can take advantage of this variety to create a simple and at the same time beautiful front porch decor. You can put a few pumpkins on display and you could also add a few planters with colors that match the pumpkin-themed palette. The combo featured on lizmarieblog is exactly what we're talking about.
3. Pastel Pumpkins and Flowers
Pumpkins and autumn flowers go hand in hand, as also proven by this beautiful porch decor featured on homestoriesatoz. The soft pastel colors of the pumpkins are complemented by the vibrant yellow-ish tones of the flowers, a beautiful combo, especially taking into consideration the design of the front door as well.
4. Eclectic Decor
There's a lot going on here. The fall porch decor featured on yellowprairieinteriors brings together a variety of different elements such as an upcycled door, corn stalks, a hay bale, pumpkins of different colors and sizes and orange accent pillows which contrast with the green chairs. It's an eclectic decor with a soothing and cozy feel.
5. Combine Neutrals and Metallics
Fall-themed decors are often associated with rustic and retro styles and such combinations turn out to be very stylish. A nice example is this front door decor which blends neutrals with metallic details, the result being elegant and simple without lacking character. The inspiration comes from tarynwhiteaker.
6. Frame the Front Door
This fall porch decor from fynesdesigns is symmetrical…but not quite. The decorations displayed on either side of the front door mirror each other almost perfectly but have enough differences to also contrast with each other. We really like the tree trunk tables and the pink flowers which stand out and add a fresh touch to the whole ensemble.
7. Basket of Apples
Wreaths are quite common and you can always rely on them to complete your themed decor in a way that looks classy and charming but what if you were to replace the wreath with something else like a basket of apples for example? That could actually look really cool. An advantage of using apples in fall decor is that they're colorful and fairly long-lasting. You can periodically replace real apples or use faux apples from the crafting store if you're worried about the decorations withering as the season progresses. The idea comes from savvysouthernstyle.
8. Simple Bucket Display
A great thing about fall decors is that they don't need to be sophisticated, luxurious, or very detailed in order to look awesome and to capture the essence of the theme they represent. Something as simple as a bucket filled with pumpkins, foliage, and corn cobs can look super chic, as you can see on stonegableblog. Buckets are a good shorthand design element to carry across a farmhouse, rustic, or western design theme since buckets are supposed to make visitors think of the tools used around a working farm. 
9. Fall Wreaths and Garlands
You can make a lot of lovely fall-themed decorations using foliage. Wreaths and garlands are the most common examples. You could frame your front door with them. Add a few more ornaments to the mix and you have an easy fall porch decor with plenty of character. If you're crafty you can build your own DIY wreaths and garlands for your porch. With a little care and proper storage, you can reuse these decorations year after year. Find more inspiring ideas like this one on frommyfrontporchtoyours.
10. Corn Stalks
Corn stalks are the underdogs of fall porch decor and yet they can be used in a lot of interesting and creative ways. They're a perfect neutral element for acting as a backdrop for other aspects of your fall porch decor. For example, you can decorate the columns or railings with corn stalks or you can display them in bouquets in barrels or large containers. Find more inspiration on ourvintagehomelove.
11. Custom Signs
You could also welcome fall with a custom sign which you can display on your porch along with a few other decorations. A simple chalkboard would do just fine. Write a cute message on it or draw something. You can reuse the board for Thanksgiving Day, Halloween, and other events. The other ornaments could be repurposed too. Check out cottageintheoaks for more ideas like this one.
12. Hay Bale Accent
The main objective of decorating the front porch with fall-themed ornaments is to capture the beauty and the essence of the season in a way that makes this space look charming, cozy, and welcoming. How about a side made out of a hay bale or some pillows and blankets in autumn colors? That could look lovely in combination with some pumpkins casually displayed on the porch and perhaps even a chic sign that lights up at night. These ideas and more and can be found on lizmarieblog.
13. Harvest Theme
If you find the fall theme to be too vague or complex, try focusing on something more specific. For example, your front porch decor can revolve around the harvest theme. This is a fall decor scheme that can be carried straight through Halloween and into Thanksgiving, and it's a versatile option if you're not quite sure what individual elements you want to use. You can put together decorations which showcase the county of the season and you can find a lot of the things you'll need in your own garden. Check out aehomestylelife for more inspiration.
14. Wooden Welcome Sign
The humble corn stalk is featured here in the context of a very lovely porch decor that includes a lot of autumn's treasures like pumpkins and pinecones plus beautiful seasonal flowers. There's a nice mixture of textures and colors here too. The decor was featured on thewoodgraincottage and includes a wooden Welcome sign which increases the house's curb appeal in a really cute way. You can also see this colorful wreath displayed on the front door. It's made with seasonal flowers.
15. Add Some Fall Accents to Existing Decor
You don't have to completely reorganize and redesign your porch to make it ready for autumn. It's enough just to add a few things to the existing setup. For example, put a cozy blanket or a throw pillow on the chair, a few pumpkins on the floor, and maybe a few other ornaments too. You can pick your favorite ones from our list or come up with your own ideas. Adding just one or two decor elements to your porch is good for establishing a minimalist look and can also help save you money if you're trying to decorate on a budget. You can find a few on onsuttonplace.
16. Layer Multiple Fall Elements
You might not think corn stalks would be great to look at but just look how cozy they make this porch feel. Of course, there's more out there than just the corn stalks. We have a lovely fall wreath on the door, a big welcome sign, a chalkboard sign pole, a bunch of pumpkins, fire logs, and all sorts of little details too like a jar full of wheat and pinecones. The lesson here is to layer multiple elements of fall decor together to make your design look more finished and put together. Check out thewoodgraincottage for even more details about this setup.
17. Painted Barnwood Sign
We mentioned that wooden signs make nice decorations for the porch and here's another example that shows it. This sign is made of reclaimed barn wood which already gives it plenty of character. It's been cleaned and painted orange just enough to give it some color but to still retain a rustic and worn look. Upcycling older materials is a great way to add a distressed look to your autumn vibe while also saving money on building your fall porch design. Check local markets and thrift stores for good deals on materials to upcycle into stunning porch decorations. Check out jenniferallwoodhome to see how it was made.
18. Chalk Paint Decor
Speaking of porch signs and other alike decorations, here's one with a chalky finish paint that looks really nice. It started out as a simple wooden board which gave a flat and uniform surface. Of course, you can also connect a bunch of planks and small boards together to make a pallet-inspired sign if you wish to. Chalk paint is popular in all kinds of interior and exterior DIY projects since it gives a beautiful finish and comes in many colors. It's also easy to use even for beginners. The secret is to use chalky finish paint to give it this matte and interesting look at the end. More details can be found on thefrugalhomemaker.
19. Fall Destination Sign
How about a sign that directs you towards all the different attractions and various areas? It can be a cool decoration if you're planning a sort of fall festival in your backyard for example. You can learn how to make this by following the tutorial on lydioutloud and, as always, you can adjust and customize the design however you wish. If you're not confident in your ability to freehand lettering for your signage, you always have the option to use stencils instead for a cleaner, more refined look. 
20. Wreaths and Pumpkins
When you have a small porch you can't really display a lot of things on it so you have to be selective. Too many decorations on a small porch can leave the space looking and feeling cluttered. However, decorations like wreaths and pumpkins always have a place here. So go find a fall wreath that you like or craft one yourself and hang it up on the front door.
Wreaths can be used on even the smallest porches since vertical decor doesn't take up any space on the porch. Then take a wooden crate or a small table and put a few pumpkins and leaves on it. You can also casually display these on the stairs if your porch has any, just be careful to leave the walkway clear to avoid tripping. There's more inspiration to be found on thecraftingchicks.
21. Wooden Crate Display
Wooden crates are great for porches of all sizes because they can be used in lots of different ways. You can use them to store various things like blankets and pillows, fill them with seasonal decorations like pumpkins and pinecones or even put a top on them and use them as benches. It's nicer when the crate itself looks beautiful so check out this tutorial on andersonandgrant to find out how you can decorate it.
Using wooden crates on front porches is fun because they allow you to put a customized touch on your fall decor, depending on which items you want to display in the container. Sunflowers, pumpkins, and corn stalks all look great. You can go with a bare wooden crate for a rustic look or paint it in a shade to match your porch design to add some symmetry.
22. White Pumpkins and White Wreath
Not everyone likes all the orange-based fall colors and that's ok because you can create a magnificent fall porch décor without them. We really love the neutral and fresh color palette of all the decorations featured on tarynwhiteaker. The white pumpkins look really nice and the corn stalks and the pallet sign add texture to the décor without overwhelming it. White-based fall decor is a smart contrast if you have a darker-colored front door or you have dark porch furniture. Use white painted font in homemade signs to help carry white as your accent color.
23. Marquee Letter Pumpkin Display
Pumpkins, whether they're real or faux, are always great decorations if you want to add a fall-inspired vibe to a space. If you want to take things to the next level, check out these marquee light letter pumpkins featured on karaspartyideas. They're pretty easy to make and they look gorgeous on the porch. If you're into vintage interior design, these marquee pumpkins can help bring some old Hollywood glamour to your outdoor fall decor too.
24. Fall Floral Wreath
Wreaths are almost always a part of a porch's décor regardless of the season. For fall we recommend using grapevine wreaths. They have a nice texture and look even without any custom decorations on them. You can make one yourself from scratch if you want to and you can decorate it with flowers and other things from your garden. Gathering leftovers from your gardens and borders to add to your fall floral wreath can be a great tradition each year to mark the changing of the seasons. Check out threadsandblooms to find out the details.
25. Painted Pumpkins
You can do a lot with paint, like decorate a wooden crate and turn it into a lovely decoration for your porch. On this subject, it could be cool to use some painter's tape and create an interesting pattern on the crate, like the black and white chevron stripes suggested on twothirtyfivedesigns. Notice that this crate is filled with pumpkins and other fall goodies and some of those are painted pumpkins as well. This is a great way to make your front porch fall design look more unified.
26. New Fall Porch Seating
If you want to make your fall porch more inviting, a quick way to spruce it up and encourage people to linger is to update it with some new seating. Putting some comfortable outdoor furniture like patio loveseats and sofas on your front porch allows people to stick around rather than head straight in through the front door. Include accessories like a drink tray, a side table, blankets and throw pillows to pull the entire sitting area together. See an example of a classy black-and-white fall porch design at Sam and Nate Blog.
27. Fall Porch Planters
Just because it's fall doesn't mean you can't have some plants on your porch to liven up your design. Many live plants and flowers are tolerant of cooler autumn temperatures, which means even in the fall you still have plenty of options for both greenery and flowers you can add to your outdoor containers on the porch. Choose perennials so that even when they die back in the winter, they'll regrow in the spring. If you want to keep the same arrangement throughout the colder holidays, choose faux plants instead. For the real thing, check out these arrangements from Garden Glove.
28. Front Door Harvest Color
If you want to add instant visual interest to your fall front porch but you don't want to invest in a bunch of decor or accessories, consider painting your front door in a bright autumn color like this goldenrod door from Maria Killam. A painted statement door can change the look of your home drastically without requiring you to invest a ton of time, money, or effort into making changes. You could even paint your front door seasonally to match whatever decor you set out if you wanted to use it as a focal point to bring your entire front porch design together.
29. Ceramic Pots for Visual interest
When adding container planters to your porch fall decor, the plants aren't the only part of the arrangement you should consider. The color, texture, and materials of your containers can also make a big impact on your porch design. Mix and match different containers like in this setup at This Is Our Bliss for a bohemian, eclectic look, or use containers that are all the same shape and look to maintain a balanced, contemporary vibe.
30. Haint Blue Porch Ceiling
Haint blue (a light pastel blue shade) has been a popular color for porch ceilings for hundreds of years. According to superstition, painting your porch ceiling blue helps to prevent evil spirits from entering the house. This makes a haint blue porch ceiling makeover such as the one from Designs By Donna the perfect decor idea to help you ring in the spirit of Halloween. One of the best things about a haint blue porch ceiling is that it looks fantastic no matter what time of year it is. You can go with a bright saturated haint blue for a more dramatic design or choose an off-white shade with a haint blue tint for a more subtle look.
31. Fall Porch Rocking Chairs
Rocking chairs like at Southern Living are perfect for adding a comfortable, rustic farmhouse vibe to any fall porch decor, and you can even dress up your armchairs with some festive fall ribbons to help bind them into your design. Be sure to include some soft, weather-resistant cushions for your seating to make them comfortable and encourage people to relax on the porch. You can paint rocking chairs to match the trim of your home or leave them in a natural wood finish to add a natural element to your porch.
32. Faux Fall Leaves
Real fall leaves are great for autumn arts and crafts, but the faux fall leaves you find in a crafts store are much better suited to durable fall decor that will look good on your porch all season long. Faux leaves can be glued around mason jars with modge podge to create quick lanterns with electric candles, or they can be arranged in your porch planters and hanging baskets to create a bright, colorful fall look without the maintenance needed by live plants. Another bonus: These plants won't have to come indoors when the weather turns cold. Check out Mom Home Guide for more examples of faux fall leaf crafts for your porch.
33. Fall Porch Layered Rug
Layered front porch rugs can look good any time of the year, but they add an especially cozy look during the colder months of fall and winter. The best way to do a layered rug look on the porch is to put down a larger area rug and then put a smaller tan fiber rug on top of it so that people can clean their feet. The decorators at This Is Our Bliss add a fiber rug with a welcoming message to give the porch a personal touch. Pair the fiber mat with a patterned rug that brings in rich fall colors to dress your porch up for the harvest season, or use one in neutral shades for a more modern design.
34. Upcycled Bird Cage
If you're trying to make your fall porch decor look comfortable, a good way to bring that ambiance across is to include accessories and decor that are upcycled and used in new decorative functions. A bird cage like this cage from Joyful Daisy is a unique accessory to include in your front porch decor because you can fill it with all kinds of quirky items to create visual interest, from dried fall flowers to Indian corn and crow sculptures. A vintage bird cage is also a versatile decoration to include since you can change out the decorations inside it to suit whichever season you like.
35. Rattan Pumpkins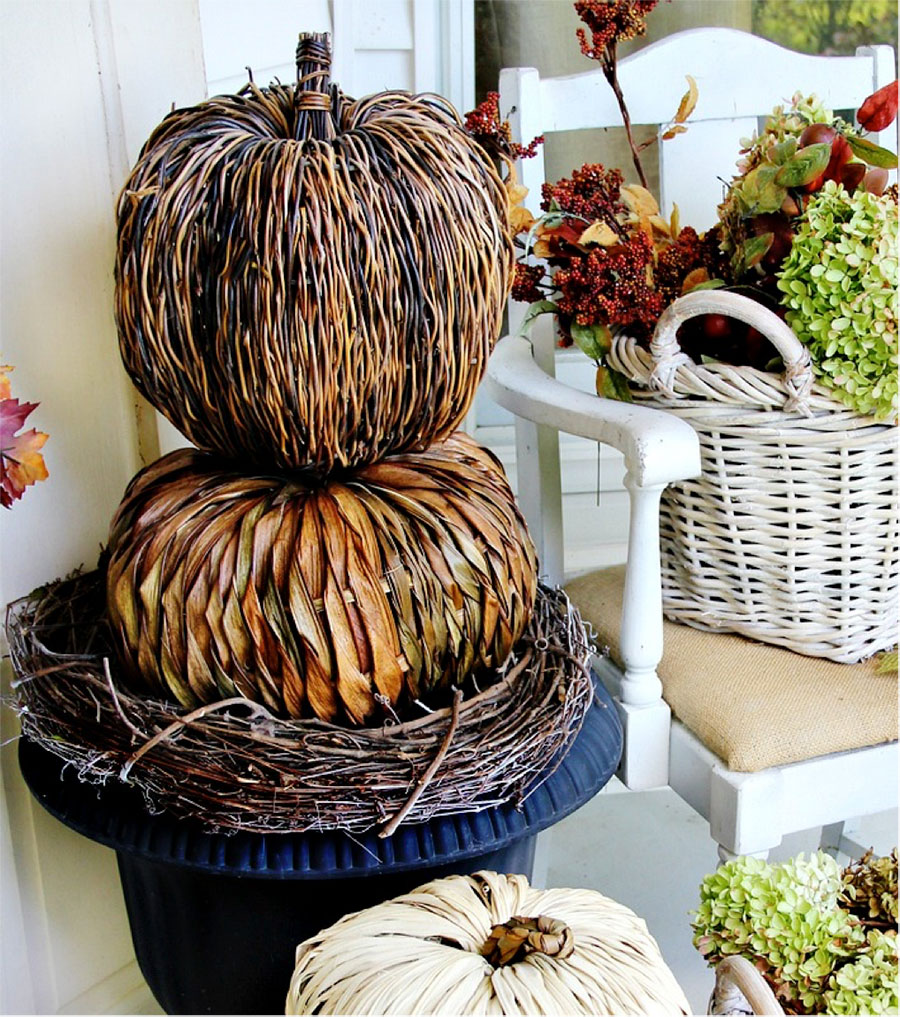 Pumpkins are a popular fall decor idea for your front porch, but the drawback of using real pumpkins is that they eventually rot and degrade over a period of weeks, requiring you to replace them. These rattan pumpkins at Homes are a much better option since you can put them in storage the rest of the year and bring them out season after season. Pick rattan pumpkins in a variety of different textures for an interesting design, and choosing different shades of rattan can help the pumpkins stand out from one another from the sidewalk.
36. Preserved Flower Pumpkins
Another option for pumpkin decor for your fall porch is to include some of these preserved flower pumpkins from The House That Lars Built. These gorgeous fall displays can be customized to fit any design depending on which types of preserved flowers and foliage you use to decorate them. Place the finished pumpkins in a display along with some sheaths of wheat or some corn stalks for a refined design that will have the whole neighborhood impressed.
37. Ornamental Kale and Cabbage
If you prefer living plants on your porch to dead preserved ones, ornamental kale and cabbage are great options for replacing your dying summer annuals in fall porch planters. Related to edible kale and cabbage, these plants have surprisingly bright foliage that looks great even when the months start to get cold, making these ornamental plants a perfect option to add fresh foliage to your fall design. These plants can even survive after winter frosts arrive, and they come in a variety of eye-catching colors. See how to arrange your own at Deborah Silver.
38. Hanging Door Basket
Give your front porch a cornucopia vibe by mounting a small hanging wicker basket like the one at Simply 2 Moms to your front door. Like a door wreath, this basket can be filled with an array of little fall knick-knacks from faux autumn leaves to Indian corn to make houseguests think of harvests when they walk up to the entrance of your home. Repeat these natural colors and design elements in other parts of the porch to help bring the whole look together with the front door as the centerpiece.
39. Fall Porch String Lights
String lights are associated with the winter holidays, but there's no rule saying you can't incorporate them into your fall porch decor too! One of the best ways to make your front porch feel more cozy in the fall is to include more lighting since it gets dark earlier the further into the year you get. If you want to go with a harvest theme you can look for string lights that are shaped like little pumpkins, or you can go with a more universal and contemporary look by using fairy lights. Either way, lining your front porch with light is a great finishing touch to set off the rest of your fall decor. See a good example of how to pull it off from Bower Power Blog on WooHome.
40. Fall Porch Hanging Ferns
Hanging ferns are susceptible to frost, which means that if you go with the real thing you'll need to bring them in before it gets good and cold in the fall. However, if you live in a more temperate area, hanging ferns are a fresh addition to your fall porch decor because they'll maintain their green color late into the year. Many ferns actually do better in the cooler weather of early fall than they do in spring and summer since they require a lot of moisture to look good and the heat of summer can scorch them. If you go with hanging ferns in your fall design, make sure to mist them frequently and keep them well-watered to prevent them from drying out. Learn how to keep your ferns looking good all season with this tutorial at The Frugal Homemaker.
There are tons of different types of fall porch decor ideas you can include in your fall design that will really set your home apart from all of the other houses on the block. Whether you prefer live plants and refined planters or you're more into a crafty harvest look with fall-themed wreaths and preserved flowers, you're sure to find some spark of an idea in the list above that can bring beautiful autumn sophistication to your porch.
The post Fall Porch Decor Ideas Anyone Can Pull Off This Year appeared first on Home Decorating Trends - Homedit.