Felt storage basket, Toy storage bin, Nursery storage basket, toy basket, lego storage V by loopdesignstudio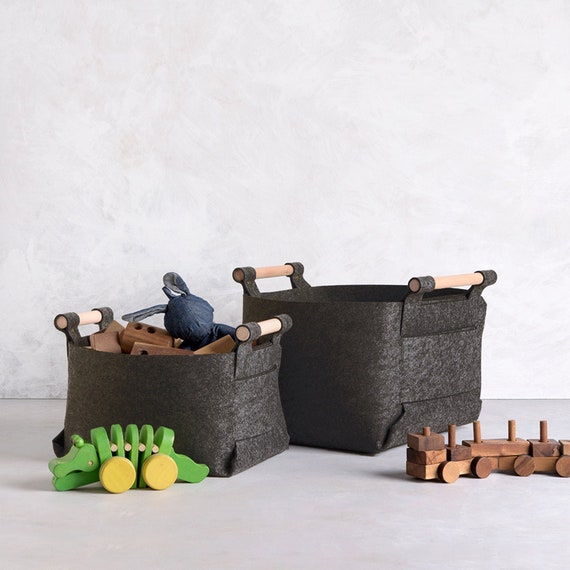 44.00 USD
Our felt storage basket hides all the clutter and looks beautiful while doing it so you can even keep toys in the living room nearby but out of site.
Made of thick sturdy felt with easy-to-carry wood handles, these baskets are easy to hold even for your little ones and are soft for them to touch.
They keep their shape when they're empty and make clean up quick and easy.

Looking for a different size or color? See all of storage baskets here https://etsy.me/2SV6CPH

/Assembly:

• These baskets arrive flat, watch our assembly video for instructions: www.loopliving.co/how-to
• At the moment, I can't make custom sizes.

/Details:
• Size: Width: 14.5" Length: 14" Height (including handles): 11 inches (37 cm X 35cm X 28 cm)
• Color: Dark grey with handles made from Beach wood.
• Material: Soft and thick Synthetic Felt, Beach wood Handles, Brass colored snaps and studs
• Each bin is cut from one piece of felt, and bound with brass hardware snaps at the handle area to ensure durability.