How to (Automatically) Backup Your Website into Dropbox
As website owners, one of the important things you should do is to regularly backup the website. Some web hosting providers may already have the backup functionality built-in their platform. But as the old saying goes, don't put all your eggs in one basket. A good practice of doing backup should:
Backup your data from any directory as well as all or select database.
Backup as frequently as possible at least once every 24-hour.
Backup can be performed on-demand.
Backup should be retrievable and accessible anytime, anywhere.
You should be notified whether scheduled backup failed or done successfully.
Most importantly, backup should not be saved on the same server.
A cloud storage service such as Dropbox could be a great second home for saving the backup files of your website. In this post, we'll show you how to do it using SimpleBackups.io that makes the business of site backup much simpler.
Before we begin, you need to have a website with SSH access, as well as an active Dropbox account. Once you have those, we can get started.
Getting Started
To start with, you need to register an account. It's pretty seamless. As soon as you sign-up with your email address and a password, you will be shown the following screen that will walk you through the steps.
So as a first step, we are going to connect SimpleBackups to Dropbox by selecting the Connect your cloud storage option.
Select Dropbox and allow SimpleBackups to have access. This will allow it to create a directory within your Dropbox account, and save the backup in that directory.
Connecting your site
As a second step, we are going to connect SimpleBackups to our site. There are two ways to do this, either by using the SSH password or SSH key. I would prefer using the SSH key as it is more streamlined.
Once you select the method, log in to your site's SSH and run the provided command.
Creating a backup
As Dropbox, SimpleBackups, and our site are now connected, we can now start creating a backup. We proceed by selecting the "Create your backup" option.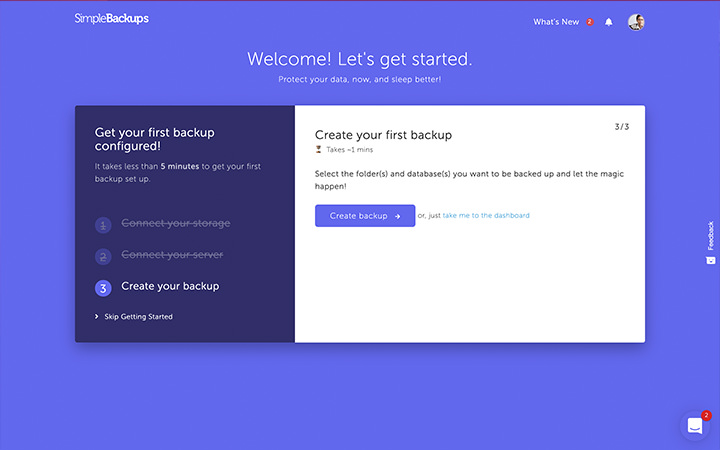 At this point, you can select what type of data, you'd like to include in the backup i.e. files or database or both.
Also, you can select how often (daily, weekly, or monthly) should the cloud storage create the backup and for how long should it be retained. Typically, retaining backup for 30 days is usually sufficient.
For the database, SimpleBackups supports MySQL, MongoDB, and PostgreSQL. Once this is selected, you will need to provide the username, password, and other information on your database.
And that's it! You can now start creating a backup of your site. Creating the backup may take a while if your site has plenty of files and a large database.
Once done, you'll be notified via email of its completion. You can also see the history of each backup that you've created on your SimpleBackups account.
Wrap Up
If you take a look at your Dropbox directories you can find the backup neatly archived, with the database and the files saved separately. You can access these on almost every platform as long as there's Dropbox app installed or from the Dropbox web application.
SimpleBackups.io really lives up to its name. It makes creating a backup of a site simpler. My experience from the beginning to the end has been pretty seamless and intuitive. Let's hear about your experience with SimpleBackups in the comments section below.
The post How to (Automatically) Backup Your Website into Dropbox appeared first on Hongkiat.