Momtrends MVP'S: Best Double Strollers for 2022
We rounded up our favorite double strollers for 2022, from luxury to budget versions, to lightweight double strollers options and even double travel systems!
As 2021 comes to a close, I thought it would be fun to revisit our very first Momtrends MVP'S baby post, double strollers. It just seemed fitting to end the year with more of our favorite double stroller recommendations being that the topic kicked off this whole series.
Our best double strollers post remains one of our most popular posts to this day and I think I know why. If you have another baby on the way and a toddler at home, you aren't leaving anything to chance. Bwah! You want to nail down your must-have gear as soon as possible, am I right? Haha!
And one reason a double stroller is so necessary is it allows you to leave the home with small children and infants with far less stress. I had my kids 4 years apart, but I can tell you I still made sure the strollers I got had kickstands for my oldest because getting out whenever I could be necessary for my mental health.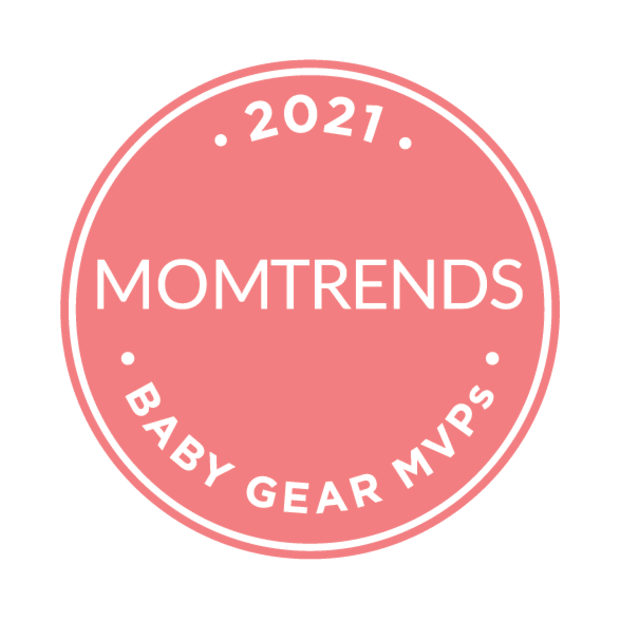 As we look ahead to 2022 hopefully it will include more opportunities to get out into the world with our babies. So, here's to travel and even plain old errand running. Double strollers make it all easier!
Anyone who has had to corral a wiggly toddler while also toting around an infant knows just what I am talking about. And forget about twins. From what I hear, twin life is an amazing life, albeit a hectic one. So, those moms of two littles need the best gear to simplify things as much as possible!
On that note, let's talk about our take on the best double strollers for 2022, shall we?
Do You Need a Double Stroller?
I think that if you have a baby and a toddler, a double stroller is fairly necessary. I don't have personal experience with twins, but I know people who have them and a double stroller was definitely part of their gear collection.
Even if you have a 4 or 5-year-old, certain doubles strollers are game-changers. And it doesn't have to be a super wide version that doesn't navigate store aisles well. There are SO many double stroller options available these days.
In fact, I tried to take into account the different types of families who might need a double stroller and what they would be using one for. So, hopefully, there is a good choice for everyone here…
The Best Single to Double Stroller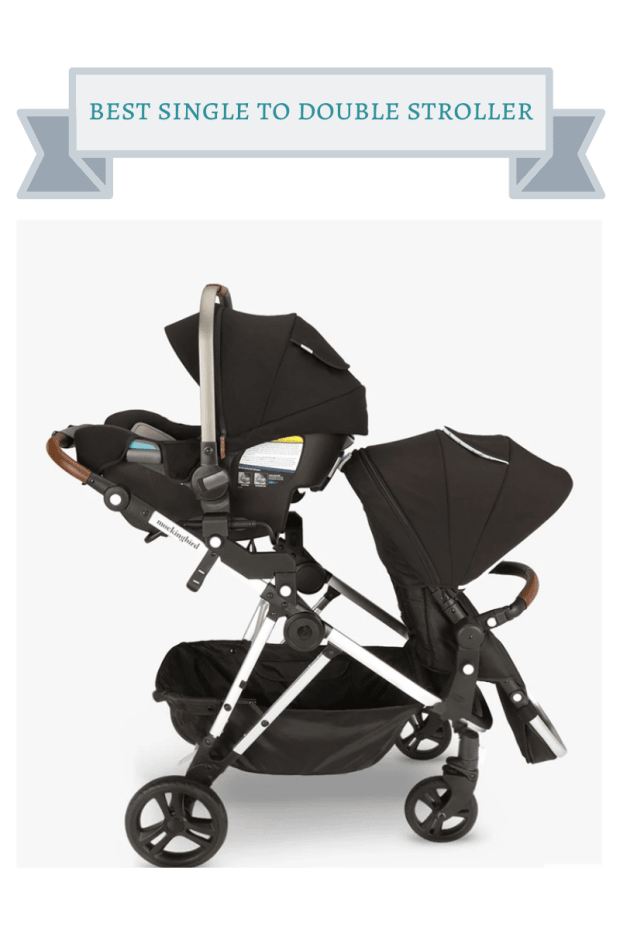 My second baby was a total surprise baby. While we weren't trying, she was the best surprise of my life! And had she happened a couple years earlier, this single to double stroller that transitions according to which stage your baby or babies are in would have been so helpful!
The Mockingbird Single-to-Double Stroller starts as a comfy single stroller that can be arranged 5 different ways, but can turn into a double stroller with their 2nd seat kit.
And the best part about this versatile Mockingbird Single-to-Double Stroller is that not only are you able to transition from toting one to two kids in it, but you can add an older child thanks to a kickstand option as well!
Mockingbird Single-to-Double Stroller
The Best Double Stroller for Twins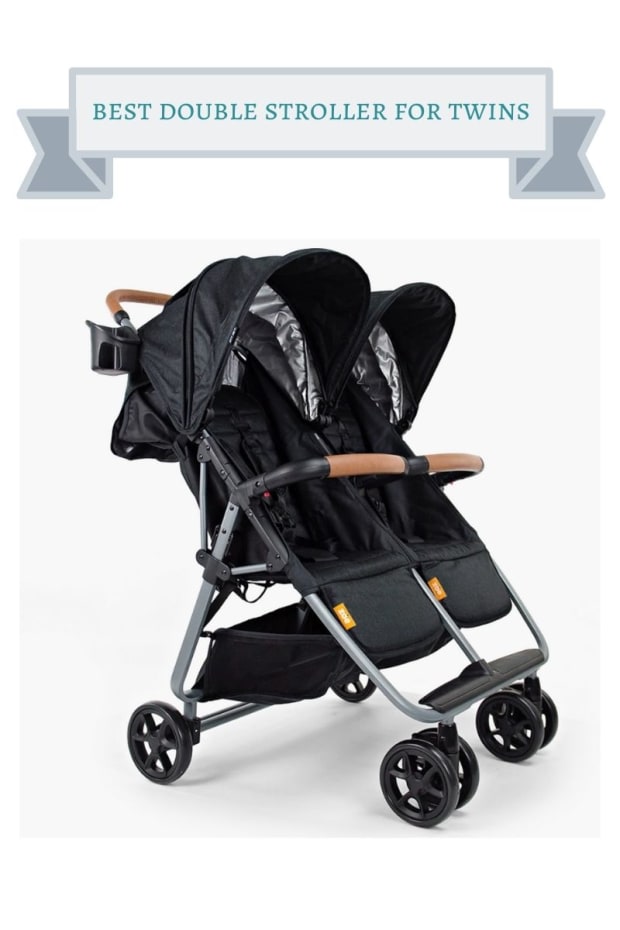 Whether you have twins or two kiddos who can be forward-facing, the Zoe Twin+ will fill your needs! Remember when I said you can stop stressing about huge double strollers that need a wide berth, well this stroller is compact enough to fit through doorways, down aisles, and the like!
And it's another stroller that can fit multiple children with the addition of the trio or tribe seat, meaning you could have three OR four children contained in one stroller!
And as a full-blown Disney parks fan, I love that the Zoe The Twin+ is amusement park-ready! It's lightweight enough to wheel around the park, folds easily, and comes with plenty of room to tote your diaper bag, souvenirs, etc.
The Best Lightweight Double Stroller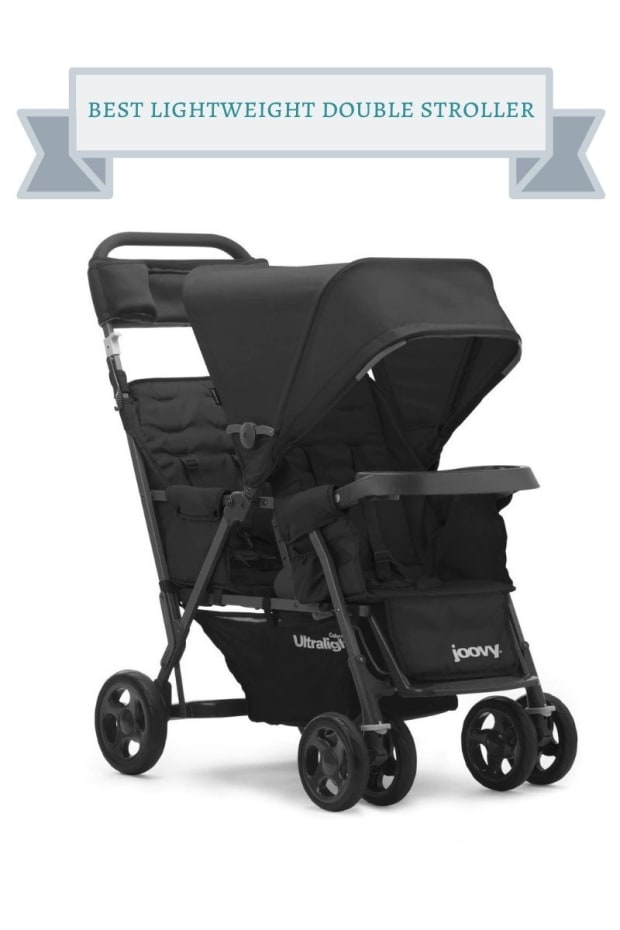 When I left the house for quick errands I always turned to my lightweight or umbrella stroller. I needed a stroller that I could easily get in and out of the trunk alone. Joovy has created an option like that in double stroller form.
The Joovy Caboose Too Ultralight Sit and Stand Tandem Double Stroller can accommodate up to 90 pounds, but qualifies for the featherweight class as it weighs a full four pounds less than their original Joovy Too.
The only thing you lose is weight, you don't have to sacrifice features as this lightweight double stroller comes with the option to use the rear seat, bench seat, or standing platform, has 3-way reclining seats and it's another that fits the Disney park size requirements too. Just sayin'. When navigating a crown, a tandem style stroller makes the most sense in my book.
While I love all the fabulous features in the Caboose Too Ultralight Double Stroller, my hands-down favorite is the bump protection. The four-wheel suspension helps napping wee ones stay asleep. Score!
Caboose Too Ultralight Sit and Stand Tandem Double Stroller
The Best Travel System Double Stroller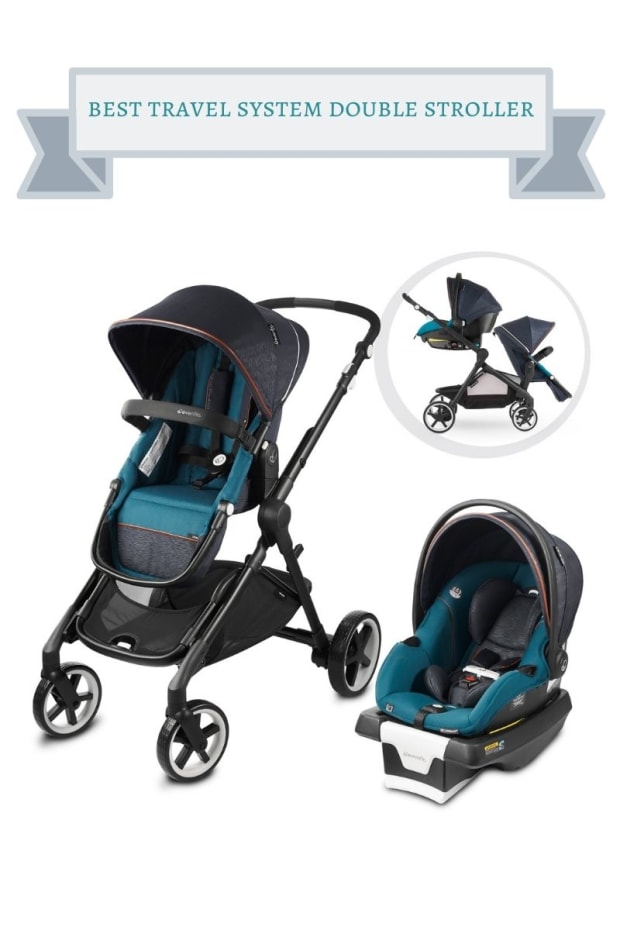 Nothing beats the convenience of snapping your baby's car seat into a stroller frame, hence why travel systems are so popular. Add the option to turn a travel system into a double stroller and you reach the ultimate convenience level.
That is just what the Evenflo Gold Pivot Xpand Travel System allows you to do. Not only does it function as a traditional travel system but it also converts to a double stroller in seconds with no extra part needed!
And beyond how easy this double travel system is to use, the SensorSafe alerts are what impressed me the most with the Gold Pivot Xpand. They alert you if your child unbuckles the chest clip or if the seat gets too hot. Talk about peace of mind!
Evenflo Gold Pivot Xpand Travel System
The Best Double Stroller for Tall Parents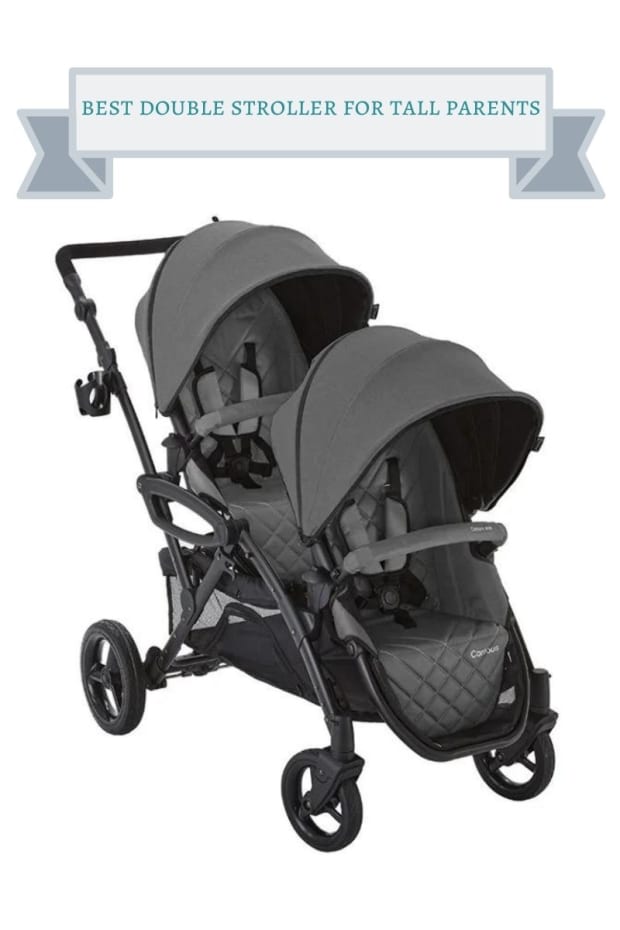 My sister is quite a bit taller than me and I realized how that can make a difference in what baby gear works best when she had her first baby. What worked for me wasn't necessarily the best fit for her. 
Taller parents need gear like strollers that were designed with height in mind. The Coutours Options Elite V2 Double Stroller is one of those designs thanks to its height-adjustable handlebar. It makes pushing this stroller comfortable for parents with different heights.
 You also get reversible seats, a one-hand recline, adjustable leg rests, quilted seats, and more! But my favorite feature of the Contours Options Elite V2 Double Stroller, aside from the adjustable handlebar, is the best-in-class legroom between the seats. I make babies with looooooong legs, bwah!
Coutours Options Eliite V2 Double Stroller
The Best Luxury Double Stroller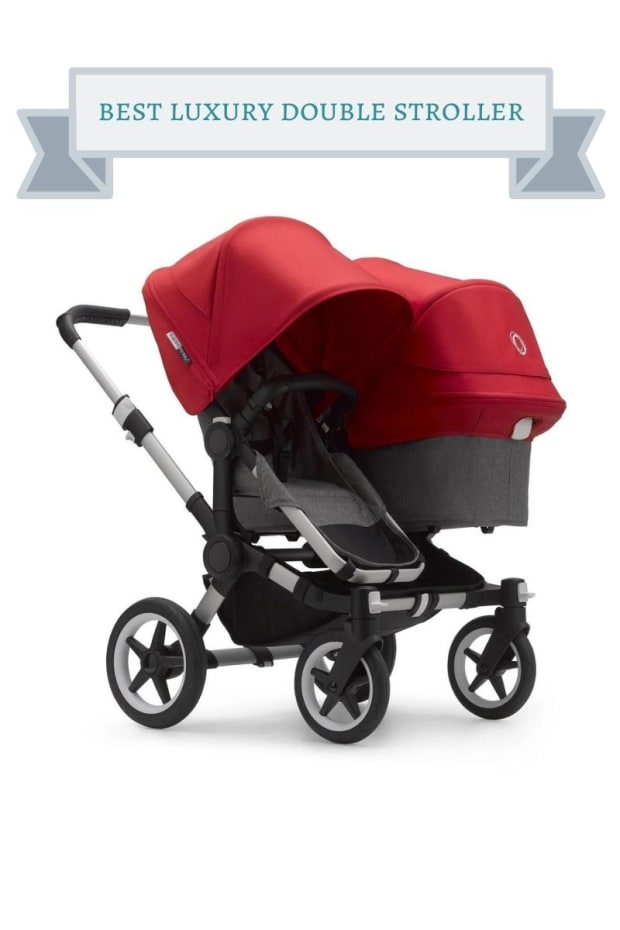 A stroller is a piece of gear I don't have a problem investing in. You use it for several years and it totes around precious cargo. So, I say go all in with what you can afford. If it's in the budget, a luxury stroller will live up to the spend, especially my pick for the best luxury double stroller!
The Bugaboo Donkey 3 series comes in a variety of styles to fit your family's specific needs. Go for the Donkey 3 Duo if you have a baby and a toddler or the Donkey 3 Twin if you have twins. They both fit a bassinet and a toddler sweat or 2 toddler seats, but the Twin also fits two bassinets.
What makes this Bugaboo Donkey 3 so luxurious are the plethora of features like large storage capacity, easily replaceable parts, washable fabric, puncture-proof wheels and more! But what I love the most is how many ways you can configure the side by side seat option so your kiddos can interact, or not, depending on the vibe. Haha!
The Best Budget Double Stroller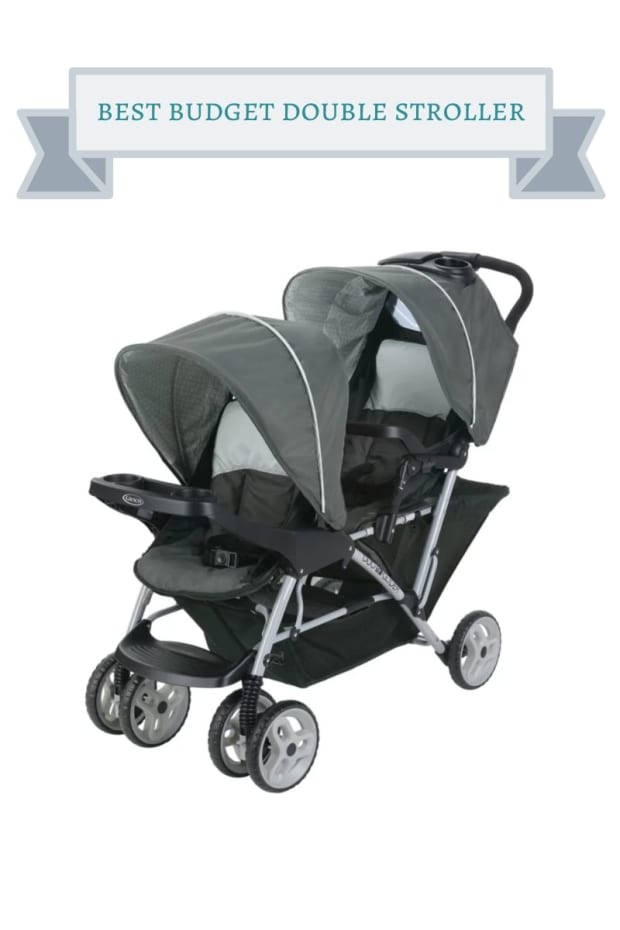 Maybe you're more in the market for a budget than a luxury stroller and that is absolutely ok too. At Momtrends, we want you to grab the gear that speaks to you and best fits your needs. And just because something is budget-friendly doesn't mean it's not fabulous.
The Graco DouGlider comes Click Connect packed with features like a multi-position recline, one-hand fold, extra-large storage basket, rotating canopies, footrests, cup holders, parents, and kids' trays, etc. You know, the works!
And I really love that the Graco DuoGlider Click Connect also accepts two Graco car seats so you can turn it into a travel system if you prefer. I always appreciate OPTIONS!
Graco DouGlider Click Connect Double Stroller
The Best Overall Double Stroller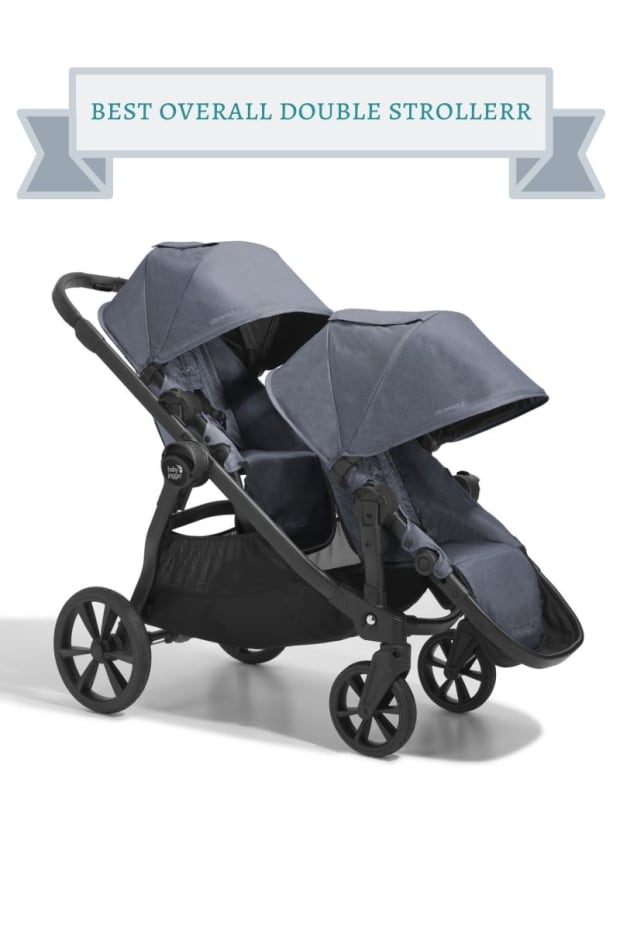 To warrant an overall best designation, I look at a variety of things. Value, quality, number of features etc. And can confidently profess that the Baby Jogger City Select 2 fits the bill!
With a whopping 24 different configurations possible, this double stroller is the definition of versatile! From seating, one, to two or even three, this stroller grows with you. The padded seats, large canopy, compact fold, high-end accessories, seatback, AND undercarriage storage are just a few of the many features available.
I love that the City Select 2 has individual canopies for each child. Protecting their delicate skin is so important! And the extended sizing and UV 50+ features go a long way in that department!
Baby Jogger City Select 2 Double Stroller
With that, the 2022 version of our Momtrends MVP'S best double strollers list is signed, sealed and delivered. We have plenty of double stroller options here for you to research because your precious little ones deserve the best and I think you can find the best here!
Stay tuned for our next baby Momtrends MVPs list…
For Even More Momtrends MVP's Winners, 
Follow the Links Below:
Pin It!
Now that you know what the best double strollers for 2022 are, make sure you save your favorite baby gear and ideas on Pinterest and follow along with our Gear for baby and kid board!
Momtrends MVP's is a non-sponsored series. Brands must meet our strict standards to be included. When naming winners we take several factors into account, including expense, convenience, and style.
We make our picks annually based on editors' research. In some instances, we may request and receive samples so that we can more thoroughly assess products. Our opinions are our own, and our goal is to help our community of moms make more informed decisions on everything from baby gear to beauty products to vacation destinations and more. We scour the abundant options and painstakingly hand-pick our favorites, so you don't have to. Our hope is that our most valuable players become your most valued purchases.