Happy Saturday! It's a cold winter day here in the Ozarks. A perfect day for cozying up to a book or binge-watching some TV. I might even treat myself to a cup of hot cocoa… with whip cream. Mmmm. Doesn't that just sound like perfection?
What is the weather like in your neck of the woods?
Be sure to sign up for my email to get
new recipes and creative ideas
sent right to your inbox!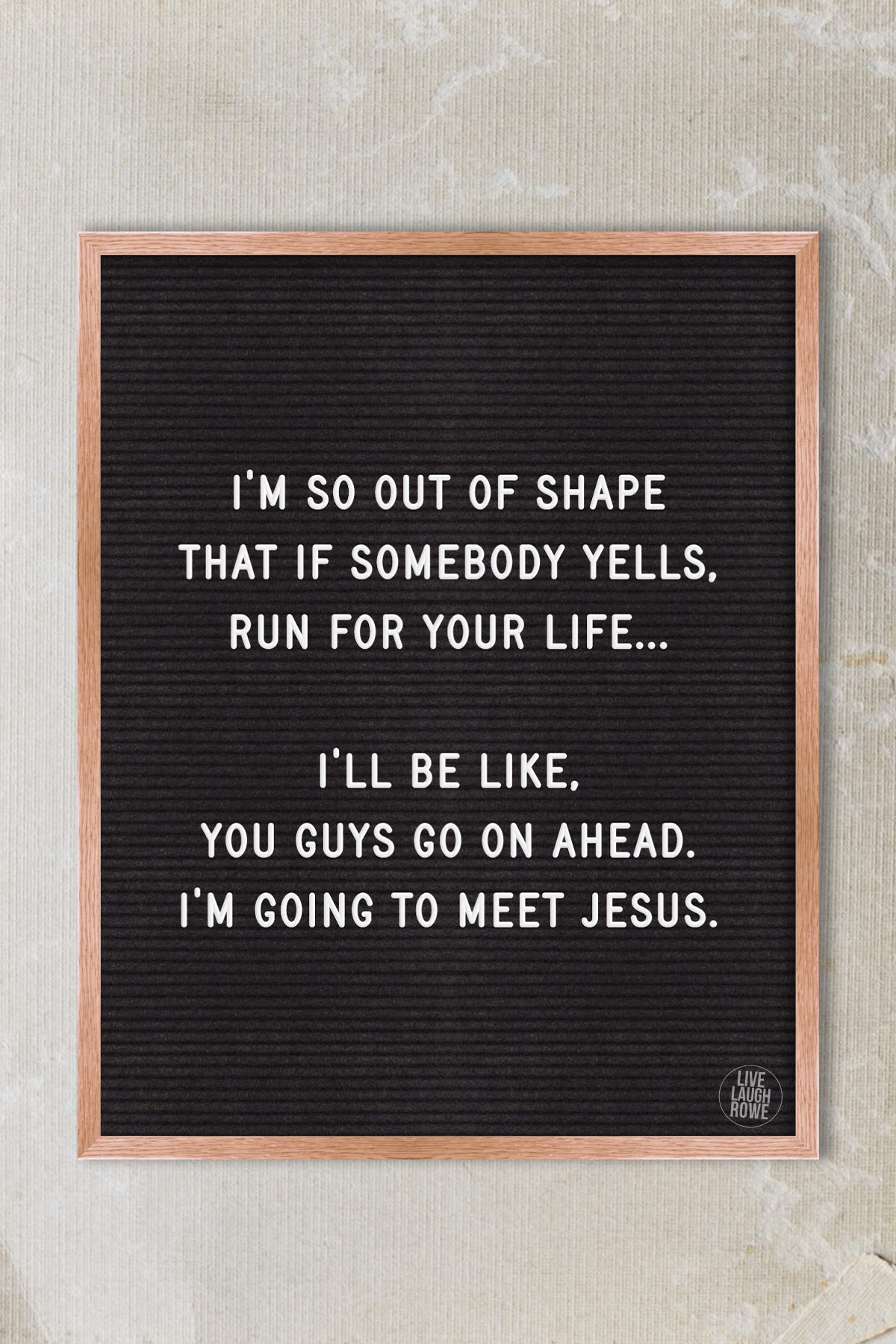 My sister shared a meme with me earlier this week with the words on the letterboard pictured above… and do you know what? I almost spit my coffee all over the room.
HYSTERICAL. Please tell me you laughed. Don't leave me hanging…
I'm not a runner, so I probably would opt to meet Jesus. LOL.
Thank you, Lord, for laughter.
Miscellany:
1. Well, the week started with prepping for a colonoscopy — so that's always fun.
Monday was rough. Only clear liquids all day and I had to drink 1/2 the jug of prep between 4 and 6 p.m. Nothing after midnight, except the other 1/2 of the prep which had to be drunk by 4:30 a.m. Yep, I had to set my alarm for 3 a.m. And we reported for the exam at 6:40 a.m.
However, I'm happy to report that they removed one polyp and it came back non-cancerous. Praise the Lord.
I'm now hopeful that I won't have to have another one for 5-10 years. Fingers crossed.
And I feel like I would be doing a disservice if I didn't mention that if you're over the age of 45 (the new recommended age for colonoscopies to begin), please consider having an exam done. They suck, but it could also save you or your loved one's life by detecting something earlier rather than later.
2. Pallet Groups. Have I talked about Facebook Pallet Groups with you before? I think I might have, but I'm going to talk about them again. Haha. Why? Because I'm kind of obsessed. I've gotten $5 hairdryers, $5 table runners, a gazillion baskets, and more
In the Springfield area, there are a lot of these groups on Facebook; however, I'm active in only two. I have to set limitations one way or another. Right?!? Haha.
So, in these FB groups that I'm in, the couples purchase SALVAGE pallets from Target (and sometimes Amazon). They usually sell the goods in the group for less than half the original price — if not more.
Sure it's hit or miss and first come, first serve — but you can really score a deal every now and again.
Just this past week, one of the pages did an auction for this Threshold footstool. I got it for $24. Ummmm, it's a $100 footstool. Winning.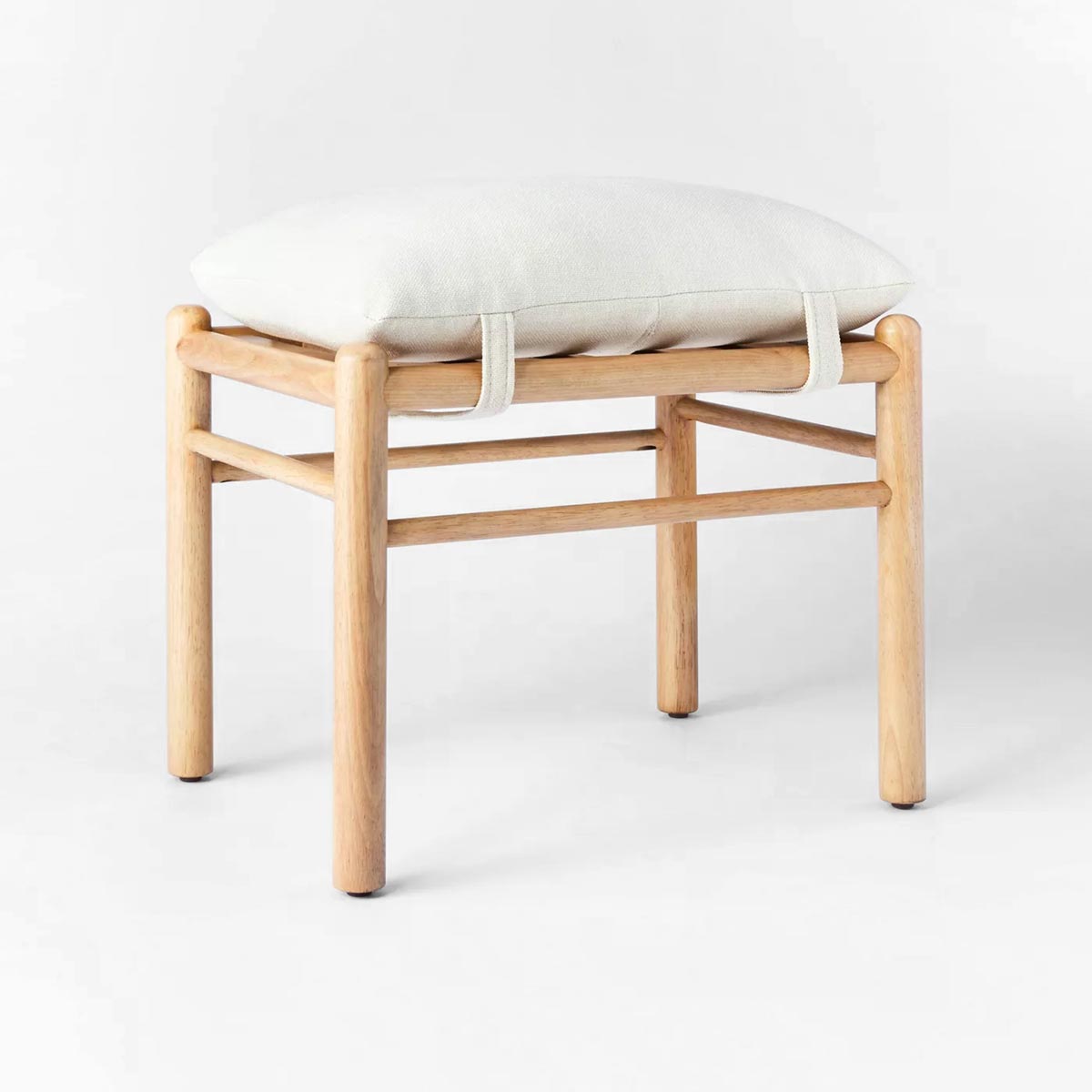 Last year I got this woven storage basket for $25 too. It works great for holding shoes in our bedroom. And two of these black rectangular mirrors for our master bathroom for about $100.
Seriously, do a little FB digging and see if you have any in your area — especially if you love Target and a good deal (wink-wink).
3. Now that I'm walking more often, I'm finding that I love these footie liner socks. They have a rubber grip on the back ankle to keep them up. I've tried other kinds and they always slide down. And I don't like to wear thick socks, making my sneakers feel tight.
Anywho, I had a couple of pairs and recently decided to buy another pack. I bought mine at a local Famous Footwear.
4. Random Fact. Did you know that avocados are fruit? I had no idea. They're technically considered a single-seeded berry.
5. One more random fact…. mmmkay? Wouldn't it be awesome if there was a fruit that tasted like chocolate? Yes, please. Well, apparently there is. There's a fruit that is native to Central and South America called black sapote. Aaaaand tastes like chocolate and sweet custard. YUM!
6. Anyone in organization mode? I asked for this Elfa White Mesh File Cart for Christmas (and got it). You may or may not know that 90% of my office and workroom is Elfa Décor Birch & White Home Office. I love how clean the birch and white look.
However, I'm STILL trying to get my office more organized. It's a process, but the Elfa White Mesh File Cart is going to help with a lot of the paperwork lying around, etc.
Yay for organizing!!
7. Another VERY quiet week on the blog (I know, pathetic)… I did work on a reading log and coloring sheet this past week. So, keep an eye out for that printable this coming week.
Do you remember what word I committed to for the year? Hmmm. Balance? Yeah… still not happening. Send help. Ha.
8. I'm a hugger… I love hugs. I think I got it from my dad — he's a great bear hugger. Anywho, this doormat is PERFECTION (IMHO).
Around the Web:
This DIY Pallet Style Tool Shelf.
This Winter Bucket List.
This Valentine's Day Embroidery Kit (I want one).
These Healthy Salad Dressing Recipes.
This Three Bean Chili.
These Chocolate Chip Shortbread Cookie Dippers.
This Apple Watch Band.
These Haircuts for 2022.
These Mindfulness Activities to Reduce Stress.
This Simple Valentine's Day Gift Idea.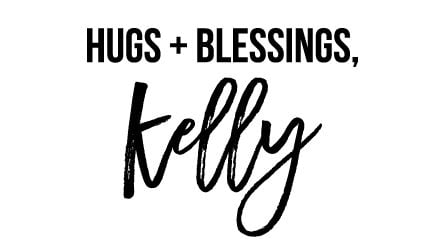 The post the Weekender appeared first on Live Laugh Rowe.