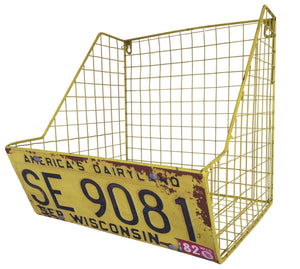 Here at Home of Temptations (HOT Design), for lovers of vintage memorbillia, or those simply nostalgic for the good old days, we have a wicked brand new, rustic metal basket with a vintage license plate themed DECAL applied and a lightly distressed mesh.

The basket itself is made from metal and styled in a vintage / rustic look, this is a wonderful piece of furniture for storage, reducing the clutter as well as being a focal point in your bedroom, man cave, lounge or office.

It can hang from the wall or sit on your desk, entertainment unit or table. Looks like a real license plate from across the room.

Can be used in the bedroom for storing CDs, DVDs etc or used in the bathroom for storing tooth paste, face towels etc or in the office for storing stationery, or in the kitchen for storing seasoning packets etc or the garage / shed for storing tools and plant seed packets. Could even be used in the lounge room to store all the remote controls or as a magazine rack. - Incredibly versatile, practical and attractive!

In case you needed more reason to buy, Christmas is around the corner. Why not buy one as a gift for a loved one or friend? The perfect gift for all ages!

Dimensions: Approx 33cm in length x 33cm in height x 30cm in depth.



 


Layby? Most welcome. Please email homeoftemptations@gmail.com to enquire.

Please also note, from time to time stock listed may be out of stock due to high volume of sales. Please enquire prior to purchase.
Please enquire for shipping costs. At this stage, we send within New Zealand only. For large furniture and bulk purchases, pick up is welcome from our address in Franklin, Auckland. Deliveries of large furniture items within Auckland are also available, subject to a delivery fee.