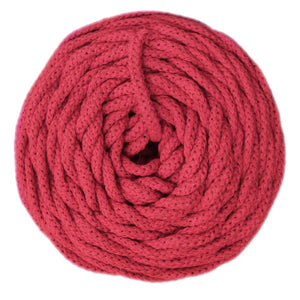 Composition: 100% OEKO-TEX cotton

Length: 55 yards - 50 m

Weight: 1.1 Lb - 500 g

Diameter: 4.5 mm - 0.18 inches

Perfect for Crochet / Knitting / Macrame: Ideal for home deco projects like rugs, storage baskets, pillows and bags for example.
Add some beautiful texture to your macrame, crochet & knitting pieces with Cotton Air due to its braided cord and large range of colors. Cotton air is bulky but it's also lightweight perfect to make pieces pretty fast and making big projects like market bags or rugs. Ganxxet Cotton Air is a beautiful and functional cord. Get your favorite shade among a wide variety of colors.
It complies with the regulations of Standard 100 of Oeko-Tex product class I. In our cotton air, no harmful or toxic substances have been applied for its production, complying with the requirements of the OEKO-TEX® certification. 
Certified according to STANDARD 100 by OEKO-TEX(R). Certificate Number: 2003AN0084 AITEX
OEKO-TEX® Standard 100 is the world's leading organic label for textiles to determine if they contain harmful substances. This product meets the requirements of Annex XVII of REACH (including the use of ado dyes, nickel, etc..) as well as it meets the American requirements for the total content of lead in children's articles. 
We source our fiber from an amazing family-owned producer in Spain, CASASOL. Ganxxet is the importer in USA and we are a great team working together in developing new products to meet your requests. If you have a specific yarn you are looking for, let us know!
We're proud to meet the European and American standards and norms that keep you and our planet safe.
Get your package quickly! We ship in 1 business day. Check our shipment and return policy .
Try before you buy! If you're still hesitating, we have free samples for you (We send 10 inch of each type of cord or yarn for free, you just need to fill up this  and you will receive the samples in the next two weeks).
Please note: Due to the popularity of Ganxxet products, it can sell out quickly. Color shades may vary from one batch to another because of the recycled cotton characteristics, so we recommend you to order a bit extra for specific projects.
Even though we do our very best to display our colors as accurately as possible keep in mind the screen color may differ slightly from the product you will get at home.
We're happy to help you if you need us. Write us at !