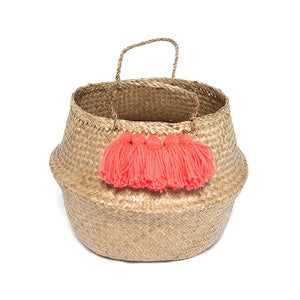 Meri Meri . Storage . Belly Basket - Tassel / Large
Beautiful large handwoven storage basket with neon coral wool tassels. Perfect for storing clothes, laundry, bedding, toys, and so much more!
Browse the rest of our Meri Meri stock , and browse other storage baskets by clicking .
Design Tips:  
 A messy room scattered with toys and chaos can be quickly neatened up (especially great if you don't have a playroom and the general living space is shared with adults and children). Build up a gorgeous collection of baskets and storage to tranform mess into stylish home envy very quickly! Browse all storage baskets .
 Fill baskets with laundry (check out our beautiful bed linen ) or (or just about anything else you fancy!) We've even got some gorgeous Meri Meri duvet covers and pillow cases with splashes of neon that would look great all in the same room.
[split]
Meri Meri .

 

Storage . Belly Basket - Tassel / Large
Size: 

32cm x 44cm.

Made In:

UK.

About This Brand: 

It began in Los Angeles, 1985 . . . Meredithe (who's childhood nickname was Meri Meri) sitting at her kitchen table . . . some scissors and pens, a BIG pot of glitter. Their first cards were made that way.

The magic began . . . Local Stationery stores in Los Angeles loved those cards and asked for more. One kitchen table and one pair of scissors wasn't enough. They needed lots of kitchen tables and an ENORMOUS pot of glitter.

The company grew from that little network of Moms working from home from Meredithe's designs and direction.

How it is now . . . They don't design on kitchen tables anymore. Meri Meri now work in studios in a 400 year old building, overlooking an ancient churchyard in a little town called Cheltenham, 1 hour west of London, England.

But they still have our scissors and our pens and all the glitter . .

These days Meredithe heads a studio of twenty designers and artworkers and Meri Meri products are sold all over the world.