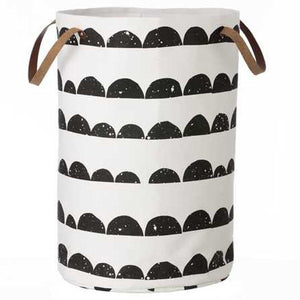 Ferm Living Storage Bag . Half Moon - Laundry / Black & White

We love this gorgeous half moon print storage basket from Ferm Living. Made from organic cotton with brown leather handles, it has so many uses. Use it for storage, clothes, toys, teddies, laundry, bed linen, towels... take your pick!
This beautiful bag folds neatly, so takes up very little space if you need to stash it away. But lets face it - why would you want to hide it?!

Design Tips:
▲ Monochrome works well in any room - its unisex, easy to accessorise/update and totally on trend. This bag makes a great statement in a simple room. Team it with a Freddy Alphabet ABC poster or wrap the White PomPom Galore Light String around it. It looks pretty amazing paired with the Half Moon Large Basket too.
▲ Use this bag for sorting laundry, show it off in the bathroom and keep your towels in it - however you use it, we love the bold black and white design in any room.
▲ We don't think you can fail with this bag - it's handsome and has so many uses it will make the ideal gift for a new home or new parents.

You can see the whole range from Ferm Living here.

PRODUCT INFO:
Size:
Height 60cm Diameter 40cm.
Care:
Wipe clean.
Made From:
Organic cotton with leather handles. Inner is non woven fusion paper.
Made In:
India, designed in Denmark.
Packaging/Shipping:
Packaged in a plastic protective bag.
Designed By:
Ferm Living.
About This Brand:
Ferm Living draws on Scandinavian design traditions and retro charm, with a distinctive graphic edge. Trine Andersen founded a graphic design studio in Denmark in 2005, and soon expanded into designing interior products. Ferm Living now have a huge range of beautifully designed products, all made from the best materials and crafted by experts.